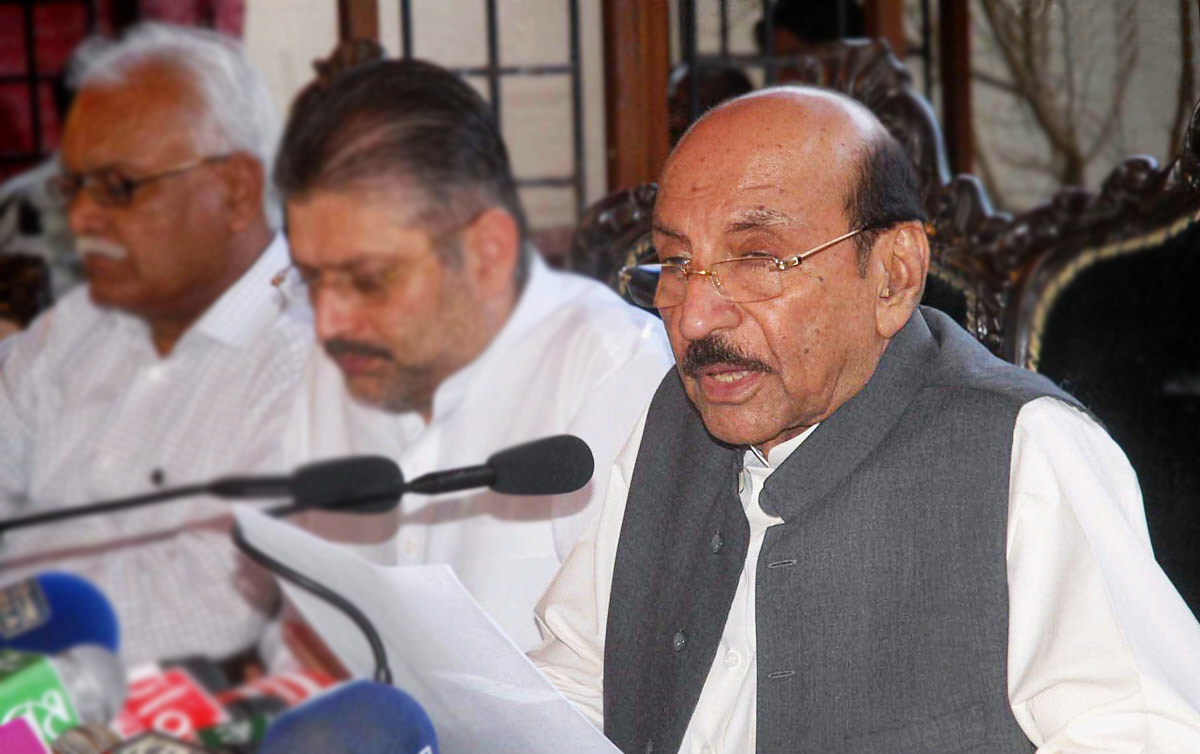 ---
KARACHI:

Sindh is no stranger to history. This is where the Indus Valley civilisation flourished, and this is where Muhammad Bin Qasim landed in the eighth century.

Sindh is no stranger to records either, and boasts of Makli, which some say is the largest necropolis in the world. More recently,

students from Karachi also made a record for most people stuffed into a rather small car

. Now, it seems Sindh is about to make the books again, by having Qaim Ali Shah serve as chief minister for a record third time.


Syed Qaim Ali Shah, known to his family members as 'Mitho baba' (sweet father) is the frontrunner for the slot of chief minister and sources in PPP told The Express Tribune that the party would officially nominate him for the post soon. Senior PPP leaders are saying he's the best man for the job given his past experience and the success of the PPP in Sindh during the May 11 elections. This success, they say, was due to their performance.

Independent observers, however, paint a very different picture, blasting both the PPP and Shah for failing to maintain law and order and good governance in the province.

Soon after the party's proposal Shah, who is also PPP Sindh president, started approaching his past coalition partners, especially the MQM, to form a provincial government. Bargaining has reportedly begun on portfolios in the upcoming cabinet.

Talking to The Express Tribune, recently elected PPP MNA Ayaz Soomro, said the party has not yet finalised the next chief minister, but adding that Qaim Ali Shah is definitely under consideration. "The media has created hype and has already allotted portfolios to some of our newly elected MPAs, which has not yet been discussed. This is not fair," he added.

Qaim Ali Shah, who belongs to district Khairpur, has been a PPP loyalist since the party's inception and, apart from being elected as an MPA several times, has also been an MNA and a senator. He has also served as federal minister for industries and Kashmir Affairs in Zulfikar Ali Bhutto's cabinet in the 1970s.

When the PPP swept Sindh in the 1988 elections, Shah became chief minister. He continued his job for three to four months until he was replaced by Aftab Shaban Mirani. He regained the position in 2008, and held it for five years

While Mir Hazar Khan Bijarani, Nisar Khuhro, Makhdoom Rafique ul Zaman and Makhdoom Zameel-uz-Zaman are also being tipped for the CM slot, the party is giving maximum support to Shah.

Sources in the PPP say Shah's name was first floated as a possible speaker of the Sindh Assembly during a high-level meeting in Bilawal House. Shah objected, saying "I cannot properly hear. It will be difficult for me to handle the session," He then proposed Nisar Khuhro as speaker. "Khuhro will be fit for a second consecutive tenure as Sindh Assembly speaker," he said.

Apart from experience and unquestioned loyalty, another thing that goes in Shah's favour is the fact that there are no serious allegations against him and that he won't rock the boat.

Though a few lobbies of the party are opposing him, sources say Owais Muzaffar, who was recently elected as MPA from Thatta, and MNA Faryal Talpur, the sister of President Asif Ali Zardari are among those who are backing him.

However, some say his appointment would be a temporary one, and that a new chief minister would be appointed after a few months. Some also point to Shah's age and health as the reason behind this 'temporary' option.

However, Soomro says Shah's health is not a problem. "All allegations against Shah regarding his health are baseless. He has immense potential to run the affairs of the provincial government. He knows how to deal with federal and provincial issues," he said, adding that the party will announce the CM candidate within three to four days. He also claimed that this decision would be made by consensus and not by a single person, as some perceive.


Published in The Express Tribune, May 22nd, 2013.
COMMENTS (27)
Comments are moderated and generally will be posted if they are on-topic and not abusive.
For more information, please see our Comments FAQ