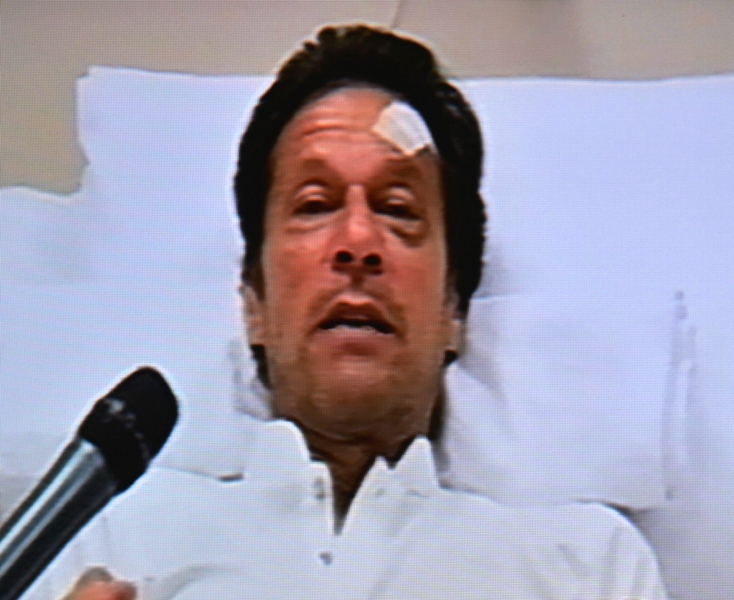 ---
LAHORE: A day after firing a salvo against MQM chief Altaf Hussain, PTI Chairman Imran Khan urged Karachiites to participate in his party's protest on Monday against the killing of Zahra Shahid Hussain.

"I salute the courage of the people of Karachi who have been held hostage for long by a [political] party. People of Karachi are being held in chains of fear and I urge them to come out and break these shackles," Imran said in a video message from Shaukat Khanam Hospital in Lahore on Sunday.

He urged other political parties, "who are sick of tyranny", to join the protest.




Imran also called upon Chief Justice Iftikhar Muhammad Chaudhary and Chief Election Commissioner Fakhruddin G Ebrahim to take notice of 'massive and unprecedented' rigging in the elections.

"No democracy can thrive without free and fair elections. Now this is the responsibility of these two men to restore the trust of the people in the sanctity of the ballot," he added.

PTI supporters have been staging protests in major urban centres, including Lahore and Karachi, against alleged rigging in the elections.

Imran warned that if his party's concerns were not addressed, the voters who came out to vote for the first time on May 11 would lose their faith in the democratic exercise. "I can say with confidence that the elections were massively rigged," he added.

He said that his party's demand for recounting in six National Assembly constituencies is doable. "Recounting with the help of thumbprints will remove our apprehensions. We may lose after the recount but we will accept it and people's trust in the electoral process will be restored."

Imran reiterated what his party's leadership announced at a news briefing earlier in the day: PTI supporters will stage a sit-in outside the Election Commission in Islamabad on May 24 if the party's demand was not met.

PTI Secretary General in Punjab Dr Yasmeen Rashid has said that Imran would also participate in the sit-in.

Punjab-wide protest on May 21

PTI's Punjab chapter President Ejaz Chaudhary on Sunday threatened province-wide protests outside all divisional press clubs on May 21 if the party's demand for recounting was ignored.

"The PTI has given the ECP three days for recounting but the commission paid no heed. This step is extremely important to establish the fairness and credibility of the elections," Chaudhary said.

Published in The Express Tribune, May 20th, 2013.
COMMENTS (10)
Comments are moderated and generally will be posted if they are on-topic and not abusive.
For more information, please see our Comments FAQ