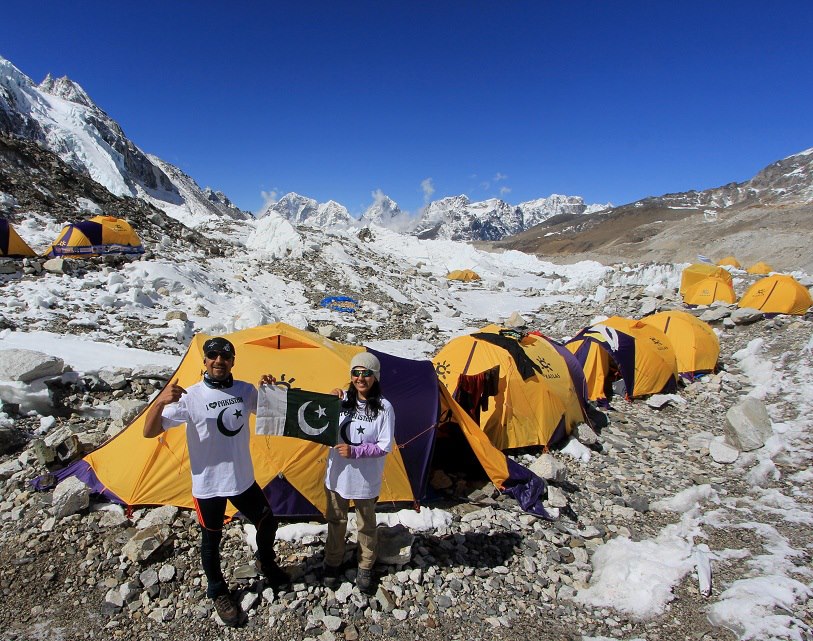 ---
Mountaineer Samina Baig has become the first Pakistani woman to scale Mount Everest, the world's highest mountain with a peak at 8,848 metres.

Baig completed the climb to the summit at around 7:30am local time with her brother Mirza Ali, who becomes the third and youngest Pakistani male to scale the mountain.

Nepal Mountaineering Department official Tilak Padney said that 35 foreigners accompanied by 29 Nepalese Sherpa guides reached the peak after climbing all night from the highest camp on South Col -- the pass between Everest and a neighboring mountain.

Ali (29) and Baig (21) are natives of Shimshal village in Hunza valley, Pakistan. Ali has been climbing since age 15, and he was Baig's mentor, guide and support.

On his personal blog, Ali stated that this climb was the "First Pakistani Gender Equality Mt Everest Expedition".


Samina Baig and her brother climbing Everest. PHOTO: Pakyouthoutreach
Description of climb
From Mirza Ali's blog

"Once at base camp, we will begin our acclimatization trips. This involves climbing to Camp 1, staying the night, then returning to base camp to rest, then climbing to Camp 1 and staying the night and climbing on to Camp 2 and staying the night, before returning to base camp and so on up to Camp 3.

Once our acclimatisation trips have finished, and assuming we are  in good health  and super fit physically and mentally, we'll be ready to try for the summit, which should be mid May. We will wait for a good weather forecast or 'window' for the possible summit  attempt."






Pakistan, India flags fly together

Indian twin sisters Tashi and Nugshi were also at the top of the Everest with Baig and Ali. By hoisting Pakistani and Indian flags side by side, the four South-Asians hoped to spread the message of Pak-India peace and friendship.


Samina Baig with Tashi and Nugshi during Acclimatization phase
COMMENTS (56)
Comments are moderated and generally will be posted if they are on-topic and not abusive.
For more information, please see our Comments FAQ