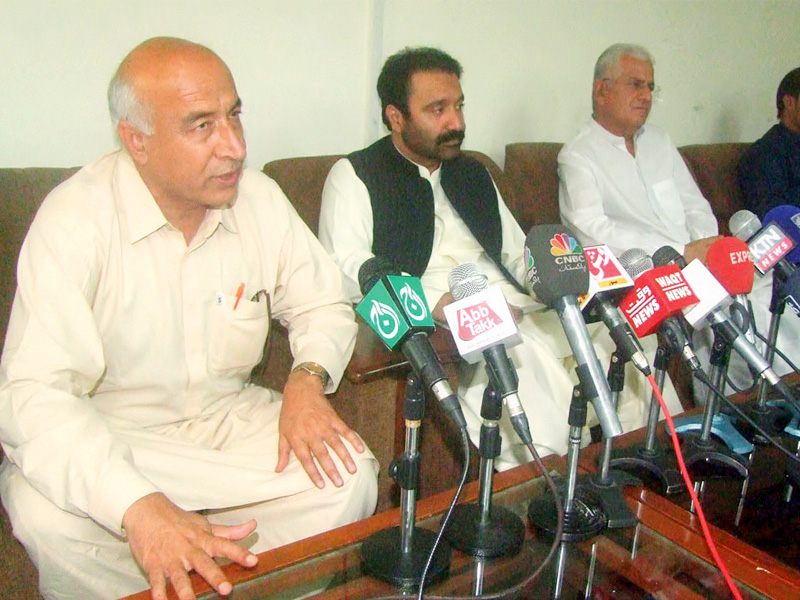 ---
QUETTA/ ISLAMABAD:



The National Party (NP) president, Dr Abdul Malik Baloch, has said that the new chief minister should be from the Pakistan Muslim League-Nawaz (PML-N), which enjoys majority in the Balochistan Assembly.




The Pashtunkhwa Milli Awami Party, Awami National Party and NP have thrown their weight behind the PML-N for the formation of the new provincial government.

"The mainstream national-level parties will be in a better position to resolve the issues confronting Balochistan. We hope the Centre will not neglect our province," Baloch told a news conference in Quetta on Saturday. He was referring to the PML-N.

"Balochistan is passing through a critical juncture. In the past, national-level parties did not bother to study the myriad of problems in Balochistan, its local politics and parties," he added.  "If the PML-N and Nawaz Sharif fail to break away from the tradition, the problems of Balochistan will multiply."

Baloch called for synchronised efforts from politicians, intellectuals and the media to restore peace and normalcy in the province.

At the news conference, independent MPA-elect from PB-47 Washuk Mir Mujeebur Rehman, along with his supporters, joined the NP.

Baloch revealed that his party had tried to form an electoral alliance with Sardar Akhtar Mengal's Balochistan National Party-Mengal but it couldn't materialise. Mengal has rejected the election results while doubting the whole electoral process which, he alleges, was fixed by the 'establishment'.

International establishment

While Mengal accuses the Pakistani establishment for his party's poor performance in the elections, another political leader claims that a much greater force, the 'international establishment', was behind Pakistan Peoples Party's rout from Balochistan.

Surprisingly, the PPP, which ruled Balochistan for five years with the help of its allies, could not win even a single seat in the May 11 elections.

"The PPP was punished in the elections by the international establishment because of its deals with China and Iran on Gwadar Port and IP gas pipeline, respectively," PPP Vice President Mir Baz Khan Khetran told a news conference in Islamabad.

Khetran alleged that he was defeated by design in NA-263. He alleged that three colonels presently serving in the Frontier Corps were involved in rigging in his constituency and changed election results in favour of JUI-F candidate.

According to him, FC officers took away the ballot boxes and changed the results in connivance with the local deputy commissioners. "The elections were free, but not fair," he added. He claimed that some forces did not want to see Baloch leaders in parliament and wanted to bring alternative faces.

Published in The Express Tribune, May 19th, 2013.