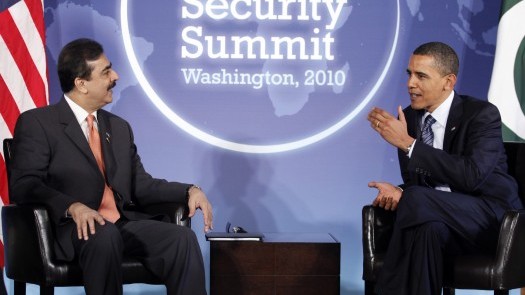 ---
WASHINGTON: President Barack Obama said he was "very fond of Pakistan" and pledged a long-term commitment to the frontline US partner as he met with Prime Minister Yousuf Raza Gilani.

Gilani was among a handful of leaders Obama met separately on the eve of a major nuclear summit in Washington as his administration makes a concerted effort to reduce anti-American sentiment in Pakistan. Obama opened the meeting "by noting that he is very fond of Pakistan, having visited the country during college," the White House said in statement.

Obama voiced appreciation for Pakistan's response to an attack last week on the US consulate in Peshawar, offering condolences over the assault and a separate bombing against a rally that together left 46 people dead."These two attacks on the same day are important to note because the extremists do not distinguish between us and we are truly facing a common enemy," Obama was quoted as saying by the White House.

The White House said the relationship between Pakistan and the United States was "of significant importance because of the shared values of our countries and the fight we are both engaged in against extremists operating in South Asia." Obama "also noted that our multi-faceted and long-term strategic relationship goes far beyond security issues," the statement said.

The United States last year approved a 7.5-billion-dollar aid package to Pakistan in hopes of developing the economy and democratic institutions of the Islamic world's only declared nuclear power.

But Obama has had to strike a careful balance as he also seeks to develop warmer relations with Pakistan's historic rival India. Obama met earlier in the day with Prime Minister Manmohan Singh, who urged the US leader to put pressure on Pakistan to rein in extremists responsible for the grisly 2008 assault on Mumbai. The White House made no explicit mention of the Indian concerns in its account of the meeting with Gilani.