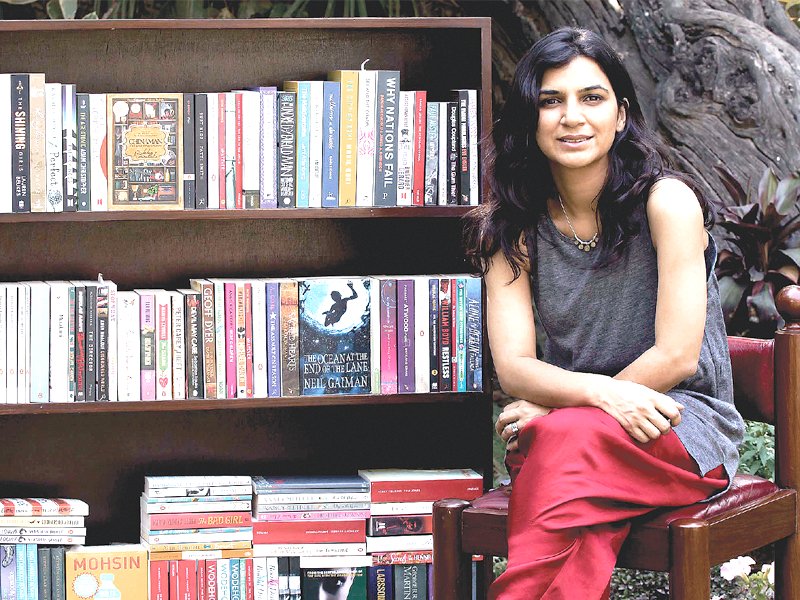 ---
Eve Ensler is lying on top of Coetzee. Roth is cheek by jowl with Rilke. Someone must have been telling lies about Joseph K. The students greet each other with comic cries and sodden collapse. Their summer has been bloated with criminal pleasures. My very photogenic mother died in a freak accident (picnic, lightning)...

This is the world that awaits anyone who walks into The Last Word, Aysha Raja's independent bookstore. It is not the place to go if you want the latest Paulo Coelho or a Sophie Kinsella. Only those used to the onomatopoeic somersaults of Tom Wolfe and the kind of syntax that emerges from German translations will feel at home here. E-book fans. Don't bother.

Of course, Pakistan has a selection of solid, serious bookstores from Quetta to Islamabad (see box), but what sets this one apart are Aysha Raja's likes and dislikes.

"Like any self-respecting independent book[store], [The Last Word] is informed by my tastes and preferences," she says unapologetically. "A lot of publishers I work with often say that by their standards I have a very intellectual readership." They have commented on how highbrow her customers' tastes are.

This debunks the myth that Pakistanis don't read or that we don't enjoy a little Leviathan post our postprandial constitutional. "I never seem to have enough copies of Infinite Jest," Raja explains, "but I will struggle to sell a single copy of the Twilight series. My business runs on my taste so I have to be really careful while choosing the right kind of books."

And thus, while she prefers having a range of titles in fewer quantities to a handful in large quantities, this means higher costs and the risk of running out of certain copies. "But at least the book shop is in a position to constantly yield gems to discerning book buyers," she adds.

Selfish motives


PHOTO SHAFIQ MALIK

After having moved to Lahore in the early 2000s, Raja found herself returning from occasional trips to Delhi with suitcases full of books. "I couldn't fathom why we didn't have the same variety across the border. I was always envious of their bookstores," she says. "Accessibility to books with ease is a fundamental right."

And then, in 2005, when she was pregnant with her daughter Leila, she visited a bookshop in Istanbul called Robinson Crusoe 389 on the hip stiklal Caddesi. "It was the perfect embodiment of a small independent book shop and served as the inspiration [for my own]," she says. The name The Last Word summed up her ambitions. She wanted the book shop to be the destination for cutting-edge, definitive works of fiction, non-fiction and the creative arts.

Raja, who was a lawyer for eight years, started out by opening her home to readers with a small exhibition that relied on their interest and her coffee table more than anything else.

"You can do such things in Pakistan with ease. It is an unregulated society, where there is no need to seek permits and loans. I never felt the limitations taking on a huge endeavour here."

She is candid that the business plans that were drawn up for her would have in all probability turned her off the idea except for the fact that she was committed. Guts made up for a lack of business sense.


PHOTO SHAFIQ MALIK

She invested heavily in the inventory before publishers extended her credit and after starting out in her own house she was lucky to get space at PFDC. "I am eternally grateful to Seher Saigol for allowing me the opportunity to set up shop with no overheads whatsoever," she says. The Last Word eventually found its home at The Hot Spot in Gaddafi Stadium, Lahore and recently moved to Roadside Café in Karachi. She is going to open at Mocca café in Islamabad by the end of May or in June.

The big break came when a Random House editor urged her to promote Mohammed Hanif's A Case of Exploding Mangoes. "The manuscript was amazing and I was sure that this book would create ripples in the literary landscape," she says. "I never had imported from India [though]. It was my first time, and there were obviously problems because of the animosity between the two countries. The people at the customs office were suspicious about the name of General Zia on the book."

It has been names like Hanif's that has made reading sexier in Pakistan in the last decade or so. It also helps that in the sub-continent we are still in love with the feel of the weight of a book and the smell that nestles in its spine. Bricks-and-mortar bookstores still have plenty of cultural currency in Pakistan.

"I remember talking to Hanif Kureishi about the turnout on the reading gathering which is merely fifty abroad," recalls Raja. "He was amazed that we can easily gather 200 people at any reading gala. It shows that there is a lot more intellectual curiosity over here." For Raja this means that it is more and more important for publishers to target this part of the world.


PHOTO SHAFIQ MALIK

Aside from benefiting from a serious reading population, Raja's success lies in stocking what she is curious about herself. "I tend to enjoy more left wing literature, by that I also mean non-fiction." This means increasingly buying from Verso (Tariq Ali) to stocking the shelves with works on the movement of the Arab Spring. It is at The Last Word that you will find Jane Jacobs, the Hummingbird Bakery's Home Sweet Home, Jeanette Winterson, Oliver Sacks, Phaidon's art books, Le Corbusier, The Velveteen Rabbit.

She has close to 5,000 titles in stock from publishers ranging from the big six, including Random House and Penguin, to the smaller imprints such as Verso, Persephone, Hesperus, Quirk and specialist publishers such as Phaidon, DC Comics/Vertigo, and Gollanz. "Being a boutique book shop we largely air-freight our titles in to keep the wait time as little as possible," she explains. And readers are free to interact on their Facebook page if there are any special requests or recommendations. Her range of fiction is heavily influenced by customer preferences and feedback. These days, Mohsin Hamid's How to Get Filthy Rich in Rising Asia and Chinaman by Shehan Karunatilaka are flying off the shelves.




On her bedside table, metaphorically speaking, is Come to the Edge by Joanna Kavenna, one of Granta's recently heralded Young British Authors, Mr. Penumbra's 24-Hour Bookstore that will hit the shelves in June, and Sex and the Citadel by Shereen El Feki. "I read a lot and yet not enough," she admits. And like any serious reader, she is usually juggling two to three books at a time. She reads every day, in the car, at home, in waiting rooms. Forget TV and Twitter. You're more likely to find her behind a book.

Although she prefers 20th century works to the more contemporary literature coming out today, most of what she reads is usually published within the last 12 months. (She abhors chicklit). She is drawn to explications of the human condition and the art of writing. "I find it imperative to read [about] how superficial and base we've become. That's what literature does; it puts our values and ideas under the lens and shows us how flawed we are. We could do with the constant reminder[s]."




Don't ask to borrow a book. She doesn't lend them to friends because she becomes "unbearably passive aggressive trying to secure their return". And while she can't bear to damage a book, somehow they always end up ravaged by the time she is through with them. She only recently started annotating the ones that she was reviewing. Now Leila's school permission slips, shopping receipts, flyers are morphed in bookmarks.

As for perhaps writing her own book some day, Raja knows it is unlikely. "I cannot open myself to be scrutinised that much." She would rather read about the lives of others.

Kitabain.com

Founded by Usman Siddiqui and Jawad Yousuf, this website provides an online marketplace for independent sellers of new and used books, as well as rare and collectible titles.   (021) 32426851

Gosha-e-Adab, Quetta

Housed in the historic, Kabir Building off Jinnah Road, Gosha-e-Adab was founded in 1962 and is one of the oldest and most prominent bookstores in Quetta. The place to go for books on Balochistan and its society. (081) 2820375, 2843229 goshaeadab.com.

We also recommend Bookland on M.A. Jinnah Road  (081) 2824295 and New Quetta Bookstall on Jinnah Road  (081) 2842882

Ferozsons, Lahore

This bookstore is over a 100 years old. It was founded by Al-Haj Maulvi Feroz-ud-Din. (042) 111-62-62-62

 Readings, Lahore

Readings opened in 2006 and claims to be the largest bookshop in Lahore that provides a large range of old books at affordable prices.   (042) 11-11-26657

Thomas and Thomas, Karachi

The oldest surviving bookstore in Karachi, Thomas & Thomas has been standing tall since before Partition and was run by a British gentleman before it was bought in 1948 by Mohammad Yunus's family.  (021) 35682220

Saeed Book Bank, Islamabad

The well-stocked Saeed Book Bank was founded in 1955 by Saeed Jan Qureshi with the aim of "making books assessable and knowledge affordable". It has expanded to Peshawar as well. Phone: 92-51-2651656-57-58

Liberty Books

Established in 1961, Liberty Books is best known for distributing new titles. They deliver to your doorstep as well (libertybooks.com).  (021) 111-117-323 

The Strand, New York City

If you are ever in New York, do visit The Strand at 828 Broadway (at 12th St.). It opened in 1927 and has 18 miles of books or over 2.5 million used, new and rare titles.

Foyles, London

London is full of beautiful bookstores but we thought we'd mention Foyles because of the one-of-a-kind Ray's Jazz cafe on the first floor. Open up the new book you've just bought, take a seat at one of the rough hewn wooden tables and lose yourself for hours.

Daunt Books, London

Even if you don't buy anything here, you have to see Daunt Books at Marylebone High Street once in your lifetime if simply for its Edwardian interior. You will never want to leave the long oak galleries that are bathed in sunlight filtering in from the graceful skylights above.

Primrose Hill Books

One of Aysha's favourite spots. PHB has been called one of the best small bookshops in London. It is located on a quiet Victorian terrace — the best natural vantage point in London for a spectacular view of the whole city.

London Review Bookshop

According to Snipe's Kate Weston, LRB's classy dark exterior opens into a small yet spacious, light and well stocked bookshop. It opened nine years ago to bring people a range of literary and academic titles.

Robinson Crusoe 389, Istanbul

Whether you're looking for a specific book, or just want to browse, Robinson Crusoe 389 is perfect with its floor to ceiling book stacks. Twenty-minutes away from Taksim Square, it's the most well-known English language bookstore in Istanbul.

Published in The Express Tribune, Sunday Magazine, May 19th, 2013.

Like Express Tribune Magazine on Facebook to stay informed and join the conversation.
COMMENTS (1)
Comments are moderated and generally will be posted if they are on-topic and not abusive.
For more information, please see our Comments FAQ