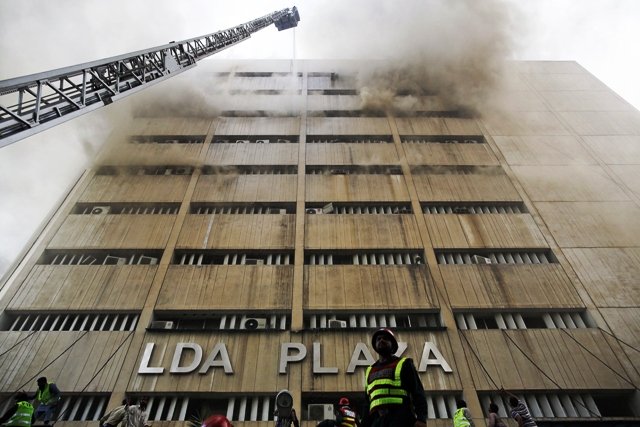 ---
LAHORE:



The Lahore Development Authority (LDA) has decided to double the financial compensation being offered to the families of 24 employees who perished in the LDA Plaza fire last week.




The grieving families will be paid Rs1 million each rather than Rs500,000 each, as decided earlier, according to an LDA press release.

The authority, at a governing body meeting on Tuesday, also decided to pay Rs100,000 each to three employees who were seriously injured in the fire, and Rs50,000 each to seven who received minor injuries.

The LDA will seek permission from the Punjab government to offer "reasonable jobs" to the children of employees killed in the fire.

A summary in this regard will be sent to the chief minister.

The Lahore Development Authority governing body recognised the heroic actions of Zafar Khan, an employee of a private organisation, who pulled five people trapped on the ninth floor of the Lahore Development Authority Plaza up to the roof, almost certainly saving their lives. Khan is to be awarded a prize of Rs500,000.

The meeting was chaired by District Coordination Officer and LDA Chairman Syed Rizwan Mahboob and attended by LDA Director General Dr Ijaz Munir, Additional DG (Headquarters) Mariam Kayani, Additional DG (Housing) Muhammad Usman, Water and Sanitation Agency Managing Director Dr Javed Iqbal, LDA Chief Engineer Asrar Saeed Khan, representatives of the Local Government, Housing, Planning and Development and Finance Departments, and the administrators of the nine constituent towns of the city district of Lahore.

Published in The Express Tribune, May 15th, 2013.