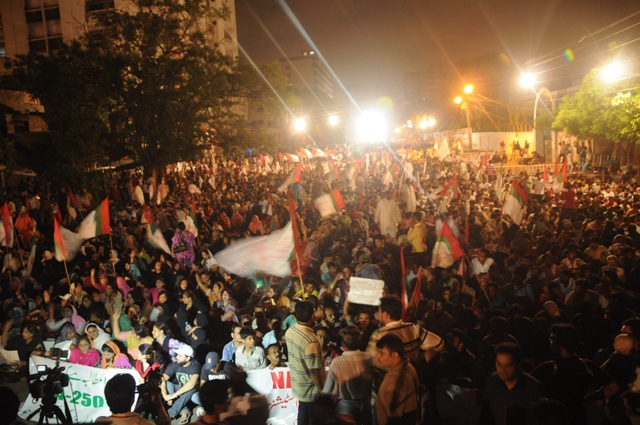 ---
KARACHI: As recent protests against rigging allegations all across the country gain momentum, the Muttahida Qaumi Movement (MQM) staged a sit-in in front of the Election Commission of Pakistan (ECP) office in Karachi, Express News reported on Tuesday.

Despite the imposition of Section 144 banning rallies in the city, protesters gathered to demand re-election in the NA-250 constituency of Karachi.

Many women were present at the sit-in, which the MQM announced will continue until their demands have been met.

MQM chief Altaf Hussain in a statement demanded that polls be re-held in entire NA-250, instead of the selective re-polling as directed by the ECP.

The demand was similar to the one that the Pakistan Tehreek-e-Insaf (PTI) has been protesting for since Saturday's election.

On Tuesday, PTI supporters resumed their protests calling for re-polling in different constituencies of Karachi, including NA-250.

On the third consecutive day of such protests from the party and supporters, a few hundred people rallied at the Native Jetty bridge to demand fresh polling in NA-239.

Earlier in the day, the Jamaat-e-Islami held another sit-in in front of the Quaid-e-Azam mausoleum on Tuesday, shouting slogans against MQM for allegedly hijacking polls across the city.

The ECP on Tuesday directed returning officers to hold re-elections at 43 polling stations of NA-250 Karachi on May 19.
COMMENTS (18)
Comments are moderated and generally will be posted if they are on-topic and not abusive.
For more information, please see our Comments FAQ