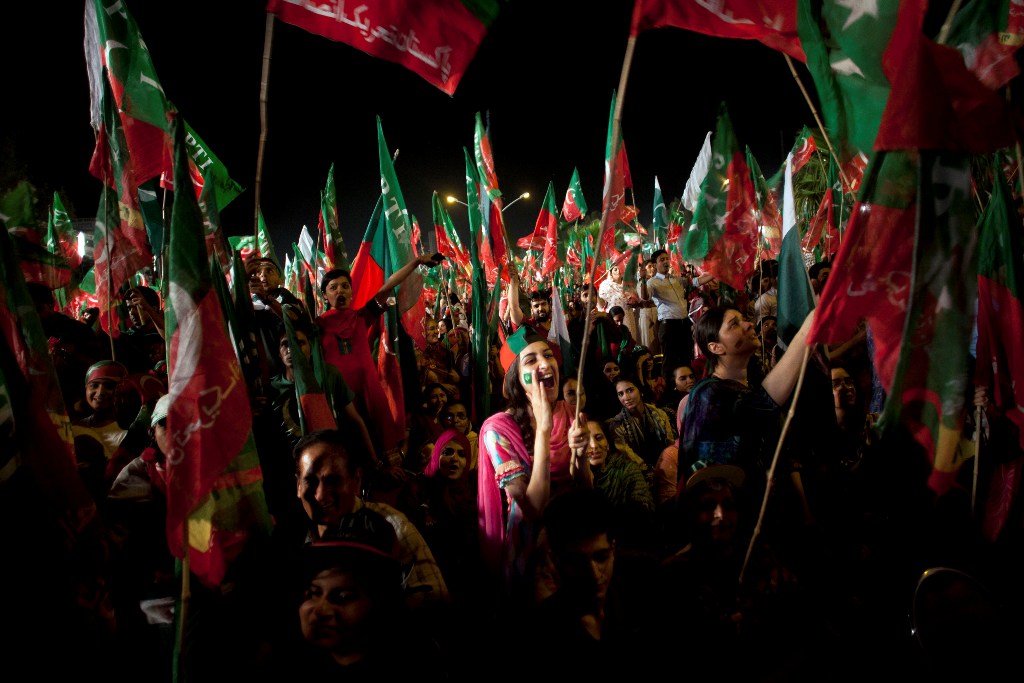 ---
ISLAMABAD:



The Pakistan Tehreek-e Insaf (PTI) turned a few heads with a surprise performance in the federal capital on election day, winning one of the city's two national assembly seats and putting up an impressive fight for the other.




The party, which had urged citizens to vote for it to build a "Naya Pakistan", was helped in Islamabad by the unprecedented participation of youth and women, with voter turnout remained higher than the city's historical average. However, patronage-based support and voting along party lines aided the Pakistan Muslim League-Nawaz (PML-N) to keep its hold on the other seat — NA-49 — which it had also won in the 2008 general elections.

Urban Islamabad votes for change

Javed Hashmi, the PTI candidate for NA-48 (Islamabad-I), rode a wave of enthusiastic urban voters to cause an upset victory.




He defeated Anjum Aqeel Khan, the PML-N candidate, who was on a re-election bid, by a margin of 21,522 votes, according to the unofficial results released by the Election Commission of Pakistan (ECP).

Hashmi, a veteran politician formerly of the PML-N, is not even from Islamabad, but managed to comfortably win the election with 73,692 votes - around 43 per cent of the total valid votes polled.

Anjum Aqeel, despite being embroiled in a land scam during his term in office, which also included a stint behind bars, still secured 52,170 votes.

In the run-up to the May 11 polls, media reports and experts had suggested that Jamaat-e Islami's Mian Aslam was a favourite for the NA-48 seat.

Aslam had previously been elected to the lower house of the parliament from the same constituency in 2002 and was depending on the JI's traditional vote bank and the service delivery issues he had helped the constituents with — even when he was out of power.

But despite pouring around a million rupees into his election campaign, Aslam was swept away by passionate PTI supporters. Aslam only managed to get 25,010 votes, according to ECP data.

From the total 292,142 registered voters, 173,968 votes were polled in NA-48 and the turnout was 59.55 per cent. In 2008, it was around 50 per cent on both NA-48 and NA-49

The PTI not only succeeded in mobilizing first-time voters in the mostly urban constituency with its slogan of change, but also older residents, especially in the city's posh sectors, who had never participated in elections before.

"The youth wants change and I have come out to vote because otherwise I don't deserve the right to complain about bad governance," said 22-year-old Khurram Shahzad, who works at a private firm.

The party also drew support from women voters.

"I decided to vote not only on the basis of general issues but specific problems faced by the poor," Tania Omar, a housewife who cast her vote in favour of PTI in NA-48, said. "We have seen the other political parties in power many times and its time we try someone new."

By 3pm on May 11, most polling stations in the federal capital had already clocked half of the votes registered there, a voting trend that even surprised some presiding officers who had been on duty in previous elections.

"There is more awareness among voters this time," said a presiding officer, who wished not to be named, at a polling station in sector F-7.

However, the high voter turnout was not entirely due to the PTI's efforts. The large number of candidates — 51 people contested elections from NA-48 — was also partly responsible for bringing voters to the polling stations. In fact, the top four candidates after Hashmi secured 52 per cent of the total votes polled.

NA-49: Still the tiger's den

The PML-N retained its hold on Islamabad's other constituency: the mostly rural NA-49.

PML-N candidate Dr Tariq Fazal Chaudhry, who won by a slender 756 votes in 2008, improved on his past performance and received 95,701 votes this time, according to ECP unofficial results.




The voter turnout in NA-49 was even better than NA-48, as candidates motivated rural voters to cast their votes. There, 64.36 per cent of the total 334,241 registered voters cast their ballots, according to the ECP. Even in villages like Chatta Bakhtawar and Nurpur, there were queues of people outside polling stations from the moment the polling started at 8am.

According to locals, the voters who support the PML-N on ideological and party lines came to Chaudhry's support in the end. These included silent voters, who had led to the impression in pre-poll surveys that the PML-N was in danger of losing the seat.

Chaudhry was able to keep most of his clan's votes intact as well, despite expectations it would be split between him and the PTI candidate, Chaudhry Ilyas Meherban.

Meherban was the surprise package in NA-49, finishing second with 57,160 votes.

The 'favourite', PPP candidate Mustafa Nawaz Khokhar, had carried out an extensive election campaign in NA-49. But, much in the same way the PPP failed to produce results in Punjab, Khokhar was a distant third with 44,646 votes, according to ECP results.

Published in The Express Tribune, May 13th, 2013.