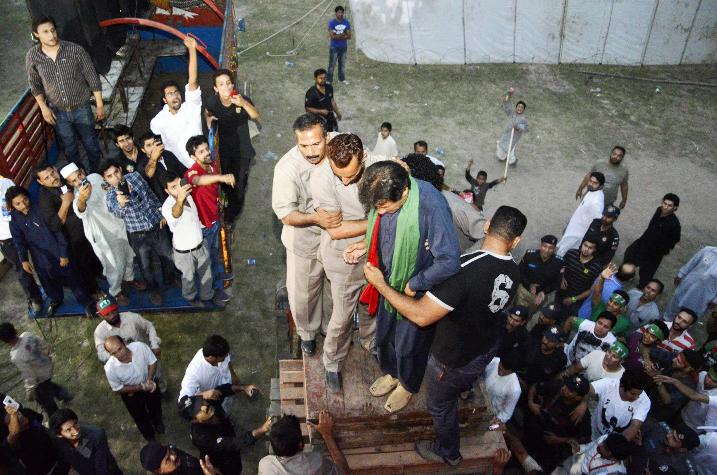 ---
LAHORE: Pakistan Tehreek-i-Insaf Chairman Imran Khan will not attend a public meeting in Islamabad on Thursday (May 9).    

Additional Information Secretary PTI Lahore Umar Khan, while talking to APP, said Imran Khan's condition was not serious but he had been advised bed rest by doctors for a week.

He said Imran would not go to Islamabad but he would address the gathering through video-link.

Earlier, his doctor Faisal Sultan, said Khan can carry out his scheduled rallies if the treating team feels comfortable with his recovery, while addressing the media at the Shaukat Khanum Memorial Cancer Hospital & Research Centre.

According to the doctor, Khan's life is not in danger and he will take a few days to recover.

The PTI Chairman sustained skull and back injuries in a fall at an election campaign rally.

Listing Khan's injuries from a CT scan present at the briefing Dr Sultan clarified that Khan did not suffer from a skull fracture as reports in the media suggested.

"There was a small scalp hematoma, which is just a collection of blood. There was the spinous process of C3, which was a minimally displaced fracture at the tip of C3 and a compression fracture of T6 (thoracic vertebrae). There is also a fracture of T5 vertebrae body and the spinous process. However, the most important and reassuring thing is that the spinal canal is intact and Mr Khan is in full control of his limbs and body functions. There was no neurological compromise."

A copy of the CT scan will be made available on the PTI Facebook page according to Dr Sultan.

Khan can sit at a 45 degrees position and will not need air transport, according to the medical team.

The doctor also announced that daily updates regarding Khan's health will be given at 2pm (local time) to the press with full disclosure from the doctor directly.

Addressing questions relating to the number of days Khan is expected to stay in the hospital, Dr Sultan said, "The exact duration of Khan's recovery, bed rest or immobilization will be decided as time goes on and we will keep you updated on it."

The doctor hopes to have a clearer view on the situation after conducting a few more scans and tests in the upcoming days.

With some rallies in the election campaign pending, Khan has no choice but to recover before taking the task on. According to Dawn, the PTI Chairman will not be able to cast his vote in his hometown of Mianwali.

"If Mr Khan wishes to address any rally that's up to him, but we will make sure the treating team has given permission to do so based entirely on medical grounds," his doctor added.

According to Geo, Khan said that his fall was not a 'conspiracy' but simple human error.


COMMENTS (54)
Comments are moderated and generally will be posted if they are on-topic and not abusive.
For more information, please see our Comments FAQ