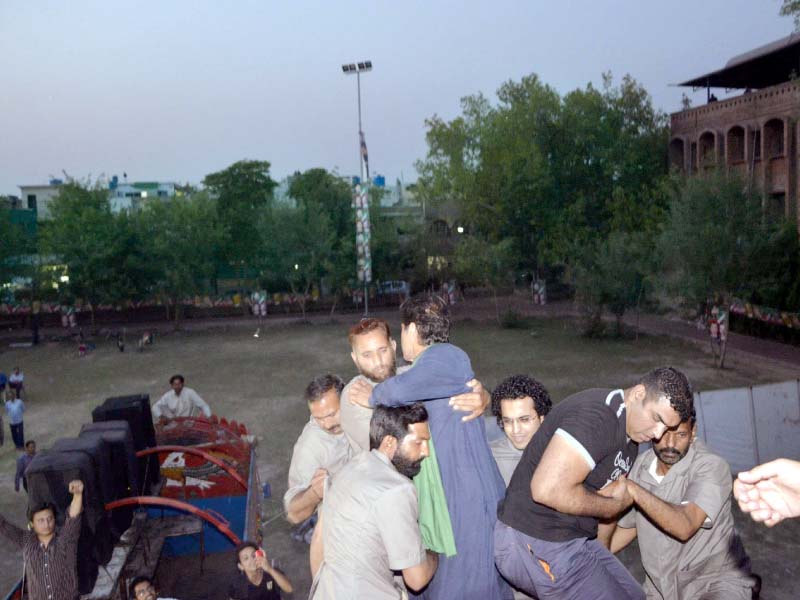 ---
LAHORE: Pakistan Tehreek-i-Insaf (PTI) chairman Imran Khan has been advised to rest for a week after sustaining skull and back injuries in a fall at an election campaign rally, a hospital official said Wednesday.

The former cricket star was admitted to the private Shaukat Khanum hospital that he founded in Lahore on Tuesday after falling off a lift taking him to the stage at a rally ahead of the general election on Saturday.

Doctors say he needs bed rest, which could jeopardise the chances of him continuing the last days of the campaign in person, but that his injuries are not life threatening.

Hospital spokesperson Khawaja Nazir told AFP that Khan had one main head injury, two "fractures" to his back and a small injury to his shoulder, but that his condition is not serious.

"There is nothing serious to his injuries. He is in a private room, he is not in the ICU (intensive care unit). He has been shifted from the ICU to a private room," Nazir told AFP.

"Doctors will brief about specifics of his injuries later in the day. I can't explain it specifically. As far as I know, he was initially advised one week rest," the spokesman added.

Javed Asghar, another doctor and a friend who visited Khan, told AFP that he had stitches to his head but that the injury was "not serious".

Shafqat Mehmood, a PTI spokesperson, acknowledged that his injuries could call a halt to Khan campaigning in person.

"It is clear that general campaign will continue, but Imran Khan may not appear in the rallies now, we will have to see doctors' advice," Mehmood told AFP.

He said the other men who fell from the lift with Khan were "fine" and were back home with their families with only minor injuries.