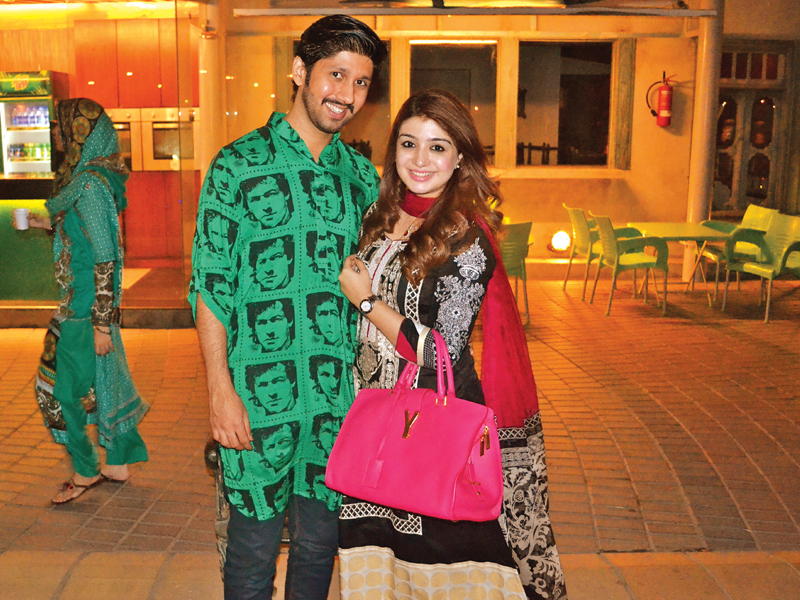 ---
The excitement surrounding elections has reached fever pitch! When Waqar and Hina Malik asked for the bill at a popular desi food restaurant at Port Grand on Sunday evening, they were pleasantly surprised to have 10% knocked off the bill — all thanks to the MK Nation Imran Khan kurta Waqar was wearing.

"Twelve of us had gone to Ghaffar after the Pakistan Tehreek-i-Insaf (PTI) car rally for NA-250," says Hina, a 25-year-old housewife. "The manager saw my husband's kurta and was eager to know where we got it from. He kept asking about it so my husband gave him his number and said we would let him know where we got it from. When the bill came, we saw that we had been given a discount!"

When asked, Hina says the manager informed them the 10% discount had been given especially because her husband had been wearing the Imran Khan kurta.

"Even at the rally, everyone loved our kurtas," she said, adding that she had also painted her nails according to the PTI flag colours. "I am voting for PTI because I want change! I am sick of tried and tested parties and I don't care about the negative aspects about the PTI, I only care about the positives."

MK Nation's IK kurtas, priced at Rs4,000 each, were first seen on the runway at PFDC Sunsilk Fashion Week in Lahore end of April. Maheen Kardar of MK Nation, says, "The response has been tremendously overwhelming. Our productions have worked nonstop since fashion week ended and as we speak we are at 5,000 kurtas plus!"

Published in The Express Tribune, May 7th, 2013.                      

Like Life & Style on Facebook for the latest in fashion, gossip and entertainment.