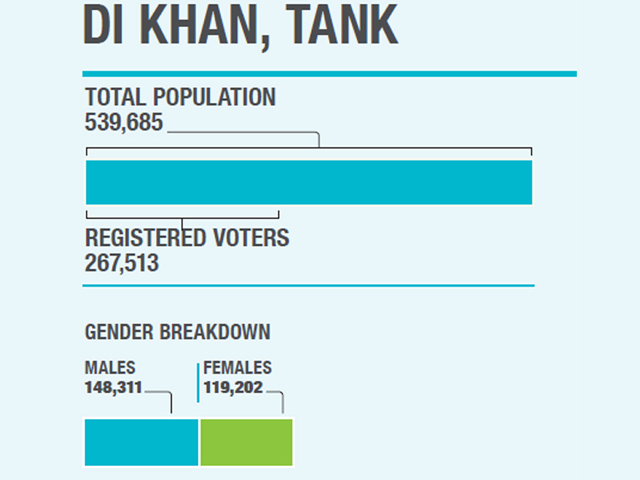 ---
DERA ISMAIL KHAN:



Religion and tribal affiliations make up the political culture of Khyber-Pakhtunkhwa's southern districts of Dera Ismael Khan. Even political parties with strongly defined ideologies use their tribal ties to pump up their vote bank.




Previously, Jamiat Ulema-e-Islam-Fazl successfully used religion to win votes but this time around, even his party has had to field influential tribal personalities. The Maulana brothers – Fazlur Rehman and Attaur Rehman – are in the race for national and provincial seats.


Electoral trends

Politics in the two constituencies – NA-24 (DI Khan) and NA-25 (DI Khan-cum-Tank) – is heavily reliant on tribal and religious affiliations. The Gandapur, Kundi, Rajput, Wazir and Mehsud tribes decide the electoral outcome. Seraiki speakers also play an important role. In these strongly traditional, rugged lands, what counts is not the party or policies, but the tribal kinship. Family politics are interconnected to the voters by decades-old bonds of blood and loyalty.

A game of alliances

In both constituencies, three major political parties – Pakistan Peoples Party, Awami National Party and Pakistan Muslim League-Nawaz – have formed a grand alliance of sorts. Even though PML-N candidate Rehan Malik Advocate claims his party is not a part of such an alliance, candidates of other parties, including Sanaullah Miankhel running for PK-66 and Sardar Fateullah Miankhel contesting PK-67, are a part of the alliance apparently aimed at defeating the JUI-F.

With the arrival of PPP-P's Waqar Ahmad Khan, the political scenario has changed in NA-24. Waqar is considered the main player behind the formation of the tripartite alliance which, sources say, was made at the local level, and the top leadership is not involved. Analysts believe the party might win the seat this time around.




However, PML-N's Rehan Advocate accuses Waqar of pre-poll rigging by offering money to people to buy votes.

Alliance politics also dominates NA-25. This, coupled with family politics, apparently threatens the electoral stature of the JUI-F. The constituency comprises Tank district and the adjacent Paharpur and Kulachi tehsils of DI Khan district, where the JUI-F has a strong vote-bank while other parties mostly depend on some influential families.

Although religious parties have won before, the scenario seems different for the upcoming elections. This time, Engineer Dawar Khan Kundi is contesting on PTI's ticket, and former deputy speaker of the National Assembly, Faisal Karim Kundi, is contesting on the PPP ticket.

Maulana Fazlur Rehman has had seat adjustment with independent candidates, including those running for PK-69 and PK-68. He also enjoys the support of Javed Akber Khan, the independent candidate on PK-67.

On the other hand, PTI's Dawar has his own vote-bank in addition to PTI's ideological votes, especially the votes of the Mehsud tribesmen. He has joined hands with independent candidate for PK-69 (Tank) Habibullah Khan Kundi.

PPP's Faisal Kundi also entered into electoral cooperation with ANP candidate Mureed Kazim Shah on PK-68 (Paharpur-DI Khan). He will rake in the traditional PPP vote, but Dawar's alliance with Habibullah may cut into the Kundi tribe's vote for Faisal. Analysts predict a close match between these three top contenders for NA-25.

Published in The Express Tribune, May 6th, 2013.