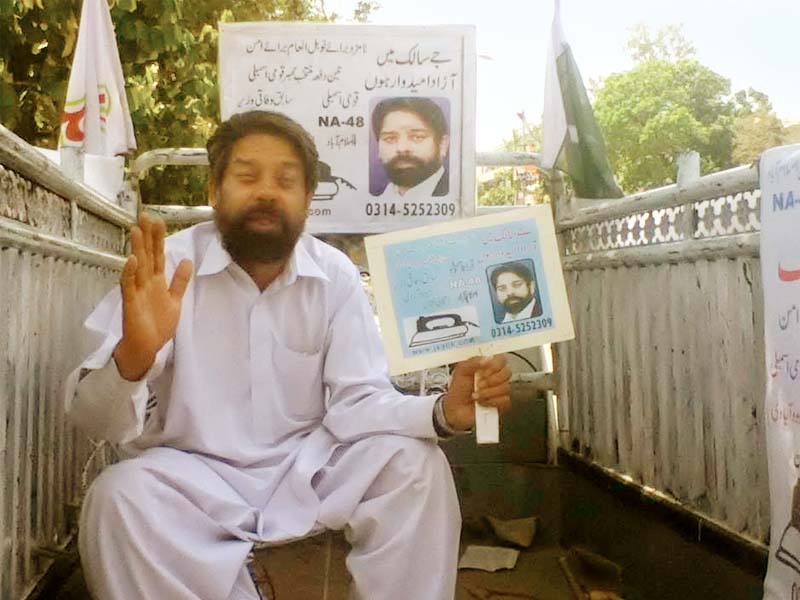 ---
ISLAMABAD:



Once he knows a cause is worth it, he will do whatever it takes to make his point. To pledge loyalty to his homeland, he splashed a syringe full of his own blood on the soil.

He moved his belongings from one city to another on camel carts at the end of his tenure as a minister to symbolise transparency. He has worn coarse jute clothes for 12 years to protest the persecution of Muslims in India. As a Christian federal minister, he gave orders that daily work should start with recitation of the Holy Quran. He has put himself in a cage and fixed it over a truck which roamed around the city to protest members of the judiciary being put behind bars in 2007. He has hired a dozen ambulances and marched in the streets of the federal capital when Nato forces attacked the Salala check post.




His name is Julius Salik, and love him or hate him, you simply cannot ignore him. Commonly known as J Salik, a former federal minister for minorities, he has earned a reputation for his innovative protest styles, and is now employing similar means to attract support as he contests elections for a National Assembly seat from the federal capital.

Salik, who is contesting as an independent, is one of the 51 candidates who are in the field from NA-48.

In his typical style, he doesn't wait for people to come to his office, he brings the office to the people. Literally. These days, he has converted a rented Suzuki pickup van into an election office which roams around the city. He reaches out to potential voters by means of a megaphone through which he invites them to "come closer," and then distributes pamphlets himself.

"My competition is with the Pajero group," he said, adding that "Now it is up to people whether they elect a poor man or man," he added.

Apart from the Christian community, he is also reaching out to the Muslim vote bank too.

Though his chances of success are slim as he contests against stalwarts like former MNA Anjum Aqeel Khan (PML-N), Makhdoom Javed Hashmi (PTI), Mian Muhammad Aslam (JI) and Faisal Sakhi Butt (PPP), he is brimming with hope. "I am quite popular and people know me as a loyal and honest Pakistani," he said.

Although there are around 25,000 minorities' votes registered in NA-48, his current campaign's focus is the Muslim community and he is addressing them in different markets of the capital. "The response of the people is very encouraging," Salik said.

He claims that he has been raising his voice for the oppressed segments of society for many years and that the deprived people of his constituency know that. "We will vote for the iron (Salik's election symbol) because "he is always available," said a group of aged Muslims, outside Aabpara Market's Al-shuhda Mosque, after Zuhar prayers.

"They are Muslims but they trust me, and I will not disappoint them," said Salik confidently. Pressing his point home, he said, "I was a member of the National Assembly thrice but no one can accuse me of corruption."

Salik said that he decided to contest elections from NA-48 because this constituency, where people from all provinces live, is truly representative of the federation.

He also criticised the system of having reserved seats for representatives of minorities, saying that this system is one that prioritises selection not election, and is against the spirit of Article 226 of the 1973 Constitution.

"For many people, my protests are a source of fun, but I have never compromised on my principles. I was jailed seven times during General Ziaul Haq's regime but I continued my political struggle," he said. And he shows no signs of giving it up anytime soon.

Published in The Express Tribune, May 4th, 2013.