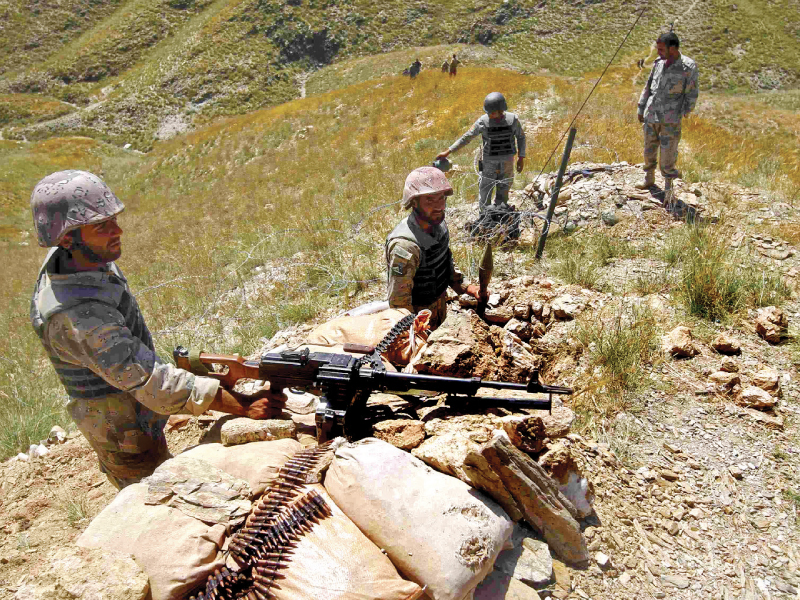 ---
ISLAMABAD/ GHALLANI:



Pakistan's foreign office on Thursday summoned a senior Afghan diplomat to lodge a protest against unprovoked firing by Afghan forces on a Pakistani check post.




On late Wednesday night, two Pakistani soldiers were injured as they reacted to firing by Afghan forces at a check post along the borders of Mohmand Agency.

The attack resulted in the death of one Afghan soldier as well, while three others were injured, spokesman for Nangarhar, Governor Ahmad Zia Abdulzai said.

According to a foreign office statement, Pakistan security forces exercised maximum restraint and communicated the violation to the Afghan side through military channels.

The foreign ministry spokesperson said the Afghan chargé d'affaires was conveyed Pakistan's concerns over the violation.

He said this was not the first time that heavy firing was initiated from the Afghan side, causing damage to Pakistani structures.

The cross-border clash reportedly arose because of ongoing construction at a check post.

Afghan media quoted an official claiming that the Afghan troops had "destroyed construction done by Pakistani forces."

The Pakistan Army had earlier maintained that the issue of the construction of a check post had been amicably resolved.

The Afghan chargé d'affaires was asked to convey Pakistan's concerns to Afghan authorities in a timely fashion.

He was told that authorities were to share information with Pakistan military as per the agreed procedure and avoid repeated violations, which grossly undermined existing coordination mechanisms between the security forces of the two countries.

The Afghan government has sent a delegation to investigate the recent clash at the border and to determine how the clash started, Abdulzai said.

The delegation includes two members of the Afghan parliament from the region and Deputy Governor Hanif Gardewal.

He said it is not yet clear how the clash started and avoided further comments saying that he will give more details when the delegation returns from Goshti area, bordering Pakistan.

Published in The Express Tribune, May 3rd, 2013.