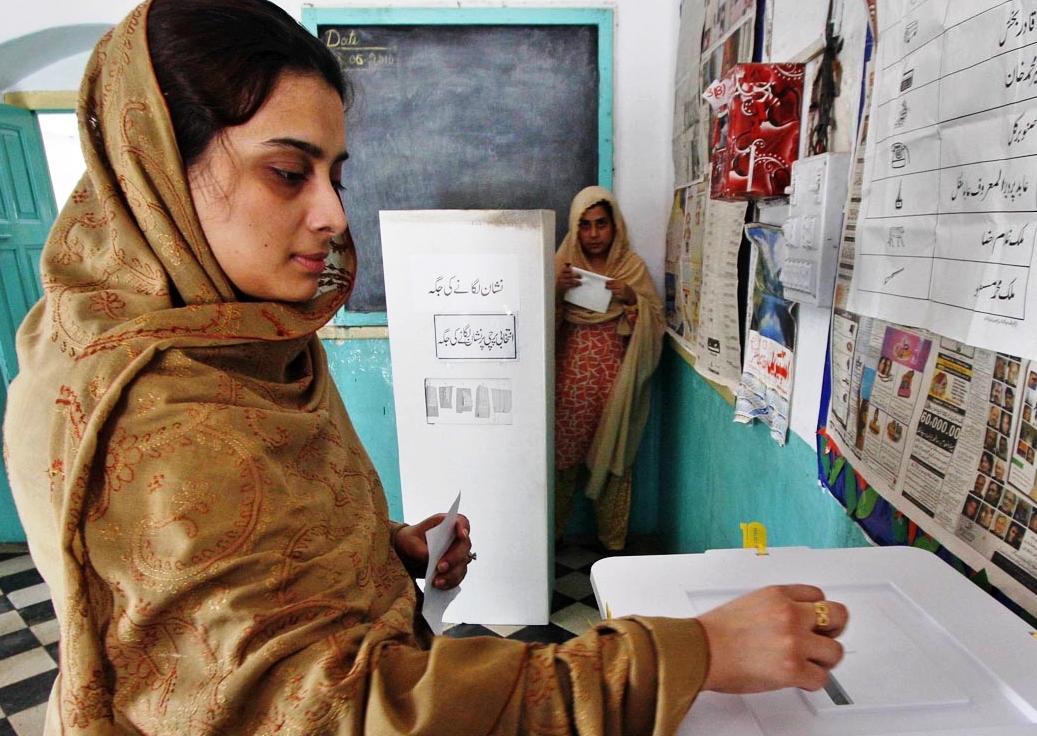 ---
Along with the youth factor and the effect of militant violence, one of the unpredictables in the upcoming elections are the women voters. A recent report in this newspaper has noted that in the 2008 elections, not a single woman cast her vote in 31 polling stations in Punjab. This time, many hope that things will be different. The National Commission on the Status of Women has held a series of meetings with regards to women's suffrage in the upcoming elections, and has asked the Election Commission of Pakistan (ECP) to ensure adequate security for women in areas where they may be especially threatened. The commission has stressed that women should be made to feel secure in both, going out of their houses to vote, as well as voting of their own accord.

Indeed, the winds of change seem to be buffeting the electoral landscape when it comes to women both voting and contesting in elections. Where at one point in time, it was felt that only women with a legacy of male heavyweight politicians as close relatives could contest in elections, now women who are relatively disadvantaged are taking things in their own hands and even contesting elections, despite the threats, in an indication of increased political awareness. In Tharparkar for instance, where it can be said that discrimination is quite pronounced along gender lines, a 32-year-old woman, Hajiano Lanjo, is standing up to contest against established politicians of the area.

Perhaps, one of the most prominent cases in this regard has been the case of Badam Zari, the first woman election candidate in the history of the tribal areas. This is all the more remarkable given the dismal literacy rate in the area — only three per cent of the women are literate — and the fact that tribal customs largely prevail in Bajaur society. More than how Badam Zari fares at the polls, the fact that she has actually decided to stand for elections is a step forward in itself.

Meanwhile, when it comes to women voters — the other side of the coin — several areas have reported an increase in the number of women voters who have registered. This may be due to a number of reasons, like more women getting computerised NICs made, which automatically registers them. An encouraging development in this regard is that women in Swat have insisted that they will not only vote in the upcoming elections but do so according to their own inclinations. This, if it happens, will not only be a huge step forward in terms of women empowerment in the area, but will also mean that the profile of voters from the area will be substantially different from that in the 2008 elections, when, in a typical patriarchal move, contestants from the area decided not to allow women to cast their votes.

In another step forward, voter lists show a remarkable increase of up to 236 per cent in the number of female registered voters in Khyber Agency. Whether or not these women come out and vote is a different matter altogether, as for many, there are social and cultural barriers — such as clerics in some areas considering women voting un-Islamic — that prevent them from doing so. Indeed, according to a report by the Free and Fair Election Network, there were up to 10 million missing female votes in Khyber-Pakhtunkhwa (K-P) during the previous election cycle. This time, the ECP has made a minimum of 10 per cent female voter turnout mandatory in K-P and the tribal areas, and one can only hope that this not only leads to greater genuine participation by women in the voting process, but is also a push factor in increasing political awareness among women. Security concerns, or even distance from polling stations, cannot be used as an excuse for not having women cast their votes. It will be impossible to call election results truly representative if, from a total of 180 million, 37 million of the registered voters — the women — do not vote.

Sixteen women won seats in the last elections and it remains to be seen whether the optimism and determination seen in these elections will translate into more seats and hence greater representation, this time round.

Published in The Express Tribune, April 27th, 2013.
COMMENTS (3)
Comments are moderated and generally will be posted if they are on-topic and not abusive.
For more information, please see our Comments FAQ