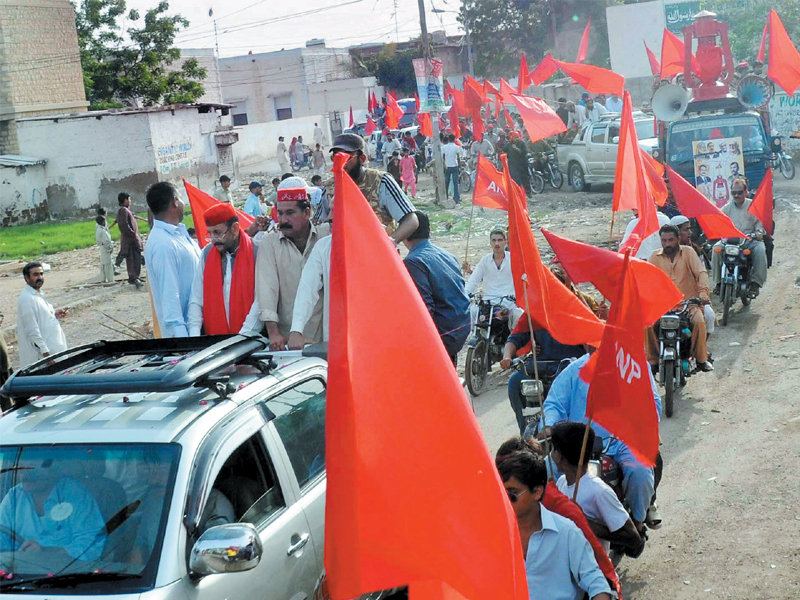 ---
KARACHI:



In this election season, holding large rallies in Karachi could cost lives because of growing militant threats. The only silver lining here is that since parties don't have to splurge on large shows of strength, they get to save up quite a lot.




While talking to The Express Tribune, Awami National Party's (ANP) provincial general secretary, Bashir Jan, said, "Without large gatherings, we'll save money we would otherwise be spending on food as well as renting chairs and sound systems for rallies." He added that many people sneak plates home, which then have to be replaced. "So we'll be saving money on these losses too."

Unlike other parties, ANP doesn't advertise itself on television or in newspapers. For this election, a large chunk of the party's funds has come from the 400 applications it received for the provincial assembly and National Assembly seats. Each applicant for a provincial assembly seat had to pay up Rs30,000 while those who submitted forms for National Assembly seats had to cough up Rs10,000 more. People who wish to join the party must pay Rs20 and the influx of hundreds of newcomers since April 2011 has generated Rs2.5million for the party.

Because of security threats, Jan works from home - this has also slashed the cost of running an office.

Pakistan Peoples Party's (PPP) secretary general Taj Haider also said that as threats loom large, the party would not be holding public gatherings.




"Renting a large bus to take people from one city to another can be quite expensive. Renting one vehicle for rallies can set you back by Rs40,000."

Like ANP, PPP has also amassed funds for elections from thousands of applications it received from prospective candidates. Moreover, the people who got the party's tickets for seats were asked to make donations. Those who were awarded tickets for provincial assembly seats were asked for Rs200,000 and those who will be contesting for National Assembly seats were asked for Rs300,000. Haider said that the money paid by candidates is used for their own campaigns.

MQM, which claims to be the only party not collecting money from applicants or ticket holders, has asked the public to make donations. "Party chief Altaf Hussain has made an appeal to people to help raise money," said MQM leader, Wasey Jalil. Receipts are given to each donor, and donations can be made in any amount. A committee formed by the party oversees campaign costs in each constituency.

Meanwhile, Pakistan Tehreek-e-Insaf has launched a fundraising campaign. Party workers are selling key chains which feature party chief Imran Khan and a Pakistani flag. One key chain costs Rs100. T-shirts and caps are also being sold. On the party's website, the 'Naya Pakistan Fund' calls for donations, with a minimum of Rs500.  Another programme, 'Fund Your Tsunami', calls for people to support PTI's younger candidates. Party spokesperson Naz Baloch said this is because PTI does not collect huge amounts from its candidates like other parties.

Published in The Express Tribune, April 24th, 2013.