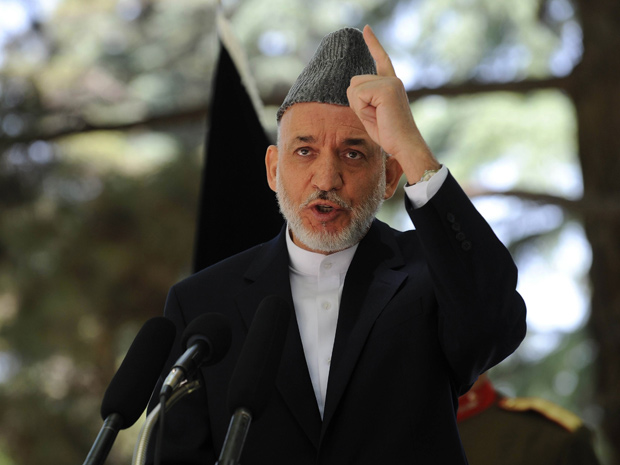 ---
KABUL: Afghan President Hamid Karzai left Tuesday for talks in Brussels with top US and Pakistani officials aimed at reviving faltering efforts to bring peace to his country.

Karzai's office says patience is running out with Pakistan, seen by the West as a key player in brokering peace with Taliban insurgents who have been battling the Kabul government and US-led foreign forces since 2001.

US Secretary of State John Kerry will host Wednesday's talks between Karzai and Pakistan's army chief General Ashfaq Kayani, along with other senior officials on both sides.

Kerry said Monday the aim was to "try to talk about how we can advance this process in the simplest, most cooperative, most cogent way" to satisfy Pakistan's and Afghanistan's interests and end up with "a stable and peaceful Afghanistan".

Relations between Islamabad and Kabul, strained for years, appeared to make headway earlier in the year but have once again nosedived. The Taliban still refuse in public to negotiate with Karzai's government.

"Pakistan has not taken practical measures towards the Afghan peace process so far. Afghans are running out of patience," Karzai's spokesman Aimal Faizi said Monday.

Afghanistan says Pakistan, which backed the 1996-2001 Taliban regime, continues to support the insurgents to counter the influence of arch-rival India.

Pakistan's foreign ministry said Monday it "remains committed to continue its positive and constructive role towards a durable peace in Afghanistan".

Relations had improved between the countries, building up to a three-way summit hosted by Britain in February to try to find an end to the war.

But Faizi last month said Pakistan had now abandoned the peace process and imposed "impossible" preconditions on any further discussions.

Pakistan has released at least 26 Afghan Taliban prisoners in recent months - a move that Kabul welcomed in the hope that they could help persuade the Taliban to enter into peace talks.

But there is little evidence that the prisoners have done so and Kabul is now increasingly impatient that other detainees, including former Afghan Taliban deputy leader Abdul Ghani Baradar, have not been handed over.