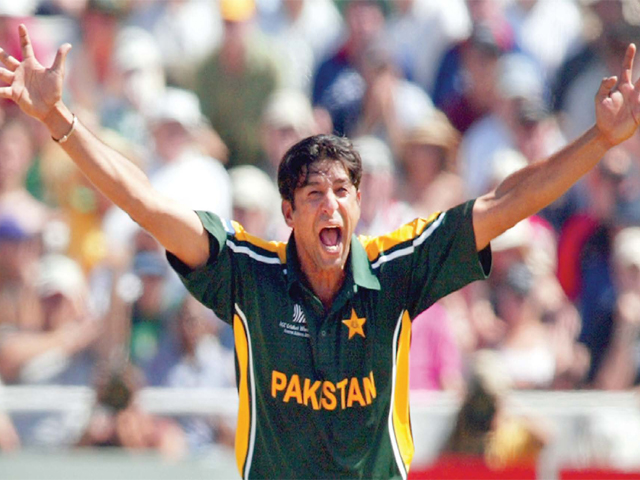 ---
KARACHI: Legendary paceman Wasim Akram Saturday urged the country's top fast bowlers to be aggressive and adapt to new rule changes in order to excel at the international level.

The 46-year-old, regarded as one of the best left-arm paceman ever to play the game, is holding a ten-day training camp for top 20 fast bowlers in the country ahead of the eight-nation Champions Trophy in June in England.

Wasim said the change in rules in one-day cricket which allow only four fielders outside the inner circle throughout the 50-overs, were tough for bowlers.

"You need to be aggressive and learn how to adapt to these rule changes," Wasim told reporters. "Pakistani bowlers have a lot of talent but they need to learn and adapt to the demands of international cricket."

Pakistan's new sensation Mohammad Irfan, who is the tallest to play international cricket at 7 feet one inch, is the star attraction of the training camp.

Wasim said Irfan needs special care because of his height.

"Irfan is a special talent, but because of his height he needs to be handled carefully," said Wasim of Irfan, who was Pakistan's best bowler with 11 wickets in the one-day series in South Africa last month.

Wasim along with pace partner Waqar Younis was one of several fast bowlers who learnt the art under the legendary Imran Khan in mid 1980s. He took 414 Test and 502 one-day wickets during an illustrious career.

Wasim dispelled the impression that Pakistan was lacking in quality fast bowlers.

"I don't think it's a serious concern. The talent is definitely there but these kids need experience and must learn to adapt to the demands of international cricket where they are found wanting," said Wasim.

"The grounds in South Africa are green but need certain strategy to bowl, so until and unless they learn it they will not be able to turn their potential into performances," said Wasim.

Wasim said he will try to inculcate the best attributes into the next generation of fast bowlers.

"I am not a magician, but I will try my level best to help them in phases and hope that the same training camp is staged after a break of three to four months," said Wasim.

Wasim will also guide the fast bowlers in national team's tune-up camp in northern city of Abbottabad next month before guiding them during the Champions Trophy from June 6-23.

Wasim said Champions Trophy will be a test for Pakistan.

"It's a big event and involves a match against India which will be a cracker," Wasim said about Pakistan's match against India in Birmingham on June 15.

Pakistan also plays the West Indies on June 8 and South Africa two days later.