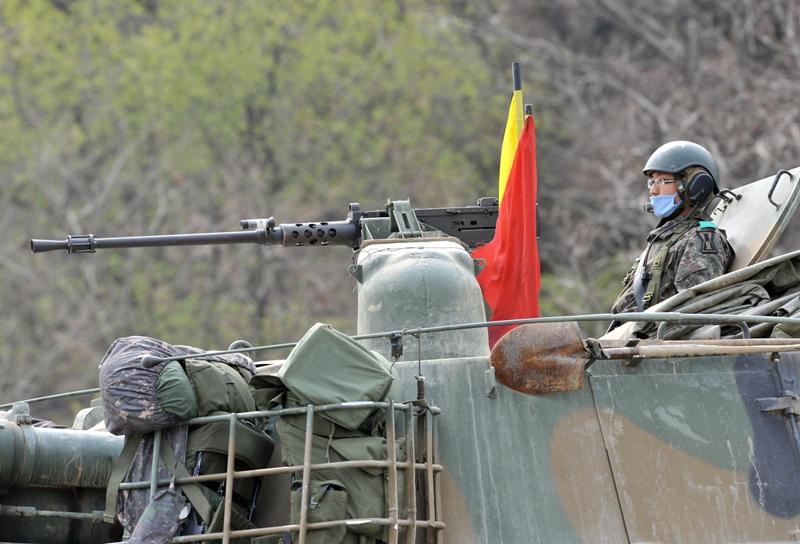 ---
SEOUL/ WASHINGTON: North Korea on Tuesday threatened the South with "sledge-hammer" military action over anti-Pyongyang protests in Seoul and rejected the idea of entering into a "humiliating" dialogue with the United States.

Both statements came a day after US Secretary of State John Kerry wrapped up a Northeast Asian tour aimed at defusing soaring military tensions on the Korean peninsula and getting China to help rein in a belligerent Pyongyang.

The threat against the South followed a demonstration by conservative activists in Seoul who burned effigies of North Korea's late founder Kim Il-Sung, his son Kim Jong-Il and grandson and current leader Kim Jong-Un.

The protest coincided with North Korean celebrations Monday of Kim Il-Sung's birthday -- one of the most important dates in the national calendar.

Condemning what it described as a "thrice-cursed... monstrous criminal act", the Korean People's Army (KPA) Supreme Command issued an "ultimatum" threatening immediate action if no apology was forthcoming.

"Our retaliatory action will start without any notice," it said in a  statement.

"The military demonstration... will be powerful sledge-hammer blows at all hostile forces hurting the dignity of the supreme leadership," it added.

Intelligence reports suggest the North has had two medium-range missiles primed to fire from its east coast for at least a week, with most observers predicting a launch sometime around the date of Kim Il-Sung's birthday.

South Korea's defence ministry called Tuesday's ultimatum "regrettable" and promised to retaliate "thoroughly and resolutely" to any provocation.

The Korean peninsula has been in a state of heightened military tension since the North carried out its third nuclear test in February.

Incensed by fresh UN sanctions and joint South Korea-US military exercises, Pyongyang has spent weeks issuing blistering threats of missile strikes and nuclear war.

During his whirlwind tour of South Korea, China and Japan, Kerry had raised the prospect of "authentic" negotiations if Pyongyang took "meaningful steps" to show it would honour past commitments.

Kerry did not specify what form any negotiations might take. In the past Washington has refused direct talks with Pyongyang, insisting instead on using the forum of the six-party talks on North Korea.

North Korea has always desired direct talks, but on Tuesday its foreign ministry rejected the prospect of negotiations, saying Washington would first have to abandon its "hostile" policies.

"We do not oppose dialogue, but cannot sit face-to-face at the humiliating dialogue table with the other party who is wielding a nuclear stick," a ministry spokesman said in a statement issued on state media.

North Korea has regularly accused the US of preparing to launch a nuclear strike on its territory, and reacted furiously to the use of nuclear-capable B-52s and B-2 stealth bombers in the joint South-US military drills.

The missiles mobilised by the North for a possible launch are reported to be untested Musudan models with an estimated range of up to 4,000 kilometres (2,485 miles).

That would cover any target in South Korea and Japan, and possibly even US military bases on the Pacific island of Guam.

South Korean and US forces have been on a heightened state of alert for days, and Japan has deployed Patriot anti-missile systems around Tokyo and promised to shoot down any missile deemed to be a threat.

A US Forces Korea official said Tuesday that North Korea was seeking a way to "off-ramp" from the elevated state of threat its rhetoric had risen to in recent weeks.

"We're seeing nothing ... that would suggest that anything is going to be threatening the South," the official told reporters, adding that any missile launch would likely be directed into the sea.

Obama says expects more provocative moves from North Korea

President Barack Obama said on Tuesday he expects more posturing by North Korea and, while he does not believe the Asian nation has the capacity to put a nuclear weapon on a ballistic missile, the United States is preparing for "every contingency."

"I think all of us would anticipate that - you know, North Korea will probably make more provocative moves - over the next several weeks," Obama told NBC's "Today."

"But our hope is that we can contain it and that we can move into a different phase in which they try to work through diplomatically some of these issues," he said.
COMMENTS (1)
Comments are moderated and generally will be posted if they are on-topic and not abusive.
For more information, please see our Comments FAQ