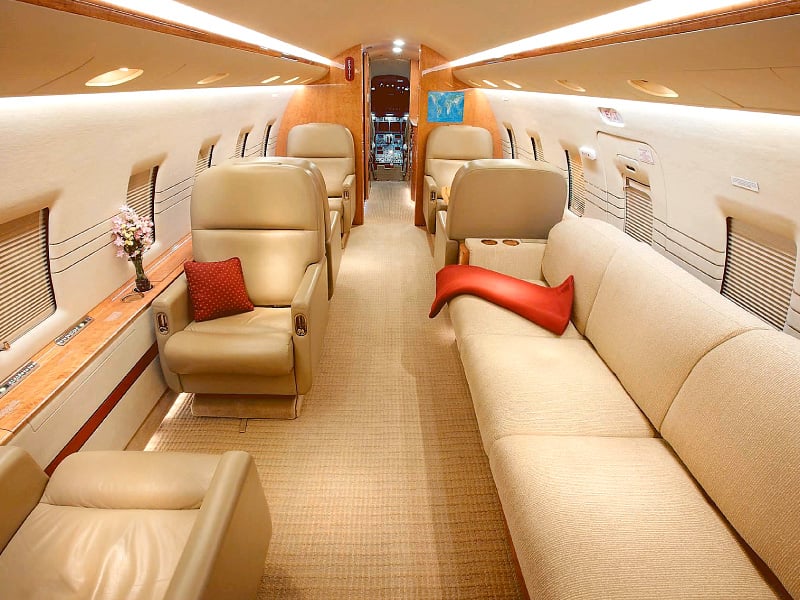 ---
KARACHI:


Imagine you are Imran Khan or Nawaz Sharif. You are the face of your party, running a nationwide campaign, and seeking to become the next prime minister of Pakistan. You need to attend multiple rallies every day in different parts of the country, and still be back home in Lahore or Islamabad at night to attend strategy meetings with your closest advisors. How do you possibly manage all of it without dying of exhaustion? Simple: you call Princely Jets.

If the Pakistani political campaign was invented by Pakistan Peoples Party founder Zulfikar Ali Bhutto for the 1970 election, it is being reinvented by the leaders of Pakistan Tehrik-e-Insaf and Pakistan Muslim League Nawaz in 2013. And the Karachi-based Princely Jets, a private aviation company owned by the Akbar Group, finds itself in the unexpected position of benefiting from the change in political travel patterns.

With a shorter campaign schedule than any other election in Pakistani history, the 2013 campaign is putting an enormous physical strain on the top political leaders who lead their respective parties' bid for the prime minister's house. In competitive districts, particularly in Punjab and Khyber-Pakhtunkhwa, the parties want to bring out their big guns, resulting in Imran Khan and the Sharif brothers' schedules being packed with several rallies in different districts.

Given the poor road network in many parts of the country, in addition to the security risk that many of the top political leadership face, travel by private helicopter or private plane ends up being the most convenient option.

Sources familiar with the matter say that PTI chairman Imran Khan is more prone to use helicopters, since many of his campaign events are in Khyber-Pakhtunkhwa, and other parts of the country that do not have landing strips that might be able to accommodate a plane. PML-N leader Nawaz Sharif is more prone to using planes, since he frequently travels to larger towns in Punjab that have airstrips, or even a fully functioning airport.

"Helicopters are infrastructure-neutral," said one aviation expert. "They can fly to places where conventional aircraft simply cannot go."

The time savings can be quite significant. In the plains of Sindh and central Punjab, one hour of helicopter flying time would cover a distance that would take a car about six hours to traverse. In the more mountainous regions of northern Punjab and Khyber-Pakhtunkhwa, a helicopter can cover 11 hours worth of driving time in one hour.

And while private planes and helicopters can be expensive, they do not appear to be completely unaffordable. Sources familiar with the matter say that the political parties who use Princely Jets' services pay commercial rates, in advance, which come to between $4,000 and $6,000 per flight hour.

That amount may sound like a lot, but it appears to be less expensive than travelling with the large entourages that most leading politicians travel with. A typical road caravan can sometimes include over 30 vehicles, including police personnel who are taken off their regular duty to provide security for politicians. By contrast, the politicians' airborne entourages are restricted by the 10-seat capacity of the planes and 5-seat capacities of the helicopters.

Princely Jets, meanwhile, appears to be a politically neutral company. Aviation industry sources familiar with the company's operations say that it has provided services to leaders from across the political spectrum. While the PTI and PML-N are currently its biggest users, former clients include former President Musharraf, former Prime Minister Shaukat Aziz, President Asif Ali Zardari, and even former British Foreign Secretary David Miliband, who did his "Lunch with the FT" interview with the Financial Times onboard a Princely Jets Bombardier Challenger 604.

Sources in the aviation business say that political parties do not seem to mind having the same service provider. "A seat on a Princely Jets plane is probably the only one politicians are willing to share," said one aviation industry expert, who declined to be identified.

An international footprint

When it is not flying around Pakistani politicians, Princely Jets provides private aviation services to clients not just in Pakistan but also the Middle East. The company owns three jets, all manufactured by Bombardier, a Canadian plane maker. It also has four Eurocopter helicopters. By the end of April, it will add another plane and helicopter to its fleet.

Aviation industry sources say that the election business has caused only a marginal increase in Princely Jets' revenues, mainly serving only to divert its business from clients in the Middle East to those in Pakistan.

That shift towards local travel, even though temporary, is likely to be popular with its staff, which is entirely Pakistani. Its plane pilots are returned Pakistani expatriates from the Middle East who have flown wealthy executives and royal family members in the Arab world. For helicopters, the company relies primarily on pilots who were part of the Pakistan Army or Navy.

Princely Jets is part of the Akbar Group of Companies, which started Shaheen Air International in the early 1990s before selling it off in 1995.

The company has a virtual monopoly on the private aviation market as an external provider, but it is not the only company that owns its own private planes. Bahria Town, Nishat Group, JDW Sugar, and the Fatima Group all have their own private planes for their top executives. Even Pakistan Muslim League Functional leader Pir Pagaro has his own private jet.

Yet the Pakistani private aviation industry remains a small one. Sources in the industry say that politicians appear to be leading the way in discovering the value of such services, faster that business executives at most major companies in Pakistan. "In the rest of the world, it is the opposite: business leaders started using planes first, and only later did politicians discover uses for it," said an industry expert.


Published in The Express Tribune, April 16th, 2013.