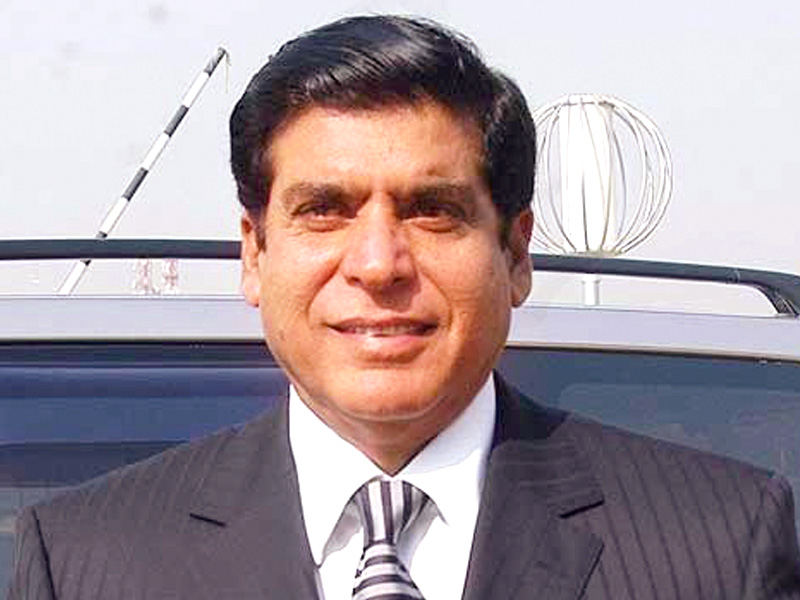 ---
RAWALPINDI/ QUETTA/ LAHORE/ KARACHI:



Raja Pervaiz Ashraf may be a former prime minister, but apparently he is not 'Sadiq' and 'Ameen' (sagacious and righteous) enough to run for elections. At least, that's what a two-member election tribunal of Rawalpindi division decided on Monday. 




Ashraf's papers were rejected on three counts: for awarding a contract to the National Logistics Cell (NLC) without advertising it as per the rules; for his involvement in the Rental Power Projects case, and for a contempt of court case he incurred by writing a letter to the Supreme Court.

The first case, in which a contract was awarded to the NLC for constructing roads in Ashraf's constituency, had earlier been dubbed a case of 'naked corruption' by the Islamabad High Court.

Sheikh Zameer Hussain, representing the returning officer, told the tribunal that Ashraf has been declared as being not 'sagacious and righteous' by the IHC and has also been issued a notice by the Supreme Court in a contempt of court case.

Farooq H Naek, Ashraf's counsel in this case, said terming Ashraf not 'sagacious and righteous' were mere observations of the IHC judge.

When the tribunal asked Naek whether it was competent to overrule the high court's decision, Naek replied that the IHC did not hear him out before issuing the judgment.

"No one can be declared as being not 'sagacious and righteous' without hearing the witnesses," Naek said. "The matters are pending in courts. He can be disqualified if proven guilty," he said, adding that it would be injustice if Ashraf is disqualified and the court later acquits him.

Talking to reporters, Naek said they would appeal in the Supreme Court if Ashraf was disqualified.

Meanwhile, there was also bad news for the former opposition leader in the Balochistan Assembly, Nawabzada Tariq Magsi. The Balochistan election tribunal rejected his papers, while also dismissing appeals against PTI Balochistan President Qasim Suri and PML-Q Balochistan President Jaffar Khan Mandokhel.

But while one former prime minister will seemingly sit this election out, another is all set to go campaigning. PML-N chief Nawaz Sharif got a clean chit from the election tribunal on Monday, along with his brother Shahbaz Sharif, former information minister Qamar Zaman Kaira and Imtiaz Safdar Warraich.

The tribunal dismissed appeals filed against the candidature of the Sharifs and Kaira while accepting Warraich's appeal against the rejection of his nomination papers.

Nawaz will now contest elections from NA-119 and NA-120, while Shahbaz Sharif will contest from NA-129 and PP-161. Warraich will take a shot at NA-98 (Gujranwala), while Kaira will contest a National Assembly seat from Gujrat.

Four appeals were filed against the acceptance of Nawaz's  nomination papers from NA-120, seeking his disqualification on the grounds of alleged discrepancies in his assets and income statements. The appellants also argued that it had been established that both Sharifs had received money from the agencies to manoeuvre the 1990 general elections.

Nawaz was also accused of being involved in money laundering, and one of the appellants accused him of illegally occupying her ancestral property in the Shah Alam area. However, the tribunal dismissed all appeals by declaring them non maintainable.

But while Nawaz can now concentrate on PML-N's election campaign, the man who once removed him from power is facing hurdles.

An election tribunal on Monday dismissed the former military ruler Gen (retd) Pervez Musharraf's petition against the rejection of his nomination papers for NA-250 (Karachi).

Musharraf's papers had been rejected on allegations of suspending the Constitution and removing and detaining judges in 2007, among other charges.

Headed by Justice Faisal Arab, the two-member tribunal dismissed the plea through a short order, saying the reasons would follow in the detailed judgment to be announced later.

Musharraf's lawyer, Khawaja Naveed Ahmed, said the RO had rejected his papers despite the fact that no case is pending against him with regard to subversion of the Constitution and holding the Constitution in abeyance in November 2007.

"His nomination papers were also accepted from NA-32 Chitral by the returning officer," he said.

He also argued that several convicted persons, including former prime minister Yousuf Raza Gilani and Mohajir Qaumi Movement's Chairman Afaq Ahmed have been allowed to contest the election. The tribunal, however, was not convinced by his arguments.

Published in The Express Tribune, April 16th, 2013.