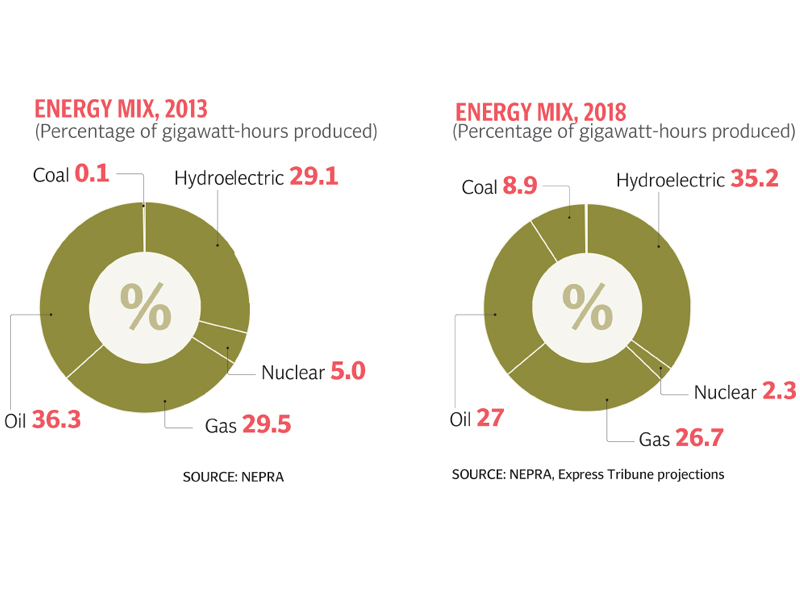 ---
KARACHI:



After five years of unbearably long daily power outages, Pakistan's private sector has had enough: over the next five years, they plan on investing over $14.3 billion in increasing the nation's power production capacity by nearly 46%, and they are doing so by investing in the cheapest possible sources of electricity.




According to data released by the National Electric Power Regulatory Authority (Nepra) in its 2012 State of the Industry report, private sector firms have already begun work on dozens of projects that would substantially increase the country's electricity generation capacity. For the purposes of this special report, we include only those projects that are scheduled to be completed by the end of the next administration's term in 2018.




If the next administration were to do absolutely nothing to prevent or slow down the progress currently being made on projects that are already approved and progressing, Pakistan's power generation capacity will increase to 34,200 megawatts (MW), compared to the approximately 23,500MW today. Of that increase, more than 80% is coming through private sector initiatives.

Yet it is not just the private sector's initiative that deserves to be applauded: it is also their foresight. Nearly all of the private sector projects scheduled to come online use the cheapest fuels possible. These firms are scheduled to add about 4,900MW to the nation's hydroelectric power generating capacity, for example. Another 800MW will be added in terms of gas-fired thermal power plants. And nearly 3,000MW will be added or converted to coal and bagasse (a waste product from sugar manufacturing).

Residents of Karachi should rejoice in particular: the Karachi Electric Supply Company is converting 840MW of oil-fired thermal power stations to coal, which will dramatically increase the country's only private utility's ability to generate cheaper electricity. Put simply, this will mean even fewer power outages in Karachi.




The private sector's focus appears not only towards fuel sources that are cheap, but also easily available. Natural gas, for instance, is possibly the cheapest source electricity, cost an average of Rs4.24 per kilowatt-hour, according to Nepra. But the bulk of the investment is going towards hydroelectricity, which, according to Nepra's tariff determination, is expected to cost Rs5.43 per unit for the first 12 years of a project's life, while the debt used to finance the plants is still being paid off, following which the tariff will be reduced to Rs2.47 per unit.




The preference for hydroelectricity has to do with the fact that Pakistan's natural gas reserves are rapidly being depleted and importing gas is far more difficult than importing coal. Power plants that run on imported coal can produce electricity for an average of Rs10 per unit, according to industry experts, much cheaper than the Rs16 per unit that oil-fired thermal plants cost.

Compared to the $14.3 billion being invested by the private sector, the government is planning to invest just over $2.5 billion over the next five years to upgrade its power infrastructure, which will add about 2,100MW of electricity generating capacity over the next five years, the overwhelming bulk of which will be in thermal power plants that can run on both oil and gas.




The picture, of course, is not completely rosy. Power projects are notorious for not meeting their deadlines so it is possible that the next administration will not see all of these projects come to fruition during its term. But given the private sector's commitment to solving Pakistan's energy problems, the least the government can do is not create hurdles in their way. It will only help their own re-election chances.

Published in The Express Tribune, April 8th, 2013.

Like Business on Facebook to stay informed and join in the conversation.
COMMENTS (9)
Comments are moderated and generally will be posted if they are on-topic and not abusive.
For more information, please see our Comments FAQ