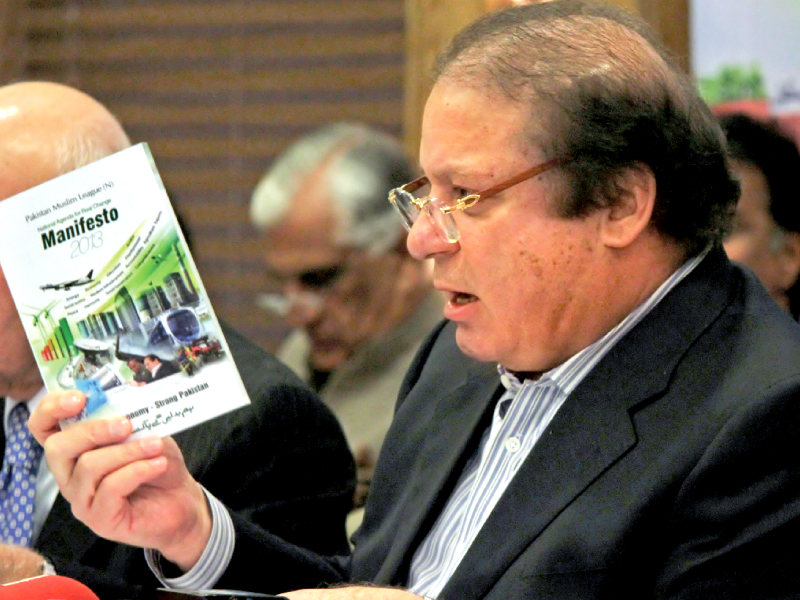 ---
LAHORE:



The Pakistan Muslim League-Nawaz has set its sights on nabbing 56 of the 68 National Assembly seats from central Punjab come what may. In this regard, party chief Nawaz Sharif has been personally overseeing the finalization and distribution of tickets to aspiring party candidates from the region.




Sharif on Wednesday presided over the meeting of the party's central parliamentary board, interviewing and finalising candidates for 20 seats from the Faisalabad division. The PML-N chief had earlier finalised tickets for 23 seats from the Gujranwala division. He is set to finalise candidates for seats from Gujrat and Mandi Bahauddin districts today (Thursday).

According to top level PML-N officials, the party is keen on winning 56 NA seats from central Punjab (which comprises the Gujranwala, Lahore and Faisalabad divisions) in order to attain its target of 110 NA seats from the whole province. Although the PML-N only managed to win 37 of the 68 NA seats from central Punjab in the previous elections, they said the party chief was optimistic about achieving the target this time around.




PML-N's top level policymakers have vowed to win 22 of the 25 NA seats from Lahore division and have awarded tickets for the seats to strong candidates. Of Gujranwala division's 23 NA seats, the party is determined to win at least 18 seats. And although it has received a large number of applications for Faisalabad division's 20 NA seats, PML-N has finalised strong candidates for 16 seats.

According to insiders at the meeting, PML-N discussed the possible threat posed by Pakistan Tehreek-e-Insaf in central Punjab and briefed its candidates on countering the latter party's popularity in the region. They said Dr Tauqeer Shah, the former secretary to the Punjab chief minister, recommended final candidates for the seats and briefed the PML-N leadership on countering the PTI threat based on the surveys he conducted in the central Punjab constituencies during his tenure.

Nawaz Sharif is also set to finalise candidates for northern Punjab (Rawalpindi and Sargodha divisions) in the coming days. Following that, he will finalise candidates for the Lahore division.




Gujranwala division

The division comprises six districts: Gujranwala, Sialkot, Narowal, Mandi Bahauddin, Hafizabad, and Gujrat.

So far PML-N has finalised Usman Ibrahim for NA 95. Engineer Khurram Dastgir for NA 96, Chaudhry Mehmood Bashir Virk for NA 97, Rana Nazir Ahmad Khan for NA 99, Bilal Ejaz for NA 100, Saira Afzal Tarar for NA 102, Chaudhry Jaffar Iqbal for NA 105, Malik Hanif for NA 107, Khawaja Asif for NA 110, Khush Akhtar Subhani for NA 111, Rana Abdul Sattar for NA 112, Syed Iftikharul Hassan for NA 113, Zahid Hamid for NA 114, Mian Muhammad Rasheed for NA 115, Daniyal Aziz Chaudhary for NA 116 and Ahsan Iqbal for NA 117. Candidates for NA 101, NA 103, NA 104, NA 105, NA 108 and NA 109 have yet to be decided.

Published in The Express Tribune, April 4th, 2013.