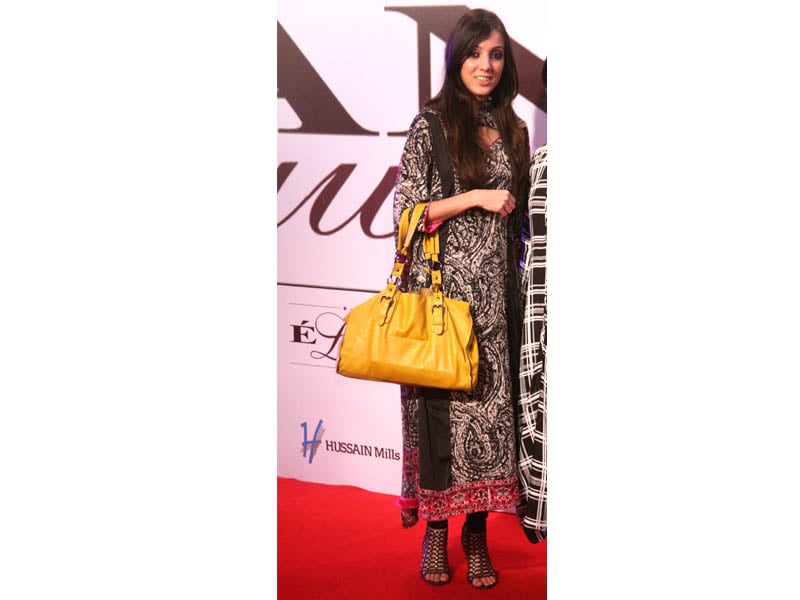 ---
Zainab was caught on camera last month at the Élan Lawn preview in Lahore.

Unfortunately, she wasn't wearing anything that went well together, so she gets no points on our style-o-meter.

The charges sheet

Hair

While we love her long hair, a bit of volume would have been nice. The straight, flat hair is boring — it's time to style those locks! A nice up-do on a hot day always looks elegant.

Make-up

We don't see any make-up. We wish Zainab had flaunted a bright colour to bring out those lips and that outfit. With that beautiful glowing skin, simple lined eyes, a light blush and a bright lip is all that's needed to look fresh.

Accessories

Zainab forgot all her accessories, except that yellow bag. She could have worn a couple of bracelets or rings on that bare hand. While we love the colour of the purse, we can't understand why she carried it with this outfit? It's a classic case of mismatch!

Outfit

Panelled shirts are so passe! Though we love the pink appliqué on the bottom, our recommendation is to wear this kameez at home.

Shoes

What we can't seem to digest are those cobweb-inspired sandals. With all the beautiful flip flops and slippers available, why would one ever opt for these?

Bail Out!

Cameron Diaz




Actor Cameron Diaz was spotted at an airport in a casual outfit with her yellow handbag. She had on light colours, so our eyes were glued on that big, happy yellow purse. Make some notes!

Rhianna




Singer and designer Rhianna was bang on trend with her lilac jumpsuit and light make-up. She clutched on tight to her yellow purse as she posed for the camera. We love the combo and her sense of style.

Jessica Alba




Actor Jessica Alba smiled wide, as she was caught dressed in a metallic gray dress, sporting a shiny yellow handbag. She looked trendy with her high pony-tail and black stilettos carrying all a girl needs in her huge purse. 

Published in The Express Tribune, April 3rd, 2013.

Like Life & Style on Facebook for the latest in fashion, gossip and entertainment.