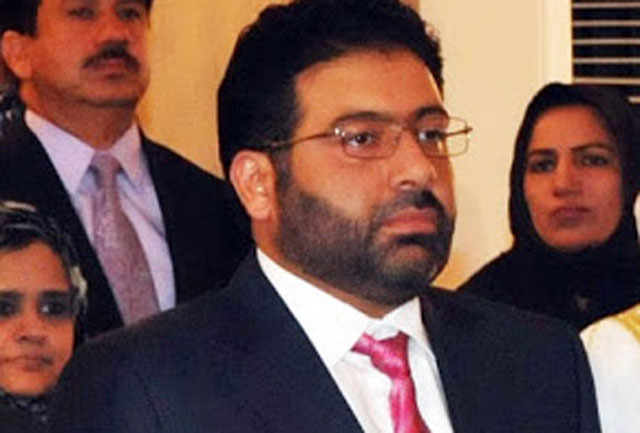 ---
ISLAMABAD/ HYDERABAD:



"Who is Owais Tappi?" This was the question asked by Justice Sarmad Usmani during a hearing of the Karachi law and order case in February this year.




On Monday, that self-same Owais Muzaffar Tappi showed up at a Hyderabad court to face a returning officer (RO) as part of the scrutiny process for aspiring election candidates.

Tappi, who is vying for the PS-88 seat from Thatta and is believed to be the foster brother of President Asif Ali Zardari, never showed up to either receive or submit his nomination papers, but had little choice but to show up for scrutiny. His entry, with an escort of no less than six police mobiles, was a dramatic one and there was a brief furore as some of his guards allegedly misbehaved with assembled lawyers.

Once there, Tappi, who is also said to be the Pakistan Peoples Party's top choice for Sindh's next chief minister, swore under oath that he owned no property in Pakistan.

Following this, he was asked by the returning officer how many prayers are offered in a day and the number of Farz rakats in each prayer.

As for why this latter question needed to be asked, former PPP MNA, Justice (Retd) Fakhrunissa, told The Express Tribune that the RO can ask such questions from a Muslim candidate as it was clearly mentioned in article 62 and its clause 'e' that a candidate should have adequate knowledge of Islamic teachings and must practice obligatory duties prescribed by Islam as well as abstaining from major sins. Should a candidate fail to satisfy the RO in this regard, he can be disqualified, she said.




An official of the Election Commission of Pakistan also said that the RO has the right to ask any related question if a person claims to be a Muslim on his nomination papers. However a senior lawyer of the Supreme Court, Abid Hassan Minto, pointed to the problems this condition can cause saying that 'adequate knowledge' is a subjective term.

Minto said that Gen Ziaul Haq had inserted articles 62 and 63 into the constitution without providing any clarity about their interpretation. He also clarified that, according to constitutional provisions, a candidate cannot be permanently disqualified. Minto also criticised the ECP's interpretation, saying that if it were strictly adopted then a majority of uneducated villagers would also be declared non Muslims.

Tappi, after answering all the varied questions, left without speaking to the media. The PS-88 constituency he is seeking to contest from is considered a safe seat for him in the wake of the Sherazis and Malkanis joining the PPP. The Ghora Bari taluka, which constitutes the constituency, has traditionally remained a stronghold of the Sherazi and Malkani families.

Published in The Express Tribune, April 2nd, 2013.