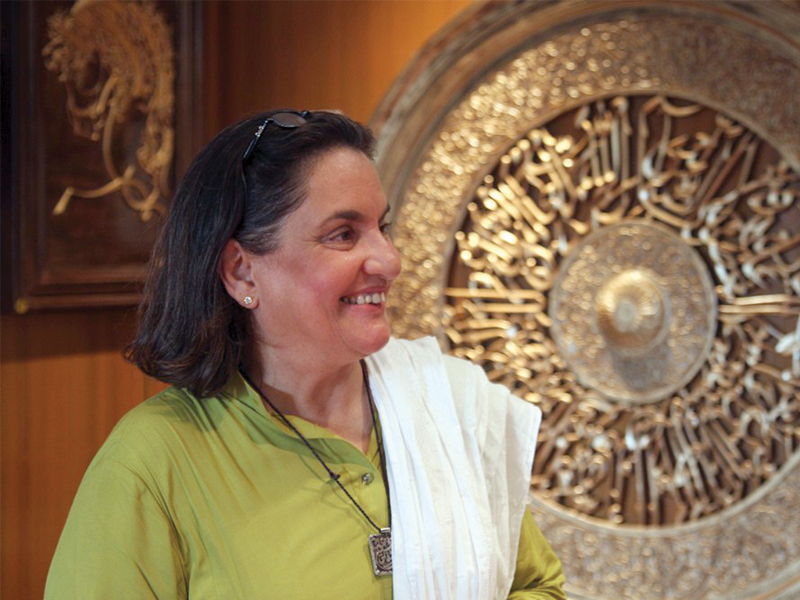 ---
KARACHI: Calligrapher Ruheena Malik has immortalised her faith through her three-dimension carvings of the treasures of Islamic art.

The winner of the Pride of Performance Award, Malik recently hosted an exhibition of calligraphy where she displayed over 50 art pieces. The exhibition was held at the Quaid-e-Azam House Museum on Fatima Jinnah Road.

Talking to The Express Tribune, she said her work is inspired by the immortal verses of the Quran. It comprises of the exquisite creativity reflected all across the expanse of this universe. Her expression is based on a firm belief in the Almighty's power to create.

For her, the beautiful calligraphy of the Quranic verses is a humble but passionate tribute to the limitless imagination of the ultimate Creator. "The collection is different from traditional Arabic calligraphy as the work allows Arabic words and Cubism to complement each other," she said. Cubism is an early-20th-century art movement that includes the representation of three-dimensional forms.




The exhibition at Quaid-e-Azam House was Malik's third exhibition - the earlier ones were held at Lahore and Islamabad, where her works were highly appreciated. Malik has been working on the collection since 1996. Her internal faith was the main driving force that led her to create the beautiful calligraphy of Quranic verses.

Over the decades, Malik's talent has been enhanced by her extensive experience and diverse renditions in the world of art. Her works reflect the ancient forms of intricately carved calligraphy, such as Kufic, Thulth, Naskhi and Nastaliq. Her art and craft is expressed in vertical, horizontal and circular formats. She also described the goals of Islamic calligraphy and its importance to the Muslim culture.

Published in The Express Tribune, March 28th, 2013.
COMMENTS
Comments are moderated and generally will be posted if they are on-topic and not abusive.
For more information, please see our Comments FAQ