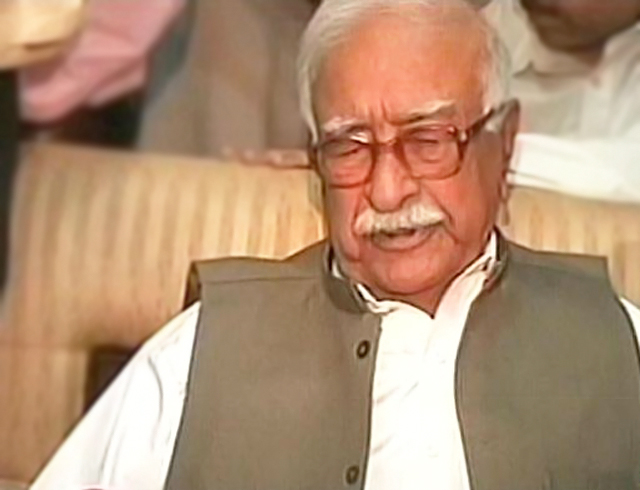 ---
ISLAMABAD: Pakistan Sunday finally selected a caretaker prime minister, a retired judge, to head up an interim administration to guide the country through its historic election period.

Mir Hazar Khan Khoso, 84, was selected by the election commission after a parliamentary committee and rival parties failed to agree on a candidate. He comes from the troubled southwestern province of Balochistan.

"We have picked Mir Hazar Khan Khoso after frankly and openly discussing all the four names forwarded to us," chief election commissioner Fakhruddin Ibrahim told reporters in Islamabad.

The outgoing government had proposed Khoso and a former central bank governor Dr Ishrat Husain, while the main opposition Pakistan Muslim League-N, frontrunner to win the May 11 polls, put forward the name of another retired judge Justice Nasir Aslam Zahid and a politician Rasool Bux Paliejo.

Khoso, speaking to the media, assured that the general elections in the country will be held on time, and he will leave his post after completing his term.

He also said that the elections will be free and fair.

Khoso was selected a week after parliament dissolved and four days after President Asif Ali Zardari set the date of the general election.

The vote is set to mark the first time that an elected civilian government hands over to another in a country that has seen three military coups and four military rulers since partition from India in 1947.

The announcement was made just minutes before former military ruler Pervez Musharraf landed back in Pakistan after more than four years in exile, defying Taliban death threats in a bid to contest the May election.

Militant attacks and record levels of violence directed against the Shia Muslim minority have raised fears about security for the polls in the nuclear-armed country of 180 million.

Justice (retd) Mir Hazar Khoso

A venerated officer, bearing a reputation of honesty, Justice (retd) Mir Hazar Khan Khoso, 84, hails from the Goth Azam Khan Khoso in Jaffarabad district of Balochistan. Nominated by the ruling party, his first political appointment came as the Acting Governor of Balochistan – an office he kept for three months after the death of Governor Muhammad Musa, who served as the 10th governor of the province from December 17, 1985 to March 12, 1991.

Earlier, having served as judge of the Balochistan High Court, Khoso was promoted to assume the position of Chief Justice of Balochistan High Court for a tenure spanning from 1990 to 1991.

As a judicial officer, Khoso never indulged in any controversy and kept himself away from politics and while being a judge in the superior courts. Owing to the respect and trust he enjoyed from Baloch nationalist leaders and separatist elements of Balochistan, the ruling party considers him invaluable in bringing disgruntled elements to unity.

After retiring from the provincial court in September 1991, Khoso took up the office of Judge of the Federal Shariat Court. After a few years of diligent service, in 1994, Khoso was promoted as Chief Justice of the Federal Shariat Court.

Because of his clean reputation, Khoso currently serves as the Balochistan Chairman of the Zakat Council, a position that demands both uprightness and responsibility. This is a testimony to Khoso's wide popularity among the leadership of Balochistan.

Since long, Khoso has steered clear from politics, focusing mainly to his Zakat Council job. However, he is active as an agriculturist in his town Subatpur.

Recently, his son, Advocate Amjad Khan Khoso, is reported to have joined the Pakistan Tehreek-e-Insaf.

His other son, Mehrab Khan Khoso, was elected as an MPA of Balochistan Assembly on the ticket of Pakistan Peoples Party in 2008.
COMMENTS (45)
Comments are moderated and generally will be posted if they are on-topic and not abusive.
For more information, please see our Comments FAQ