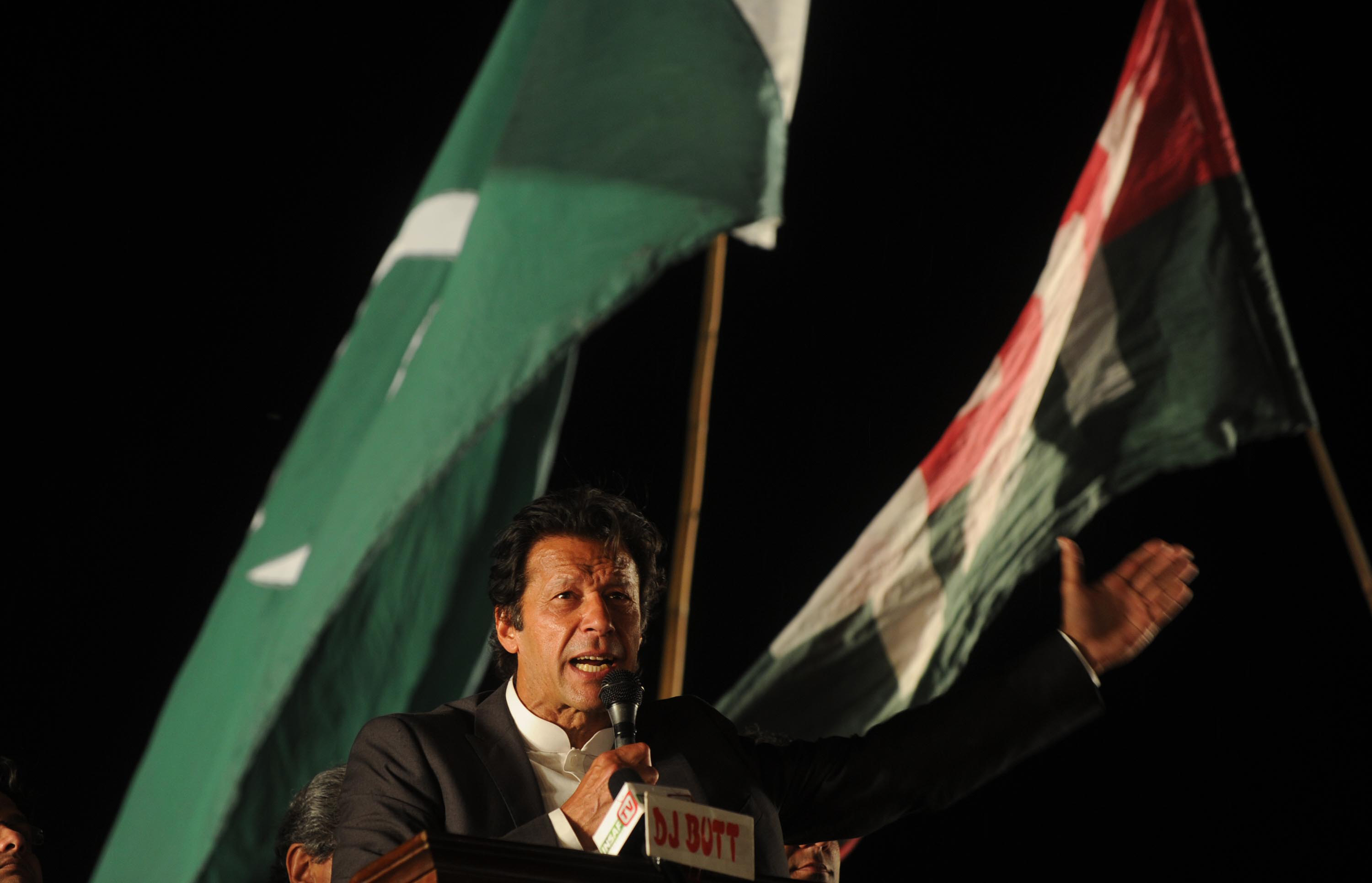 ---
LAHORE: Pakistan Tehreek-e-Insaf (PTI) organised a massive rally at the Minar-i-Pakistan on Saturday, reported Express News.

PTI chief Imran Khan, addressing the rally, made six promises to the people that he will not lie, will not indulge in double speak, take benefit of his position if elected into power and will not take his money out of Pakistan.

Imran said that his party did not need to make alliances. He added that change was not coming, but has arrived.

He promised to tear down the walls of the governor house and build sports grounds there and convert the governor house into a library if the PTI wins the elections. 

While Imran announced that PTI's manifesto would be read out, heavy rain and technical difficulties prevented that.

In preparation for the expected strength of attendance, security arrangements have been beefed up in Lahore, including deployment of 2000 police officials and bomb squad security checks.

The organising committee rented 50,000 chairs for the rally and up to 3000 youths volunteered to help usher people to designated areas in the rally.

……………………………………………………………………………………………………………………………………

                                                       END OF LIVE UPDATES

……………………………………………………………………………………………………………………………………

8:15pm




The speeches are currently paused due to heavy rain and a stampede at the rally.




……………………………………………………………………………………………………………………………………

Imran Khan prior to speaking at the Lahore rally




……………………………………………………………………………………………………………………………………

7:47pm

Express News reports that there has been a stampede at the PTI rally. Initial reports say many people have been injured due to the stampede.

……………………………………………………………………………………………………………………………………

7:45pm

Imran says that he is not like those leaders who are practicing politics here but their money is outside Pakistan. "I will live here and I will die here, I will never leave Pakistan."

Imran says that public tax money will not be spent in Governor or Chief Minister Houses. "When PTI's government comes into power, it will tear down the walls of governor house and will make a big sports ground there and a library in the governor house."

……………………………………………………………………………………………………………………………………

7:40pm

Imran promises that he will not tell the people that which he cannot do. "I will not do the drama of new provinces, or increase wages of labourers."

"If I say we oppose drone attacks, then i will be telling the US that as well."

……………………………………………………………………………………………………………………………………

7:37pm

"I want to thank you all that you have proved that change is not coming, but has already arrived," says Imran Khan.

He added, "Pakistan's future is in your (youth) hands. I am fortunate to have had everything."

"I want to make a "naya Pakistan" (new Pakistan) with you all."

"People said not to conduct Intra-party elections, the party will break up. People said not to go to Waziristan, they will kill you there. But I took those decisions."

My father stood in this very ground in 1040 when the resolution for Pakistan was approved. They told me that he was here when the decision for Pakistan being made he was there. All of you, you can tell your children that when the decision for the new Pakistan was being made, you were all here.

……………………………………………………………………………………………………………………………………

7:35pm

It is raining at the rally grounds in Lahore.

……………………………………………………………………………………………………………………………………

7:30pm

PTI chief Imran Khan's six pledges:

1. I will always speak the truth to the people of Pakistan.

2. The PTI government that will come into power, I promise that we will try to end tyranny.

3. I will never take my money out of Pakistan.

4. I will never take personal benefit from being in government, nor will my relatives be allowed to benefit from my being in power.

5. I will protect your tax money.




6.  We will stand together with every Pakistani in or outside Pakistan.




……………………………………………………………………………………………………………………………………

7:25pm

PTI chief Imran Khan says that his party's manifesto will be unveiled soon.

……………………………………………………………………………………………………………………………………

7:20pm

PTI chief Imran Khan says that he will be making six promises to the people.

……………………………………………………………………………………………………………………………………

7:15pm

PTI Chief Imran Khan addressing the rally at Minar-e-Pakistan ground.

……………………………………………………………………………………………………………………………………

6:43pm

"After PTI was created, the party lost the first elections. People started taunting Imran Khan that 'politics is not a game, you cannot do it'. He said 'I will fight'. In next elections, Imran Khan won only one seat from Mianwali, people said 'Forget it, it's not possible'. Imran Khan said: 'To make impossible possible is Imran Khan'," says Shah Mehmood Qureshi.

……………………………………………………………………………………………………………………………………

6:38pm

Recalling Imran Khan's successes, Shah Mehmood Qureshi says, "He became the captain of Pakistani cricket team, people said 'Imran Khan you cannot win the World Cup'; Still he won the cup. He decided to make a cancer hospital in Lahore, which will give free treatment to the poor; people said 'Where will you get the money from'; |Shaukat Khanum Memorial Hospital was born. He decided to step into the politics of the country, people said 'there are already two big parties and there's no third alternative'; but he didn't step back and PTI was born."

……………………………………………………………………………………………………………………………………

6:21pm

Shah Mehmood Qureshi addresses the rally.

The address will resume after Maghrib prayers.

……………………………………………………………………………………………………………………………………

6:08pm

Minar-e-Pakistan ground full of people.

80,000 leaders of PTI, who won the intra-party elections, will take oath later today and Imran Khan is expected to administer the oath.

……………………………………………………………………………………………………………………………………

5:28pm

The Express Tribune reporter Rameez Khan reports that a large number of females have arrived at the venue to attend the procession.

However, families express concerns over the arrangements as no segregated sitting area was created for the female participants.

……………………………………………………………………………………………………………………………………

5:13pm

Imran Khan reaches the Minar-e-Pakistan ground.

Imran Khan tweets: "We are putting PML-N and PPP on notice! Change has come! NO one can stop PTI Tsunami! #PTI4NayaPakistan #PTIWeAreTheChange!"

People get excited to see Imran Khan.

……………………………………………………………………………………………………………………………………

5:03pm

Rain has stopped at the venue.

More people are coming in despite delays due to containers, making the crowd stronger in numbers.

PTI claims 1 million people will be in attendance, however the venue is not yet full.

Families, women and children are visible in the crowd.

……………………………………………………………………………………………………………………………………

4:41pm

Recently elected president of the PTI Minorities Wing, Sajid Ishaq is addressing the crowd.

……………………………………………………………………………………………………………………………………




4:34pm

Recently elected president of the PTI Women Wing, Munazza Hasan is addressing the crowd.

……………………………………………………………………………………………………………………………………

4:02pm

Apart from the containers blocking passages, there are hurdles to face.  It has started to rain, though the weather was clear earlier.

……………………………………………………………………………………………………………………………………




3:30pm

PTI complains that containers put by the police to block routes is causing difficulty and delay for incoming supporters.

Police say it is a part of their security procedures.

Supporters are singing and dancing to national songs while they wait for Imran Khan to address the crowd.

Imran Khan is said to begin his address around 6- 6:30pm, Express News reports.