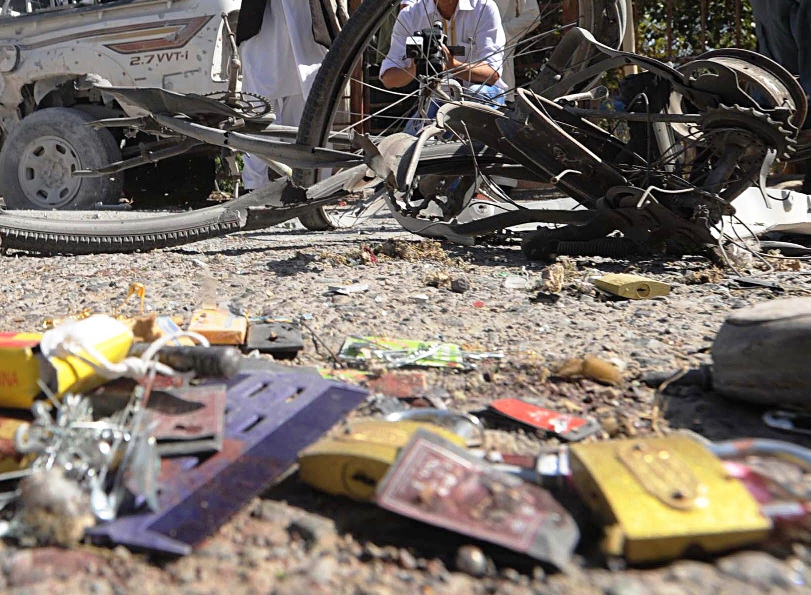 ---
QUETTA: A bomb planted on a motorbike killed eight people and wounded another 15 on Friday, Express News reported.

The bomb, detonated by remote control, exploded near a bus station in the remote town of Dera Allah Yar, around 170 miles (270 kilometres) southeast of Quetta, the provincial capital.

"At least six people have been killed and more than 15 injured. The bomb was planted on a motorcycle," police official Qamar Ul Hasan told AFP.

Hasan said the target of the attack was yet not clear.

"The bomb also badly damaged around five to six shops and destroyed some motorbikes and other vehicles," he said.

There was no immediate claim of responsibility.

Balochistan, which borders Afghanistan and Iran, is plagued by militancy, attacks on the Shia Muslim minority and a separatist Baloch insurgency.

The violence has raised concerns about security for Pakistan's general election, due to be held on May 11 and marking the country's first transition of power between two elected civilian governments.

Zulfiqar Ali, a second police official, confirmed the attack and warned that the death toll could rise further.

"All those killed were civilians," Ali told AFP.
COMMENTS (2)
Comments are moderated and generally will be posted if they are on-topic and not abusive.
For more information, please see our Comments FAQ