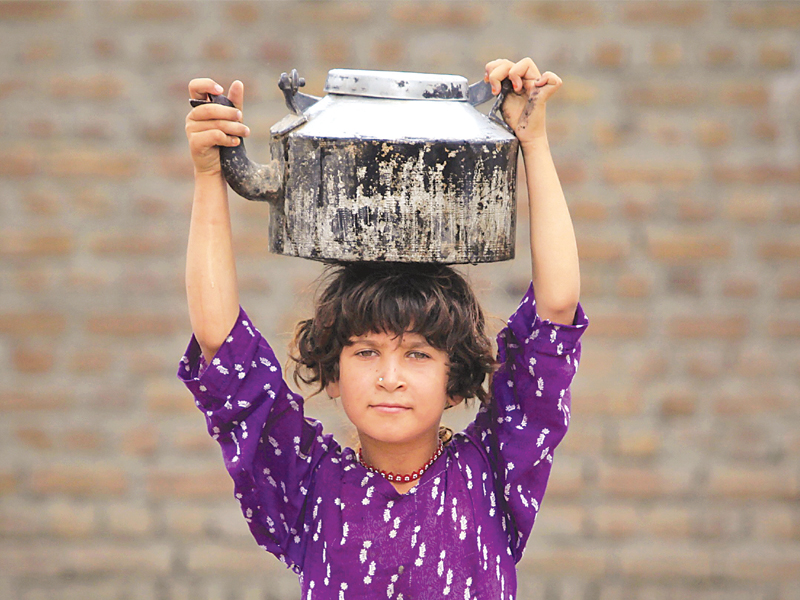 ---
DERA ISMAIL KHAN/ PESHAWAR/ TANK:



As part of World Water Day observed on March 22, the United Nations (UN) insists taps should not be used for drinking water. While this may be a matter of choice for developed countries, it is not the same for residents of Tank.




DHO Tank Dr Aslam Baloch said locals began using stream water from Darza Khel Khawr when, in November 10, 2012, the Public Health Department stopped supplying water to Jatathar, a union council facing severe water shortage. When tested, 93% of the water samples were infected with diseases including hepatitis, polio, and diarrhoea.

Baloch said water provided by the Town Municipal Authority (TMA) reaches just 15% of the population. "Four water tanks cannot fulfil the need of 0.35 million people."

Some international donors and NGOs visiting the area suggested water-cleaning pills, but Baloch explained this was not a long-term solution. The health of locals in Pirwana, Gola, Naurang, Jathathar, and Sheran union councils continues to deteriorate with each passing day, the DHO claimed. "Six cases of stomach cancer were reported in the last two months and 20 to 35 people visit Headquarters Hospital daily complaining of stomach diseases."

Chief Municipal Officer Hameedullah said the government had installed four overhead tanks around the city, in addition to collecting water from 16 tube wells. Hameedullah also claimed a government facility with a 50,000 gallon capacity had been installed for residents in Tablighi Markaz. According to him, 90% of the city's population was drinking clean water.

However, another TMA official said the overhead tank in Dabara had been closed down by the Water and Power Development Authority (Wapda) due to non-payment of bills. He added the three remaining tanks could not fulfil the needs of locals. According to the official, two of the overheads extracted water from the Tank-Zam water channel which did not contain perfectly safe water.

Sheikh Ikhlas, a social activist from the area who staged multiple protests against the district government for not providing clean water, said people in flood-hit areas were still drinking stored flood water.  Shoukat Shori of Jatathar union council said residents of Waran were drinking pond water, while residents of Gul Imam and Gharibabad were surviving on streams.

Engineer Abdur Rahman, who has been assigned to dig tube wells in Tank, said there was no underground water channel in the district. "The water is too salty and contaminated with many chemicals."

Of the 18 tube wells dug in the last four years, Rahman said just three are functional. "We confess, not even a single drop of water that is provided to the people is filtered."

DI Khan

Zubair Baluch, a resident of DI Khan, said drinking water was a serious issue in the city. He said locals fetch water from water purification plants set up on the banks of River Indus. The lack of a proper drainage system caused dirty water to contaminate tube wells, Baluch added.

Saifullah Rajpoth, a resident of Chutta Bazaar, said he brings water for his family on a motorcycle, but generally people hire rickshaws and pay Rs30 per gallon. He added a minimum of three gallons was required for a family of five to seven people. Only those who can afford it bring water from purification plants on the Indus.

The problem is further augmented in villages, including Kot Gara, Kot Zafar Bala Dasthi, Mangal, Bacha Abad, Tag Dera and Qalandar.

Manzoor Ganda Pur, a resident of Kulachi tehsil, said the water available was salty and unhealthy to drink, adding: "people have no option but to drink it."

Published in The Express Tribune, March 22nd, 2013.