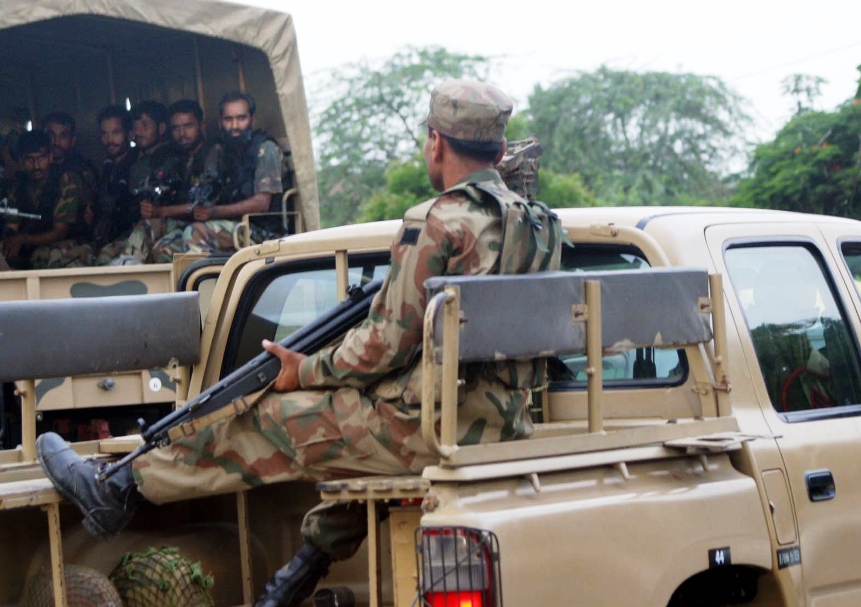 ---
PESHAWAR: The military is reportedly stepping up an offensive to dislodge the Taliban from a key stronghold in an effort to safeguard May's general election and crack down on militants behind a wave of attacks.

The Tirah Valley, hemmed in by steep mountains and replete with numerous caves, has offered the Tehreek-e-Taliban a new base in the Khyber Agency beyond the reach of ground troops.

Long linked to the drugs trade and militia activities, with an influx of militants evicted from elsewhere, it poses a new threat to nearby Nato supply lines and to Peshawar, a city of 2.5 million and a key electoral battleground.

There in Tirah, the TTP has also formed a troubling alliance with the once hostile Lashkar-e-Islam, a militia run by warlord Mangal Bagh, to oppose the military's efforts to dislodge them through air strikes and shelling.

Elections on May 11 are billed as Pakistan's first democratic transition between one elected civilian government and another, but concerns about security are casting a shadow over preparations.

The campaign also marks the first time that parties are allowed to contest the vote in the tribal belt, a reform introduced by the outgoing government in a bid to clamp down on militancy.

"We have intensified our operation," a senior security official told AFP. "Elections are approaching, Khyber is an important place, we have to restrict them and push them back," he added.

Fighter jets are targeting safe houses in Tirah. Troops, who surround the valley from the outside, are also shelling, the official and residents said.

On Monday, four people were killed when a suicide bomber posing as a clerk and an accompanying gunman attacked the main courts complex in Peshawar.

Last month, militants attacked the office of the top government official for Khyber, Mutahir Zeb, killing six people as political leaders met to discuss a strategy for peaceful polls. Zeb was unhurt.

Also in February, a suicide bomber tried to kill provincial chief minister Ameer Haider Khan Hoti two months after his deputy, Bashir Bilour, was assassinated in Peshawar.

Security has declined markedly in the country since the last election in 2008.

Officials link some recent attacks to Khyber and fear that Tirah could pose an ongoing threat as the electoral campaign heats up.

Although the military pushed the TTP out of the Swat valley in 2009, the government has been unable or unwilling to crack down on the plethora of militant networks blamed for violence in Pakistan, Afghanistan and India.

Religious violence has reached dizzying levels, most recently against the Shia minority. Karachi is also suffering from record killings linked to political and ethnic tensions.

"Lots of us fear that these elections might entail a lot of violence," said Raza Rumi, director of the Jinnah Institute think tank.

The air and shelling offensive is concentrated on Tirah, the town of Bara and Ghaljo, which would be the militants' escape route into the neighbouring district of Orakzai. The army has also imposed strict curfews.

"Militant groups have paralysed the whole area, they bomb schools and even destroy health centres," the security official said.

"They have beheaded people and attacked troops. It is necessary to restrict them and push them back to the mountains," he added.

On the ground inside Tirah, there have been deadly clashes between the TTP and Ansar Ul Islam, according to residents.

No official data are available but a local charity has published adverts in local newspapers appealing for help for freshly displaced families.

Tribesmen confirm the difficulties.

"Militant groups and the TTP have taken refuge in Tirah. Even foreign militants have taken shelter there. The authorities fear that they can move nearer to Peshawar," local tribal elder Hukam Khan told AFP.

Markets have closed and schools have shut, depriving thousands of students an education. An estimated 13,000 families have been displaced.

Refugees in the Jalozai camp speak of the terrors they encountered before being forced to flee.

But there are also calls from locals for the offensive to stop and a curfew to be lifted. It remains unclear how viable elections can be held in Tirah or Bara under such circumstances.

"We are patriotic tribesmen and loyal to Pakistan but we are in trouble. You can't solve problems with war, talks are the only solution," Malik Waris Khan Afridi, a former deputy minister told AFP.

But the government insists there can be no compromise.

"Militants are the root cause of the trouble. Take them out of the area and I assure you peace and lifting of the curfew," Zeb told tribesmen recently.

"If we relax the curfew and ordinary people come out of their homes, there will be collateral damage," he added.
COMMENTS (11)
Comments are moderated and generally will be posted if they are on-topic and not abusive.
For more information, please see our Comments FAQ