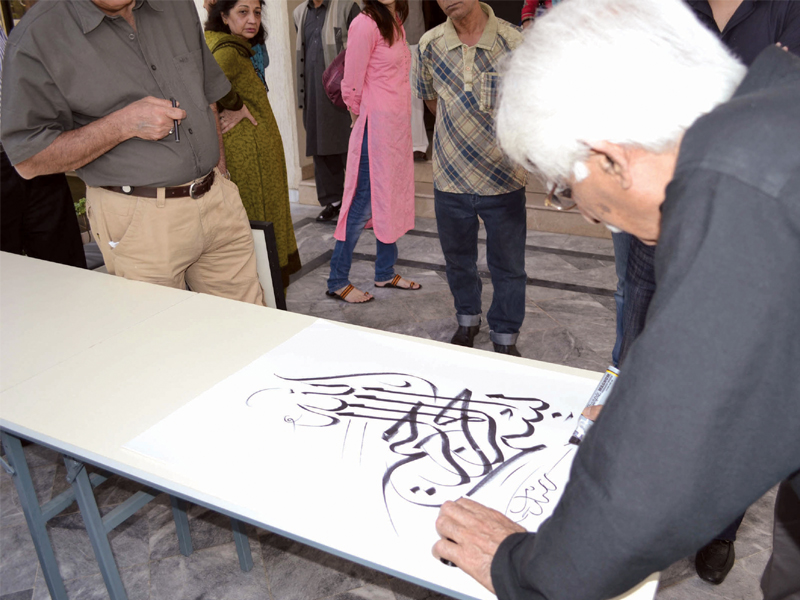 ---
ISLAMABAD: Driven by the idea of affordable art, scores of art collectors and connoisseurs thronged an art bazaar at Gallery 6 on Sunday. The bazaar provided them an opportunity to browse through a wide arena of art pieces from paintings, prints and sculptures to photographs and calligraphs at discounted prices.

"The concept of an art bazaar is common abroad. It's refreshing to see such an event finally take place here. It helps one buy the art pieces they could previously-ill afford, while also allowing young artists to introduce their work," said a foreigner, who wished not to be named.

The bazaar featured works of 30 artists. The collection comprised some of the gallery's stock and fresh pieces of recent graduates, emerging local artists and some master pieces of famous artists like Sadequain, Ghulam Rasool and Mansur Aye.




Seated outdoor, Shireen Gheba displayed her paintings of urban and ruralscapes, mainly along the lines of impressionism. "The places are a combination of imagination and reality. I've used multiple sketches to form one composition," she said.

Young students from National College of Arts, Zara and Rabia, brought something new to the table. There was a mesh of screen prints on suede, digital print on fabric and photographs amongst handmade rugs. "We have even done embroidery and digital print on fabrics," Zara said, displaying an array of neatly embroidered works.

Next up, there was ceramic calligraphy by Madiha Riaz. Crafted to perfection, her pieces attracted a sizable crowd. One woman was quick to decide on a spot to hang a creme and blue calligraphy piece in her house.

In the basement of the gallery, Summayah Khan, an artist, readily opened a large portfolio of printmaking colografia pieces set that could also be sold individually. Each piece comprised architectural sites in monochrome colours of brown. "These are places in the older city areas of Rawalpindi. I visited each site and worked extensively to compile this portfolio," she said.




Beginning from Rs1,000, the prices went up to Rs650,000. The highest price was fetched by Mansur Aye's piece for Rs125,000.

"The art bazaar has been very successful, we didn't expect to draw such a large crowd, especially on a Sunday morning. But there was no place to stand once it began," Dr Arjumand Faisal, the gallery owner, curator and poet, said, having returned from his recent visit to New Delhi where he showcased famous Pakistani art pieces. He wants to take the art pieces to some more cities of the world.

Noted calligrapher Rasheed Butt made calligraphy free-of-charge.

Published in The Express Tribune, March 18th, 2013.