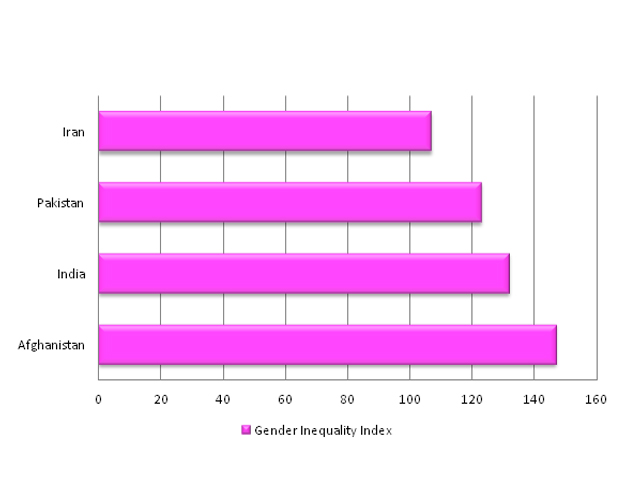 ---
Pakistan ranked 123 on the gender inequality index of the United Nations Development Programme's (UNDP) 2013 Human Development Report. Pakistan finished better on the gender front than stronger economies such as India (132) and Egypt (126), even though it ranks lower in the overall Human Development Index (HDI).

According to the report, the gender inequality index is a composite measure reflecting inequality in achievements between women and men in three dimensions: reproductive health, empowerment and the labour market.

Value index

The value index provides an indicator of the depth of participation in global markets. More than four-fifths of these developing countries increased their trade to output ratio between 1990 and 2012.

In the HDI value index, Pakistan has been recognised to have shown "substantial improvement".

The report states, "among the exceptions in the subgroup that also made substantial improvement in HDI value are Indonesia, Pakistan and Venezuela, three large countries that are considered global players in world markets, exporting or importing from at least 80 economies".

Multidimensional Poverty

The report reveals that in South Asia, the highest Multidimensional Poverty Index (MPI) value is in Bangladesh (0.292 with data for 2007), followed by Pakistan (0.264 with data for 2007) and Nepal (0.217 with data for 2011).

The proportion of the population living in multidimensional poverty is 58% in Bangladesh, 49% in Pakistan and 44% in Nepal, and the intensity of deprivation is 50% in Bangladesh, 53% in Pakistan and 49% in Nepal.

When compared to Pakistan a larger proportion of the population lives in multidimensional poverty in Bangladesh. However the intensity of deprivation is higher in Pakistan.

Overall rank

Overall, Pakistan ranked a low 146 out of the 185 countries on the HDI.

Norway ranked highest on the HDI at number one, while Niger ranked lowest.

Overall rank in South Asia 
| | |
| --- | --- |
| Iran | 76 |
| Sri Lanka | 92 |
| Maldives | 104 |
| India | 136 |
| Bhutan |  140 |
| Bangladesh | 146 |
| Pakistan | 146 |
| Nepal | 157 |
| Afghanistan | 175 |

Additional points

"In South Asia, 65% of respondents indicated satisfaction with health
care quality, with Pakistan at 41% and Sri Lanka at 83%.

"Countries that start at a similar level—such as India and Pakistan, Chile and Venezuela, Malaysia and the Philippines, or Liberia and Senegal—have ended up with different outcomes. As the 2010 Human Development Report argued, if countries with similar starting points go on divergent development paths, but average global achievements have not changed, we can infer that it is national forces policies, institutions, social context and idiosyncratic shocks that drive national development outcomes. No country remains a prisoner of history for long if it wants to break out."

Read the full report here.