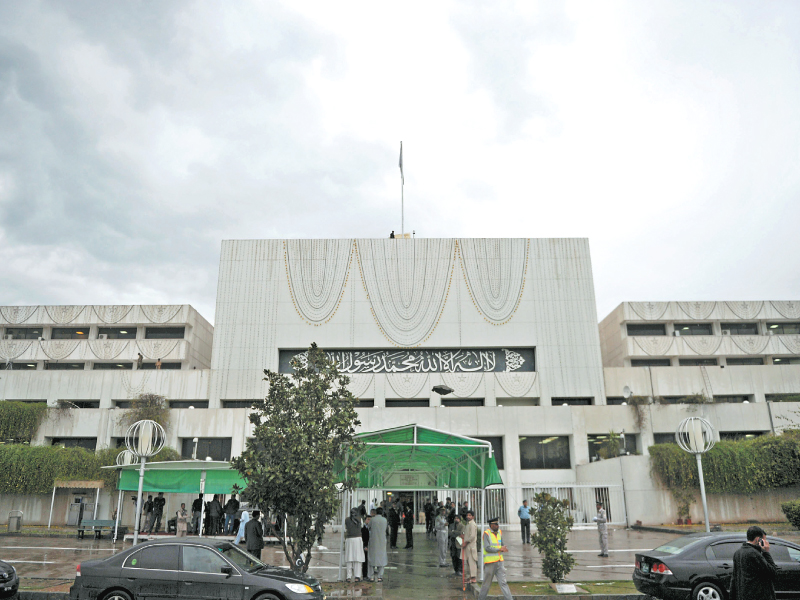 ---
ISLAMABAD:



Thursday saw a new page being written in the country's history.




The 50th National Assembly conducted its last session — becoming the first in the country's history to complete a full term in office, dissolving in a low-key session that paves the way for elections.

The first ever democratically-elected Parliament, which successfully completed its five-year tenure, presented a last chance for lawmakers to pass the crucial Constitutional amendment for the creation of a new province in Punjab.

However, that did not happen.

The very few lawmakers, who turned up for the historic last session, instead trumpeted and took credit for completing the term — consisting mostly of farewell speeches.

That effectively rendered the prospects of carving out the Bahawalpur Janoobi Punjab (BJP) province yet another unfulfilled promise.

"The 24th Amendment bill seeking creation of a new province in Southern Punjab will simply lapse irrespective of the fact that it had been passed by the Senate," a senior official at National Assembly Secretariat told The Express Tribune.

According to the Rules of Procedure and Conduct of Business in the National Assembly "on the dissolution of the Assembly, all pending business shall lapse". The official said that the next government would have to go through the entire process again in order to create a new province.

Another official explained that the bill could have remained intact if the Senate had not passed it. After approval by the Senate, the bill was never pursued in the lower house.

In addition, another Constitutional amendment, the 23rd, that promised an increase in the number of minorities' seats in Parliament – which had been on the agenda during the last days of the session that started on February 18 and ended after 19 sittings – was never taken up by the government.

But on last day, legislators in the lower house did unanimously pass four resolutions in a marathon session that lasted almost seven hours — a rare occurrence.

Many key leaders including Chaudhry Nisar Ali Khan, Farooq Sattar, Chaudhry Parvaiz Elahi, Rehman Malik and other federal ministers did not attend the sitting.

Prime Minister Raja Pervaiz Ashraf did attend the last session and instead of making a speech, he spent most of the time with other members posing for group photographs.

Ironically, the first minister to mention PPP's founding father and former prime minister Zulfikar Ali Bhutto came from Muhammad Safdar, son-in-law of PML-N chief Nawaz Sharif.

Published in The Express Tribune, March 15th, 2013.