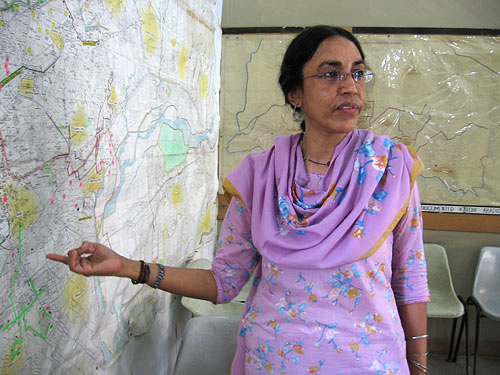 ---
KARACHI: The students who protested on Thursday against Parveen Rehman's killing a day earlier referred to her as the mother of Karachi - a befitting title for a woman who dedicated her life to not only alleviating the problems of those residing in katchi abadis, but affectionately teaching them how to tackle with their own problems.

Karachi University students arranged the protest outside the press club. The university is now a place where students of the Orangi Pilot Project's long-term director have gone on to become teachers, passing on her message to the next generation. At the protest, the students were joined by several civil society organisations, including Shirkatgah, Human Rights Commission of Pakistan, Awami Workers Party and Home-Based Women Workers Federation.

The participants chanted slogans against law enforcement agencies as well as terrorist. Condemning Rehman's killing, they said that various institutions of the state had failed to do their jobs properly, handing over the control of the city to criminals and militants.




"The militants think social activists are working for foreign interests and that's why they are targeting social workers," said Sheerin Aijaz, Aurat Foundation's regional director. Andleeb Rizvi, a teacher at Karachi University and one of Rehman's students, fondly remembered the lectures during which the OPP director spoke passionately about a life of philanthropy. "She used to say 'do not call a katchi abadi a slum.' She always showed unbounded love for the people residing in such areas."

Nasir Mehmood of the National Trade Union Federation said, "She was Karachi's mother. She strived hard to improve the city's water supply, education and sanitation. But she cared about other places too." Khurram Ali, another one of Rehman's students, was dejected. "It seems as if we don't want to go on the way to progress. The killing of innocent people must be stopped. Enough is enough!"

Published in The Express Tribune, March 15th, 2013.
COMMENTS (1)
Comments are moderated and generally will be posted if they are on-topic and not abusive.
For more information, please see our Comments FAQ