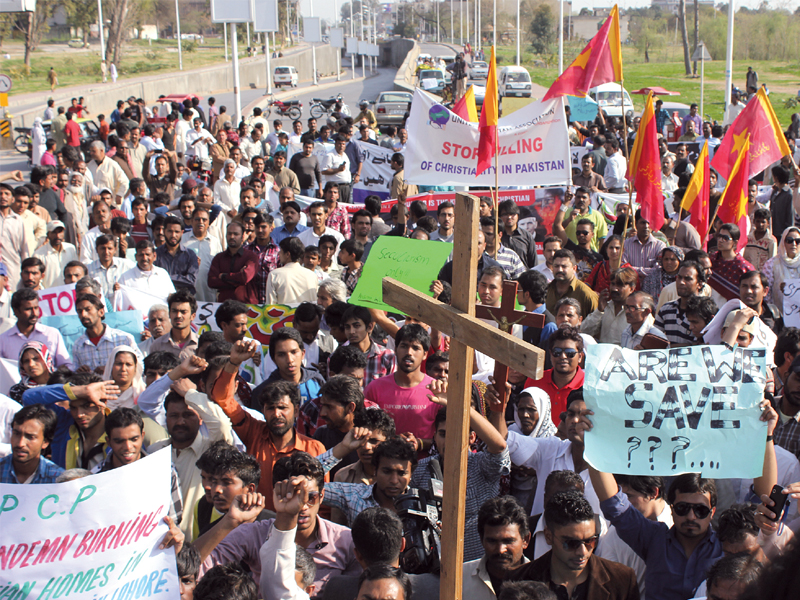 ---
RAWALPINDI/ ISLAMABAD:



In the eyes of Master Rafaqat Masih, life has always been tough for Pakistani Christians.




When their houses are not being burned, they are turned down for jobs because of their religious affiliation and discriminated against in employment opportunities, so much so that they feel their Christians names have become a hindrance in their upward social mobility.

"It has been the same way since I was born," said Masih, 61, a resident of the 100 Quarters Christian colony in Sector F-6/2. "The only reward for us in this country is either the Muslims call us "kafir" (infidel) and burn our homes, or call us a "choora" (dirty) when we clean their filth."

The bitterness in Masih's voice is a vivid reminder of the social isolation and vulnerability faced by his community, which was brutally attacked again this week. A huge mob burnt over 150 houses in Lahore's Joseph Colony after blasphemy allegations were hurled at a resident of the colony.

On Sunday, Masih, along with dozens of Christians and Muslims, protested in front of the National Press Club in Islamabad. They carried placards demanding justice for the Pakistani Christians and chanted slogans against religious intolerance in the country, which has led to increased violent attacks on Pakistan's religious minorities.

At the heart of the attacks on Pakistani Christians are the country's draconian blasphemy laws, which many, including academic and political activist Farzana Bari, believe are misused by people to settle their personal scores.

At the protest, civil society representatives demanded the federal and provincial governments take immediate action to end the misuse, abuse and exploitation of these laws.

"This is a necessary step that needs to be taken because the state itself is sectarian in its nature and thus provides the basis for people to misuse the law," Bari said. "(Amending or abolishing the law) is the first thing we need to do."

She said people in the mob which attacked and burnt houses in Joseph Colony, Lahore, should be punished so as to teach others a lesson that they cannot get away with such heinous crimes.

"If the government had done anything to punish the murderers of Salmaan Taseer and Shahbaz Bhatti, we wouldn't be seeing this Lahore incident," said Rehana Hashmi of the Sister's Trust Pakistan.

The Awami Workers Party (AWP), the All Pakistan Minorities Alliance, the All Pakistan Christian Action Committee, Sister's Trust Pakistan, representatives of local churches and civil society organisations took part in the Islamabad protest.

Meanwhile, protesters were incensed that the Lahore police did nothing to stop the mob. Christian youths burnt tyres and chanted "Tahafuz do ya maar do" (Protect us or kill us) to express their anger. Protesters demanded that the Punjab government provide effective protection, rehabilitation and compensation to Joseph Colony residents.

Father Rehmat Michael, a parish priest from Islamabad, said Christians must protest against this act of terrorism, which has destroyed their homes in an instant. He urged all Pakistanis to unite to nip religious extremism in the bud.

But Masih was not pacified by speeches at the protest.

"Why don't they just tell us to get out of this country?" Masih said. "They are killing us as if we were dogs. Where is it written in religion that you can murder humans? Isn't Pakistan for people of all religions and ethnicities?"

Whether the Joseph Colony attack leads to an answer to Masih's questions, or if it was the answer remains a question for all Pakistanis to ponder.

Murree Road, Islamabad Highway blocked

In Rawalpindi, members from Christian community organised a protest outside Rawalpindi Press Club near Liaquat Bagh and blocked Benazir Bhutto, (formerly Murree) Road, and Islamabad Expressway near Faizabad.

Hundreds of protesters gathered outside the press club holding banners and placards inscribed with their demands seeking arrest of the perpetrators and immediate compensation to the affected families.

They held the provincial government responsible for the destruction done to Lahore's Joseph Colony.

Talking to The Express Tribune, Afzal Vicky said the government should take steps to protect the life and properties of the minority communities.

"Attacks on life and property of minority communities have become a routine," he said.

The protesters urged the government to initiate a judicial probe into the incident.

The protesters also urged the Muslim religious scholars to work for religious harmony and intolerance.

"Protecting the life and property of all citizens whether Muslims or Christians is the responsibility of the state Vicky said. The protesters dispersed peacefully after staging protest for half an hour, however, the protest at Faizabad continued till filing of the report.

Published in The Express Tribune, March 11th, 2013.
COMMENTS (1)
Comments are moderated and generally will be posted if they are on-topic and not abusive.
For more information, please see our Comments FAQ