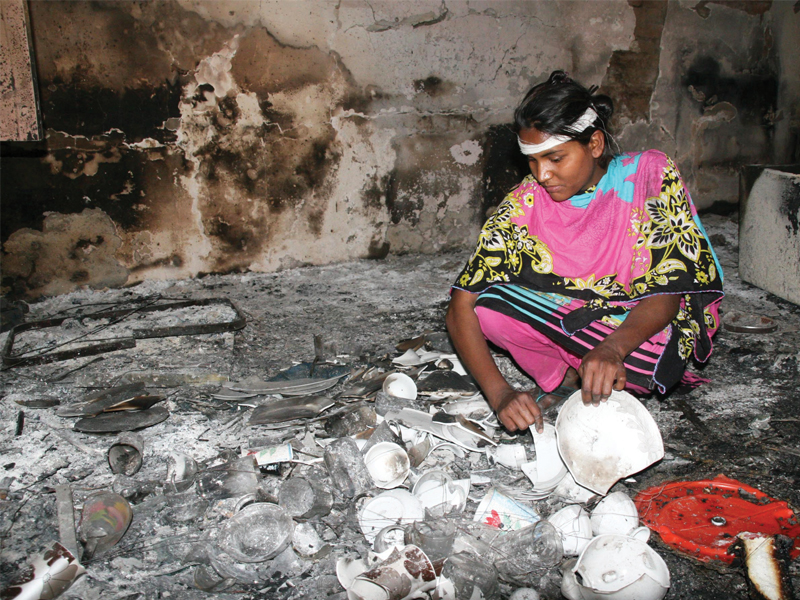 ---
LAHORE:



Some families in Joseph Colony faced another night under the open sky on Sunday as there were not enough tents and charpoys to go around for those rendered homeless.




According to the city government, 121 buildings were destroyed when Muslim rioters, apparently whipped up into a frenzy over an alleged blasphemy incident, torched the properties of Christian families in this Badami Bagh neighbourhood on Saturday. These buildings included 112 houses – accommodating 260 families – seven shops and two churches.

On Sunday, dozens of affected families sat under tents, set up by the city government, in front of a pile of burnt motorbikes, rickshaws, washing machines and furniture, relics of the violence from a day before.

But some residents said that not everyone had received assistance from the city government due to the haphazard nature of the distribution.




Faryad Masih, whose house was burnt on Saturday, said that his family was offered neither tents nor food. "We are respectable people. I am not willing to fight with other people for food or other items being handed out," he said.

He dismissed the Rs200,000 compensation being offered by the provincial government as "worthless". He said that his daughter would now miss her class 9 board exams because all her books and notes had been destroyed. "How will they compensate the year of her life that will be wasted?" he asked. "We want justice, not compensation."

Nadia Masih, another resident whose house was destroyed, said that she and seven of her neighbours had been given a single charpoy. "They distributed the food in such a way that only those who could push their way to the front could get it. Others were just left waiting," she said. She demanded that the compensation on offer be raised to a million rupees.

The Lahore Development Authority has been assigned the task of rebuilding 60 units, and the Communication and Works Department has been assigned 60.

Sabir Khan Sadozai, a senior official at the Communication and Works Department, said that reconstruction of the houses would begin on Monday, after the affected families are moved.

DCO Noorul Amin Mengal said that women and children would be housed temporarily at a nearby school, while the men would be put up in tents provided by the city government.

He said that the assessment of the damage had not yet been completed. While badly damaged buildings were being torn down, some buildings could be repaired. He said that contractors had been called in to build the houses, but it was too soon to say when they would be finished. "We were told to start the work in 24 hours, and we have," he added.

Sadozai said that an executive engineer (XEN) would be put in charge of 10 units, while two chief engineers would supervise the XENs. He said that the best quality material would be used and electronic appliances would be provided.

He said that most of the work would be completed "within a few days".

Staff Officer to the DCO Tariq Zaman said that arrangements were being made for more charpoys for the affected families as quickly as possible.

Published in The Express Tribune, March 11th, 2013.