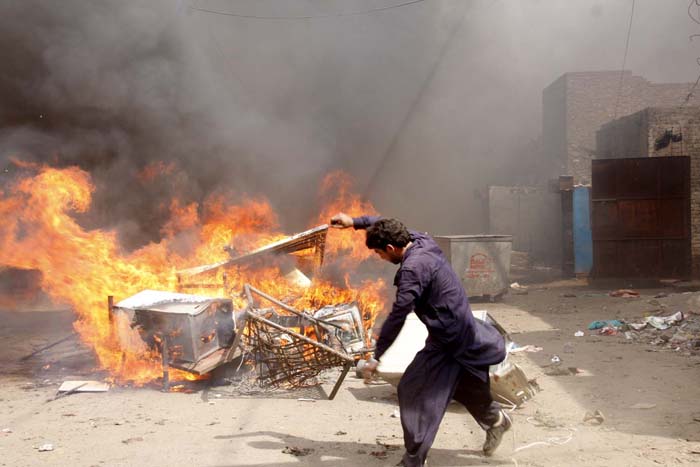 ---
LAHORE: A highly-charged mob of thousands burnt more than 40 Christian houses in Badami Bagh area of Lahore on Saturday to "take revenge of the blasphemy" allegedly committed by a Christian two days earlier.

Express News had earlier reported that around 100 houses were burnt by the mob.

Eyewitnesses said that the mob broke into the houses, looted them and burnt the remaining belongings on the roads.

SSP Operations Suhail Sukhera and the SHO of Badami Bagh were also reportedly injured when the mob pelted a police party with stones.

Punjab Law Minister Rana Sanaullah told Express News that he saw no reason for the mob's violence especially after the person accused of blasphemy had been arrested on Friday. He added that cases have been registered against those responsible for Saturday's vandalism and that they will be prosecuted.

Sanaullah added that all those whose property had been damaged will be compensated within five days.

Shahi Imran, who had filed the blasphemy FIR, told The Express Tribune that he was not responsible for the incident and he had left the area when the mob arrived to burn the houses. He maintained that the accused should be taught a lesson but the other Christian families should not be harmed.

SSP Sukhera, when contacted, denied that the houses were set on fire and said that the police personnel was present in the area.

Chief Minister Punjab Shahbaz Sharif also took notice of the incident and set up a five member committee to investigate the matter. He also announced Rs0.2 million as compensation for those who lost their household stuff.

President Asif Ali Zardari took notice of the incident and sought a report from authorities, reported Radio Pakistan.

On Friday, a mob of almost 3,000 people forced the Christian community to flee for their lives, leaving behind their houses and possessions unprotected.

The charged group had gathered around Joseph Colony on Noor Road, led by Shafiq Ahmed, who was in search of the accused Savan, alias Bubby. The mob then attacked Savan's house, setting it on fire and pelting it with stones. Other houses in the locality – home to about 150 Christian families – were also attacked.  Many residents, including women and children, hastily fled to save themselves.

Savan was arrested and shifted to an undisclosed location.
COMMENTS (109)
Comments are moderated and generally will be posted if they are on-topic and not abusive.
For more information, please see our Comments FAQ