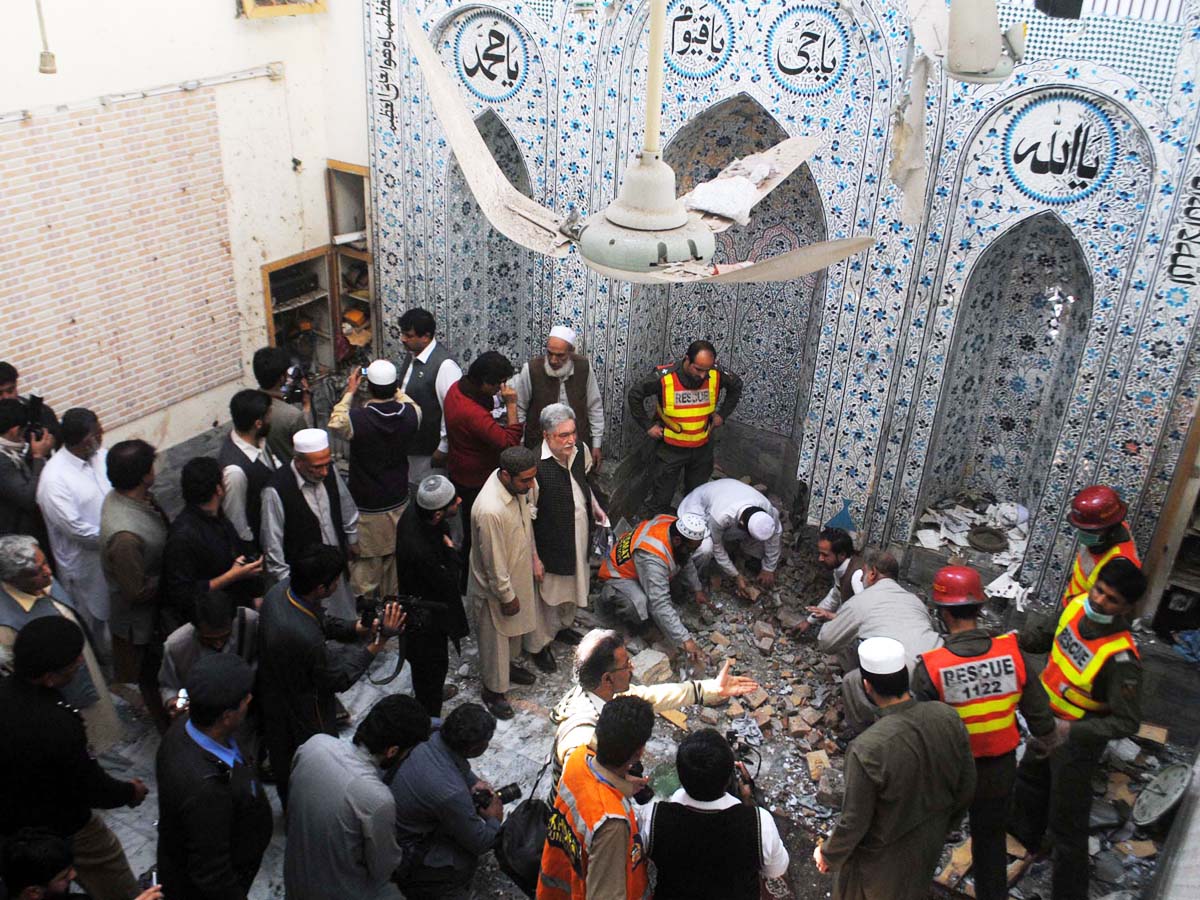 ---
PESHAWAR: At least four people were killed, and 27 were injured in a blast inside a mosque, near Meena Bazaar in Peshawar on Saturday, reported Express News.

The blast was in the Jamia Chishtia mosque. The walls of the mosque and nearby houses were damaged due to the blast. The bazaar immediately shutdown after the blast.

Express News correspondent Ehtisham Bashir reported that people were going to the mosque for Zuhr prayers when the blast took place.

Meanwhile, Express News correspondent Jahangir Shahzad quoted an eye witness that there were as many as 35 people praying in the mosque when the bomb went off. Shahzad added that the force of the blast had left cracks in the walls of the mosque.

Rescue teams and police have arrived at the site. The bomb disposal squad before clearing the site said that initial investigations had suggested explosive materials weighing between three to four kilogrammes with ball bearings was detonated through a timed device which left a crater six to seven feet deep.

An official said that 27 injured were brought to the Lady Reading hospital and two of them were in critical condition. At least four of those injured were children. The official added that there were no women and children among the casualties.

Khyber-Pakhtunkhwa Chief Minister Ameer Haider Khan Hoti condemned the attack and ordered for the injured to be given free treatment.

On October 28, 2009, a huge blast took place in Charri Koban Bazaar — the meeting point of Meena Bazaar and Kochi Bazaar – which was mostly filled with women. The blast, the deadliest attack in the history of Peshawar, claimed around 120 lives and left more than 200 injured and traumatised for the rest of their lives.

COMMENTS (26)
Comments are moderated and generally will be posted if they are on-topic and not abusive.
For more information, please see our Comments FAQ