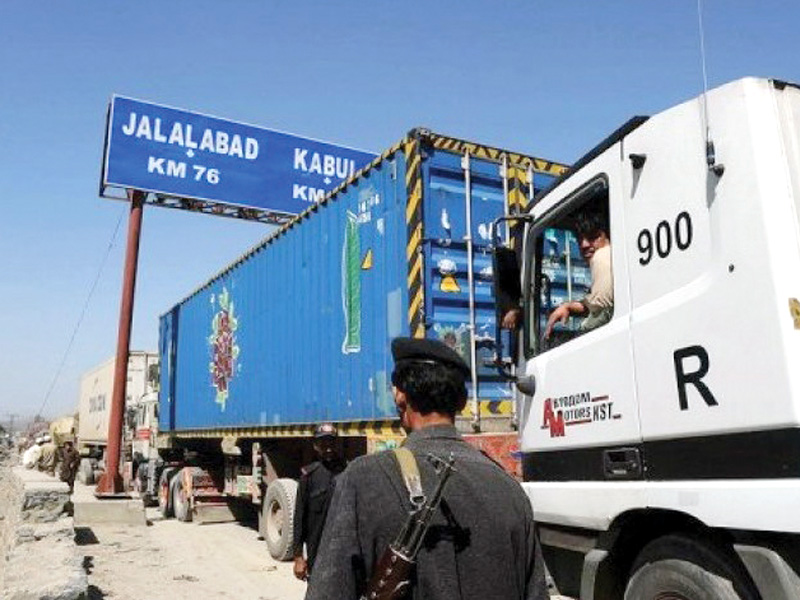 ---
WASHINGTON: It is the least expensive way to get food and fuel to US troops in Afghanistan. But eight months after Pakistan reopened its ground supply routes for the Nato war effort, hardly any new cargo has taken that path into the landlocked country.

Instead, supplies have been moving almost entirely along far more expensive routes, one of several factors that have prompted senior Pentagon officials to warn that Afghan war costs are higher than projected at a time of increasingly tight budgets.

In what was hailed as diplomatic breakthrough, the United States and Pakistan agreed to reopen the supply lines last July after Washington issued a reluctant apology for an air attack that killed 24 Pakistani soldiers along the Afghan border in November 2011.

But restoring the Pakistani supply routes to full service after a seven-month closure has taken time. The United States has cleared upward of 5,000 of the 7,000 pieces of backlogged cargo in the supply routes.

But data from the US Military's Transportation Command show that only 40 containers of new cargo have moved across Pakistani ground routes since July. At the same time, about 28,000 20-foot containers came through alternate pathways, known as the Northern Distribution Network, into Afghanistan from July 2012 through last month.

General William Fraser, head of Transcom, said the situation was improving. After months of working to clear a backlog of supplies and deal with procedural issues, cargo movement on the Pakistani supply lines has improved and officials are ready to use them more heavily, he said.

"It's all moving in the right direction," Fraser told Reuters. "Now we've just got to up the rate."

Vital routes   

Reopening the routes was considered vital to the US war effort. Beyond being cheaper, they are seen as the best way to remove military equipment from Afghanistan as the 11-year-old conflict draws to a close.

Last year, then-Defense Secretary Leon Panetta estimated the closure of Pakistan's supply routes cost US taxpayers about $100 million more a month for the use of alternatives – either by air or through the NDN, a series of complicated pathways across Europe, Russia, and Central Asia.

That cost has come down as the size of the US force in Afghanistan has fallen to about 66,000 today from 94,000 when Pakistan closed the routes. But it still costs about $61 million more a month to use the NDN and other alternatives rather than Pakistan, Pentagon spokesman Mark Wright said.

Fraser said there were several reasons for the slow start-up. They included the need to work through a backlog of cargo; reach agreement on how to re-export equipment that was no longer needed; obtain new rates from contractors; and decide on the process for bringing military cargo out of Afghanistan.

He said that fewer than 2,000 pieces of cargo remained in the backlog left over from the closure. Some of that cargo belonged to military units no longer in Afghanistan, so it will be re-exported, which required developing new procedures.

Fraser said the Pakistani bureaucracy also had to work out its own procedures for issuing permits at the border to allow equipment to be imported into the country for the purposes of taking it to Karachi to be loaded on ships.

"Those are all in place now," Fraser said. "It just took time to work through that."

Reversing the flow

After reaching a memorandum of understanding on reopening the supply lines, the two sides negotiated terms for handling new shipments both to and from Afghanistan. Previously, cargo only moved into Afghanistan.

The Pentagon said it expected to start regular shipments bringing equipment out of Afghanistan along Pakistan's ground routes this month at about 100 pieces of cargo a week. That figure would gradually increase over the course of the spring and summer.

Fraser said his discussions with Pakistani officials last month were aimed at getting traffic on the supply lines back to the levels they were at before the closure last year - about 30 per cent of all cargo.

"That ... would mean 50 to 60 pieces crossing daily," he said. "That's our goal right now and they understand that. They're in agreement, so let's work first to get back to those pre-closure levels of crossings."

Navy Commander Bill Speaks, another Pentagon spokesman, said the US military planned to use the Pakistani ground routes for roughly 50 per cent to 60 per cent of the cargo removed from Afghanistan as part of the US drawdown.

Ramping up the use of the Pakistan supply lines could help ease financial pressure on the military services, which have been hit with a number of financial constraints, including a $46 billion automatic spending cut that went into force on March 1.

Discussing budget difficulties, several senior Pentagon officials have cited the unexpectedly high war costs this fiscal year and attributed part of that to the slow reopening of the Pakistan supply lines.

"When we put that ... budget together almost two years ago, we didn't anticipate the same tempo of operations that are going on right now," Pentagon Comptroller Robert Hale told a conference this week. "And we're seeing higher transportation costs as we're flying goods in and out of Afghanistan."