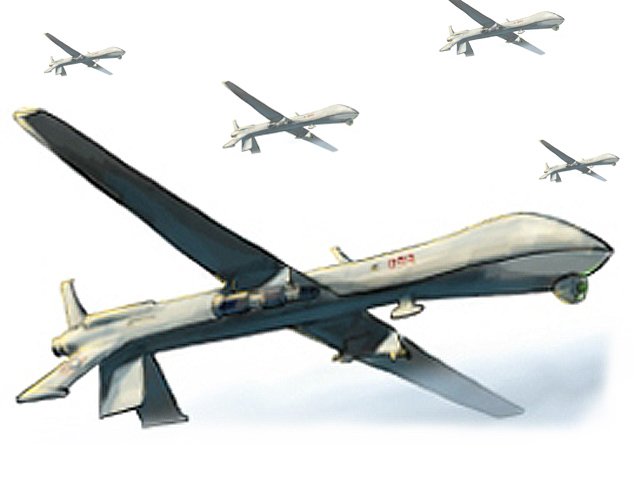 ---
PESHAWAR:



The Peshawar High Court (PHC) has sought assistance on national and international law prior to holding proceedings on drone strikes in the tribal areas.




Four petitioners have filed cases at the PHC, seeking compensation for the victims of drone attacks and collateral damage suffered in tribal areas. They also demand an end to the strikes, finding them in violation of international law.

On Thursday, a PHC division bench comprising Chief Justice (CJ) Dost Muhammad Khan and Justice Irshad Qaisar raised questions on the capability of the Pakistan Air Force to strike down drones and as operators of said drones, asked the counsels to see whether the United States (US) was liable to pay compensation.




The PHC answers must be given after thorough research on national and international law so the case is taken up properly and the concerned authorities are issued writs.

The bench asked the counsels to search for a relevant forum on local and global level which the court could address if it issued any writ during the drone case hearing. It also directed them to research international laws to determine if drone strikes carried out by the US inside Pakistan's territory were a violation.

Moazzam Butt, counsel for Defence of Pakistan Council, stepped down as counsel for former president Pervez Musharraf – who allegedly gave the nod to the drone mission – as he was unable to obtain Musharraf's power of attorney.

Butt requested the court to start proceedings, at which point the PHC bench asked why the petitioners had not taken the drone issues with the United Nations (UN) Security Council as it is mandatory to respect the sovereignty of the UN member states. Pakistan is a non-permanent member.

The bench ordered that extensive research work should be done on the suggested questions so that court is assisted enough to issue writ to the proper forum for compensating the drone attack victims.

The other three petitioners are Foundation for Fundamental Rights, Malik Noor Khan and FM Sabir.

Published in The Express Tribune, March 8th, 2013.