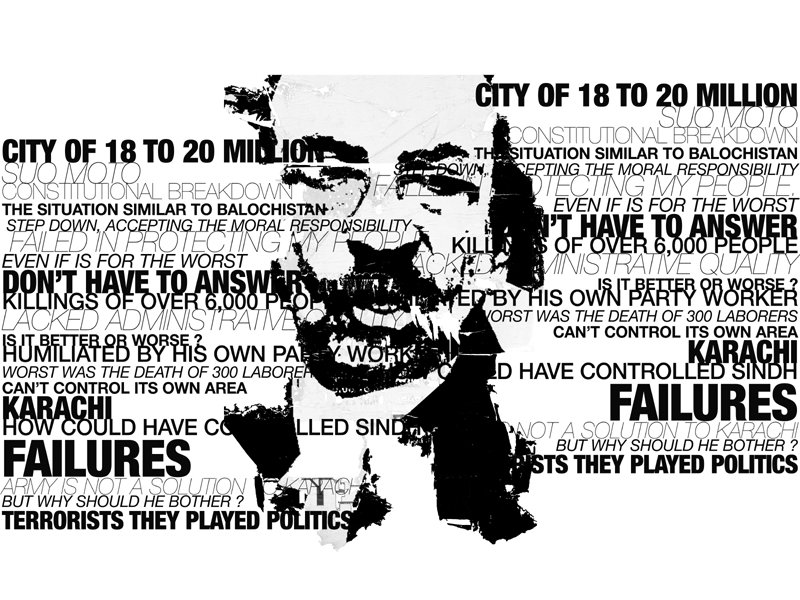 ---
Accepting the moral responsibility for any tragedy is not in the handbook of our rulers. In Karachi, at least one chief minister in 30 years should have quit over failing to protect his people. But what we have instead is Syed Qaim Ali Shah who wants little else but to go out holding the record of longest-serving CM.

After holding the reins of power for a complete five-year term, this politician from Khairpur can hardly blame his predecessors for the state we are in. And that state is best described by statistic: over 6,000 people dead.

Former prime minister Benazir Bhutto realised soon after she appointed Qaim Ali Shah CM in 1988 that he lacked the ability to govern and was weak. Perhaps these qualifications endeared him to the present lot that passed over more qualified and strong candidates.

Qaim was even rumoured to have been humiliated by his own party's worker, the late Ali Sunara, who allegedly slapped him at CM House. Today, the CM can't even go to the party's strongest constituency, fully controlled by ex-party workers who have formed the People's Amn Committee. If the party can't control its own turf, how could it have controlled Sindh and its capital Karachi?

Within a year, BB sacked Qaim and replaced him with Aftab Shaban Mirani but the government did not last and was dismissed over violence and corruption on August 6, 1990. In her second tenure, from 1993 to 1996, BB picked the late Syed Abdullah Shah as CM, though Qaim was also in the running.

Chief Minister Ghous Ali Shah will be remembered for the massacres and killings in his tenure, Jam Sadiq Ali for the worst police rule, Muzzaffar Hussain Shah for the army operation, Abdullah Shah for extra-judicial killings, Arbab Rahim for the October 18 attack on BB. None will be remembered for the progress of Sindh.

Five years is a long time for any government to be able to at least set the tone of governance. Qaim cannot name even one decision that improved law and order.

Yes, the responsibility is collectively the coalition's i.e. the Pakistan Peoples Party and the Muttahida Qaumi Movement. But here too, even after the worst has happened, the province's longest-serving governor, Dr Ishratul Ebad, is back.

Death has become the only news in Karachi. Today, this "mini Pakistan" has become a 'mini Afghanistan". Indeed, Abbas Town reminded me of 1986 in Aligarh and Qasba Colony where 150 people were killed and their houses burnt.

Though there have been many tragedies, to me the worst was the death of 300 labourers, who were burnt alive in the Baldia factory. In any civilized country the chief executive would have stepped down or at least like the president of Chile and his wife would have been there trying to save them. Remember, this is a 'People's' government in Sindh.

For whatever it is worth, labour minister Rauf Siddiqui stepped down on "moral grounds." But he should have withdrawn because in the follow-up, the government protected the owners and not the workers.

Taking moral responsibility may not be the solution but at least it raises morale. But our rulers neither take action nor responsibility.

Years back, I concluded that Karachi is uncontrollable, ungovernable. Is Pakistan also close to ungovernable? Is only one out of four provinces safe? The writ of the State exists neither in Sindh nor Balochistan nor Khyber-Pakhtunkhwa nor FATA. So where is the State? Is it confined to Islamabad and Punjab?

The police is rotten to the core. The Rangers have lost the confidence of the people as they have not had any impact since 1989. The army is not a solution given its track record. Had it sincerely cleaned up terrorists and their hideouts in the mid-80s and 90s, this economic hub would have been a model city today.

Qaim will go down in history as the first CM to complete his tenure but also as one who had the chance and the power to rule and instead ruined his own province.

Published in The Express Tribune, March 7th, 2013.
COMMENTS (3)
Comments are moderated and generally will be posted if they are on-topic and not abusive.
For more information, please see our Comments FAQ