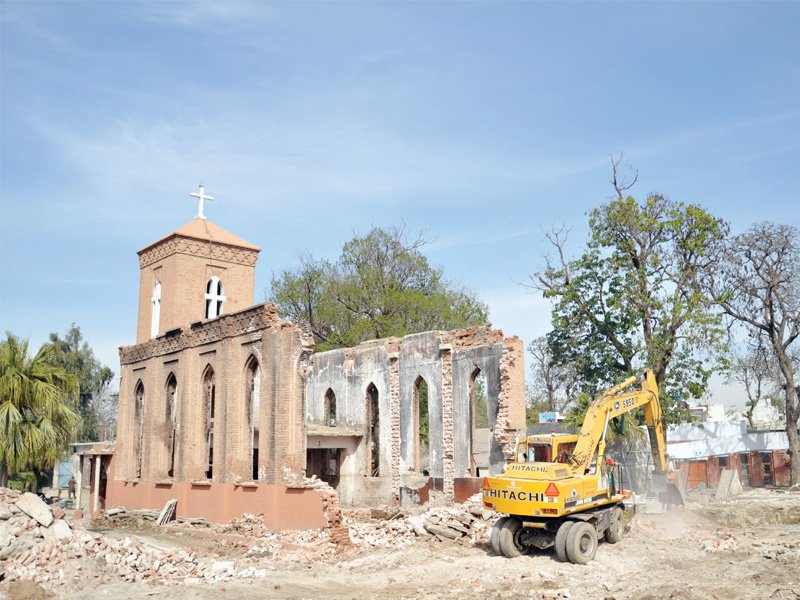 ---
PESHAWAR:



Reconstruction of the Sarhadi Lutheran Church in Mardan started last week, nearly five months after it was burnt down by a mob.




The construction had been delayed after differences emerged among churchgoers over the formation of the Diocese of Mardan. The dispute was resolved after the dissolution of Mardan's ecclesiastical jurisdiction.

Rioters protesting the sacrilegious movie 'Innocence of Muslims' launched a vicious attack on the place of worship on September 21, 2012. They set the church building on fire, and looted the surrounding residential quarters.

Built in 1930, the Sarhadi Lutheran Church is situated on approximately 1,518 square metres of land. The premises include a science laboratory and a primary school.




According to Awami National Party MNA Himayatullah Mayar, the estimated cost of renovation is Rs34.4 million. This includes the reconstruction of the church building, residential quarters and the house of the school's principal which is also on the premises.

Mayar said the provincial government has also met security measures requested by the church representatives for the prevention of such incidents. "We have intensified security by raising the boundary walls of the building as well," he maintained.

Executive Director Peshawar Diocese Andreas Barkat Masih, who is also responsible for overseeing the repair process, said they asked the Khyber-Pakhtunkhwa (K-P) government for the construction of the three residential quarters and nine rooms of the school. "The government has also agreed to expand the church hall, which is also one of our demands," Masih added.

According to Masih, a group of Christians formed the Diocese of Mardan. "The group came into being under the leadership of Ilyas Masih," he added.

The riots uncovered reservations held by some Christians on the supervision of the Sarhadi Lutheran Church by a diocese other than the Diocese of Peshawar, he added.

The Diocese of Mardan eventually merged under Peshawar's ecclesiastical jurisdiction, resolving the doubts held by certain church members, said the director of the Peshawar Diocese. Now the church's affairs will be supervised by us, he added.

"There is no other local diocese across the province. The Peshawar Diocese looks after the affairs of churches across the province," he added.

As far as the renovation is concerned, there are no changes in the architectural layout, with the exception of the expansion of the church hall, Masih explained. He welcomed the government's approach for redressing their grievances.

Sarhadi Lutheran Church Chairman Peter Majid said the place of worship was targeted twice in 2010 during similar protests.

Chand Masih, the fourth bishop of the church, appreciated the K-P government's support in launching the reconstruction work.

Mardan, the hometown of Chief Minister Amir Haider Khan Hoti, houses around 5,000 Christian families, who moved to the district in 1903 during the British Raj.

Published in The Express Tribune, March 4th, 2013.
COMMENTS (3)
Comments are moderated and generally will be posted if they are on-topic and not abusive.
For more information, please see our Comments FAQ