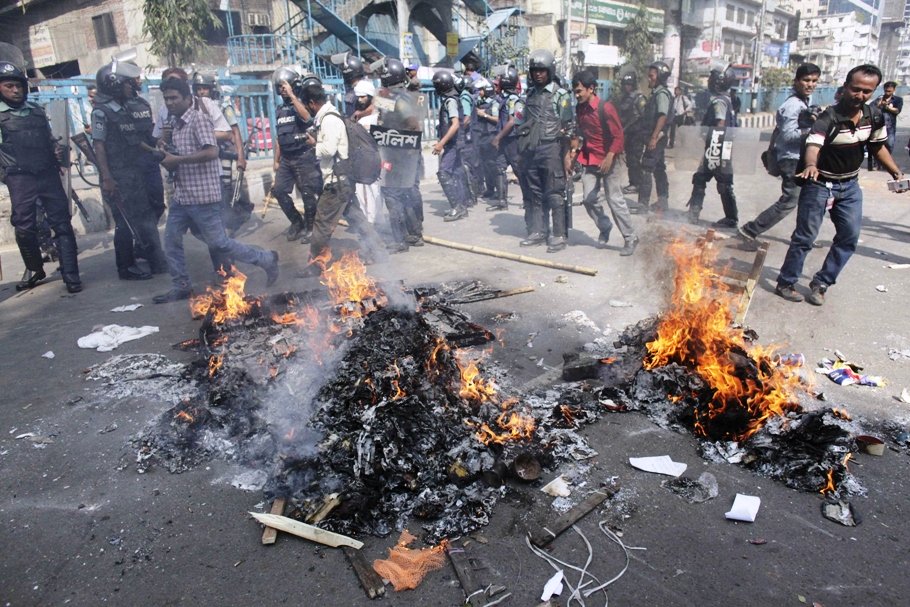 ---
DHAKA: Bangladesh deployed troops in the north of the country on Sunday as 10 more people were killed in fresh clashes over the conviction of rebel leaders for war crimes in the Muslim-majority nation.

The army was deployed in violence-wracked Shahjahanpur town, which is close to an army cantonment, after more than 5,000 stick-wielding protesters attacked two police stations, forcing police to open fire, they said.

"At least four people were killed in clashes after Jamaat-e-Islami supporters attacked us. The toll could rise," Shahjahanpur district's deputy police chief Moqbul Ahmed told AFP, adding that troops had been deployed to boost security.

Four people were shot dead in northwestern town of Godagari after police and border guards opened fire on thousands of Jamaat protesters after they attacked police with sticks and stones, area police chief Alamgir Kabir told AFP.

Two other people were killed on Saturday night, including a ruling party student activist, police said, adding that an inter-city train was torched late Saturday in the northwest but there were no casualties.

The death toll in the clashes over the war crimes verdicts has risen to 66 since the first was announced on January 21, including 50 killed in the past four days, after Jamaat's vice president was sentenced to death, police said.

Delwar Hossain Sayedee was found guilty of murder, religious persecution and rape during the 1971 independence war on Thursday, triggering violent clashes between rampaging Jamaat supporters and police across the country.

The 73-year-old was the third person to be convicted by the war crimes tribunal, whose verdicts have been met with outrage from rebels.

Jamaat says the process is more about settling scores than delivering justice. The party has called a nationwide strike for Sunday to protest the verdict and killing of its activists in police "brutalities".

Security was tight in the capital Dhaka with around 10,000 policemen on patrol. Shops and schools were closed. Inter-city motorways and roads in the capital Dhaka and the port city of Chitttagong were empty.

The United States and United Nations have appealed for calm while global rights group Human Rights Watch has asked the government and Jamaat to act urgently to stem further acts of violence.

On Saturday minority groups asked the government for increased security after a series of attacks on Hindu temples and houses by Jamaat supporters in which one Hindu man was killed. Jamaat denied they were behind the attacks.

The war crimes trials of a dozen Jamaat and main opposition Bangladesh Nationalist Party (BNP) leaders have opened old wounds and divided the nation, with the opposition parties accusing the government of staging a witch-hunt.

The government, which says the war claimed three million lives, rejects the claims and accuses Jamaat leaders of being part of pro-Pakistani militias blamed for much of the carnage during the 1971 independence war.

Independent estimates put the death toll from the war in which Bangladesh won its independence from Pakistan at a much lower figure of 300,000 to 500,000.
COMMENTS (11)
Comments are moderated and generally will be posted if they are on-topic and not abusive.
For more information, please see our Comments FAQ