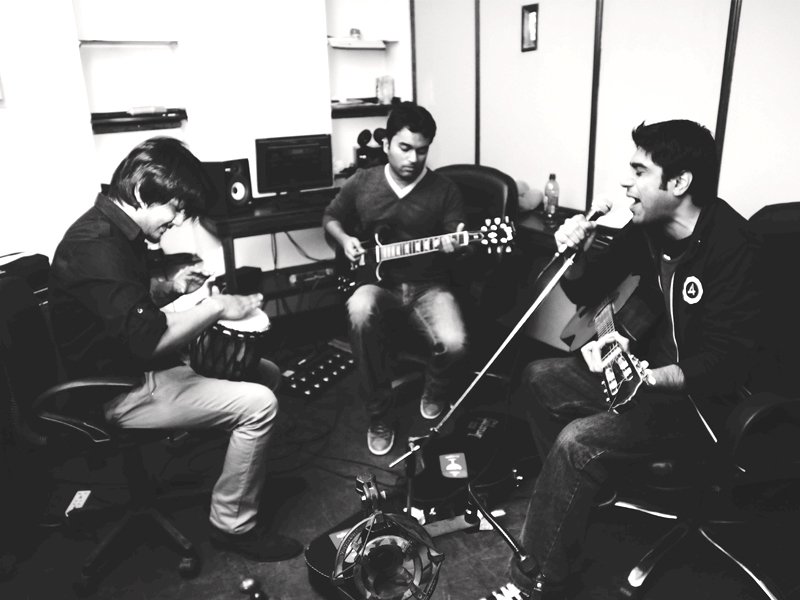 ---
KARACHI:

Socially and politically-relevant music not only grips listeners, but also signals for a change in times of socio-political crises. Singers like Shehzad Roy have used satirical humour in songs like Laga Rahe and YouTube sensations like Faris Shafi have also taken the same route with a number like Awaam. But while a musician's effort to laugh at himself is appreciated, another way is to say it exactly like it is.


With its new song Khoon, the band Topi Drama hopes to make listeners more aware of their surroundings. The song is about the blood that Pakistanis have on their hands for the silence and apathy shown by the government, media and citizens towards the persecution of the Shia community. A smooth listen on the ears, Khoon has gone viral since its release two weeks ago and Topi Drama has struck a chord with the audience right when it was needed.

The three member Lahore-based rock band Topi Drama was formed in 2010, with Sohail Qureshi as vocalist, Arafat Mazhar as guitarist and Kenny Zeerick on the drums. Mazhar also produces the songs in his studio Manic House Productions. Although the band is relatively new, it has already released Inquilab, a song which mocks the glossy version of revolution that people dream of, earlier this year.

Billy Joel-inspired work on the keys gives Khoon the perfect combination of darkness and hopelessness in a minimalistic arrangement. It almost creates a spatial vacuum that is reminiscent of the way people felt after the back-to-back massacres — completely jaded.

"Khoon is a personal song," Mazhar tells The Express Tribune. "I don't want anyone to think we are trying to preach here or give a message. We are not under any illusions that our song can bring any change."

While the song is short, thought-provoking and concise, it is also impactful with its bold lyrics. The words "meray or teray haathon pe khoon hai" stay in the mind of the listener.




"Every word in the song was inspired by our silence and inaction for the massacre that has been going on for years," says Mazhar regretfully. "It comes from a sense of guilt that their is blood on my hands, and because we are silent — we are accomplices. "

The band is in the process of recording a rock-and-roll album with a couple of piano-based tracks. "My focus is for the band to play live and have fun," Zeerick says. "It's important to remember we are not an activist group with an agenda. We are a rock-and-roll band," he says. "If our song was able to create a collective expression of solidarity with the Hazara community, that is a bonus."

The young members of the band seem to be focused on composing more music. Topi Drama is a great addition to the Pakistani music industry, where band culture is almost dead. It's also interesting to see that most music channels have shifted their focus to Pakistani songs in the last couple of months, which works in the band's favour. After all, if a song like Waderay Ka Beta went viral, so should a serious song like Khoon.

Published in The Express Tribune, March 3rd, 2013.

Like Life & Style on Facebook for the latest in fashion, gossip and entertainment.