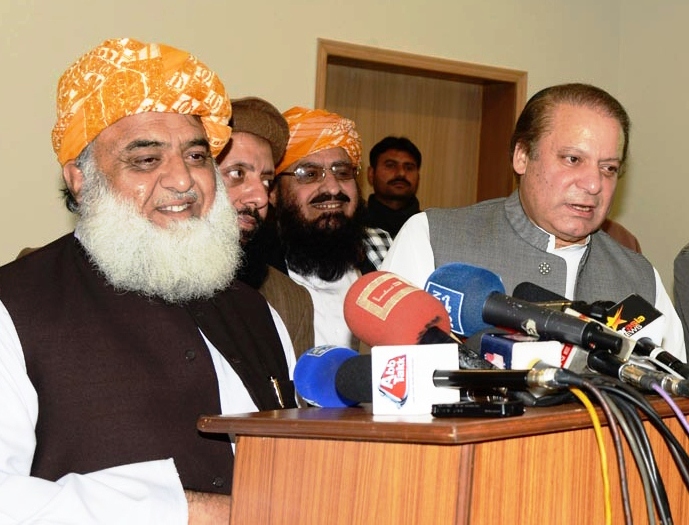 ---
PESHAWAR: An electoral partnership between Pakistan Muslim League-Nawaz (PML-N) and Jamiat Ulema-e-Islam-Fazl (JUI-F) in the upcoming polls will tilt the political field in Khyber-Pakhtunkhwa (K-P), regardless of the impact it has on the rest of the country.

PML-N chief Nawaz Sharif and JUI-F leader Maulana Fazlur Rehman on Monday agreed to some form of electoral cooperation, with modalities to be chalked out later.

Whether they marry or swap, the likely adjustment is going to affect the outcome of polls in K-P, where both parties have their enclaves of influence – and any adjustment will benefit both.

JUI-F provincial spokesperson Haji Jalil Jan told The Express Tribune both parties have formed committees to define terms of cooperation. Jan said his party and the PML-N will sit down to outline their modus operandi after the all-parties conference.

As far as Jan knows, the plan is to adjust seats between the two parties. In his view, this would be mutually beneficial – in places where JUI-F's candidates earlier lost by a slim margin, the new partnership will be a "game changer".

What makes this 'game-changing' ploy all the more interesting is the fact that approximately 12 JUI-F candidates narrowly lost across the province in the 2008 elections.

PML-N General Secretary Rehmat Salam Khattak seems happy with the prospect of any form of agreement between the two parties. "If the alliance materialises, we will make a clean sweep in K-P," said Khattak.

He feigned ignorance over the finer details – whether the parties will opt for seat adjustments or an electoral alliance. "It is not clear so far," he claimed. According to Khattak, both parties will try to accommodate each other when they start discussions. Khattak pointed out his party was also in talks with Jamaat-e-Islami (JI) about potential adjustments.

Again, both JUI-F and PML-N have their own strongholds in the province – some independent footholds and others where the parties can complement each other.

Such politicking is likely to have a significant impact on the outcome of the general elections.

The JUI-F has its stronghold in the southern belt of Khyber-Pakhtunkhwa, while PML-N has its power bastion in Hazara division. It is yet to be seen how former chief of Pakistan Muslim League-Quaid's (PML-Q) K-P chapter, Amir Muqam, joining PML-N will boost its position in Malakand division. Over the years, Muqam has built up political clout on his own merit.

Hazara division and southern K-P have approximately 20 seats each in the provincial legislature, while Malakand division has 23 and central K-P about 36 seats.

If both parties perform well in their traditional strongholds and complement each other in central K-P where they have a relatively weaker hold compared with the Awami National Party and Pakistan Peoples Party, these new political moves will alter the balance.

The party which needs to hedge its bets against this PML-N, JUI-F and possibly JI triad is the Pakistan Tehreek-e-Insaf (PTI). The PTI has had its daggers drawn against both PML-N and JUI-F. And perhaps the rise of PTI has nudged the centre right and the religious right into each others' arms.

Published in The Express Tribune, March 1st, 2013.