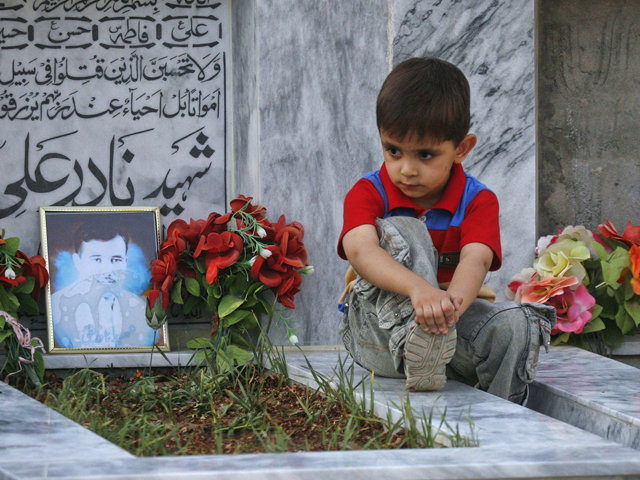 ---
KARACHI:



Trauma alone from a blast such as the one which took place in Quetta on February 16 can leave an individual paralysed with fear - but the girls of Hazara, the community which was targeted in the attack, have found resilience and strength after surviving it.




Their injuries range from broken backs to severed toes to burnt arms but they are adamant to go back home and join their schools.

"Last night, I had a dream that I was in my class and when I woke up, I called the nurse at 4am and asked her to give me a pen and paper as I wanted to write," said a smiling Zubeida Mohammad, after she removed her oxygen mask to speak at the hospital in Karachi where she is being treated. "I can't wait to go back to school."

Amongst the 37 injured, who have been brought to Karachi for treatment, are young girls who were at an English learning centre when the bomb ripped through the area.

The deadly attack, which killed more than 80 people, injured the girls physically but gave them boundless courage to start their lives and education again.

"Before the blast I wanted to be a doctor - now I want to be a journalist. I will write about all the things that are not mentioned in the media about us and I will write of how we are suffering," said the determined student of grade nine.




Shamsia Hussain, 14, who is being treated at the children's ward of the hospital, recalled that they were learning the definition of prepositions when the roof of the Cambridge Educational Academy caved in.

With a broken back, making it impossible for her to walk or sit, she also recalled the blood-stained bodies and screams after the attack - yet she is not scared of going back to her class.

"I will study even harder now. In fact, I will study as long as I am breathing," she said. "Children should not stop from going to school. Malala didn't stop when the Taliban threatened her. We will also not be discouraged."

Hussain wishes to be a female police officer when she grows up, so that she can catch all the criminals who are attacking the Hazara community.

In another ward lies Gul pari who took up the English classes because no one taught the language at her private school. "It is an international language and I felt it was important to learn for my further studies," said the girl, covering her bandaged leg with a white sheet.

She had only class left to completing the course when the blast took place. "One more class and I would have gotten the certificate," said the teary girl.

As fate would have it, when the blast occurred, the girls were having a discussion about target killings and pondering over why their community was being targeted. Gul Pari, who practices English language in front of the mirror and with her friends, is hopeful that things will eventually take a turn for the better. "Everything will be okay - I will go to college one day."

An activist of the Hazara community, who preferred to stay anonymous, said that the people of Hazara always cling to two things - education and loyalty to the country. He said that terrorist attacks will never discourage the students from pursuing education. 'Today, it is our people who have the highest literacy rate in Quetta."

Published in The Express Tribune, February 25th, 2013.
COMMENTS (8)
Comments are moderated and generally will be posted if they are on-topic and not abusive.
For more information, please see our Comments FAQ