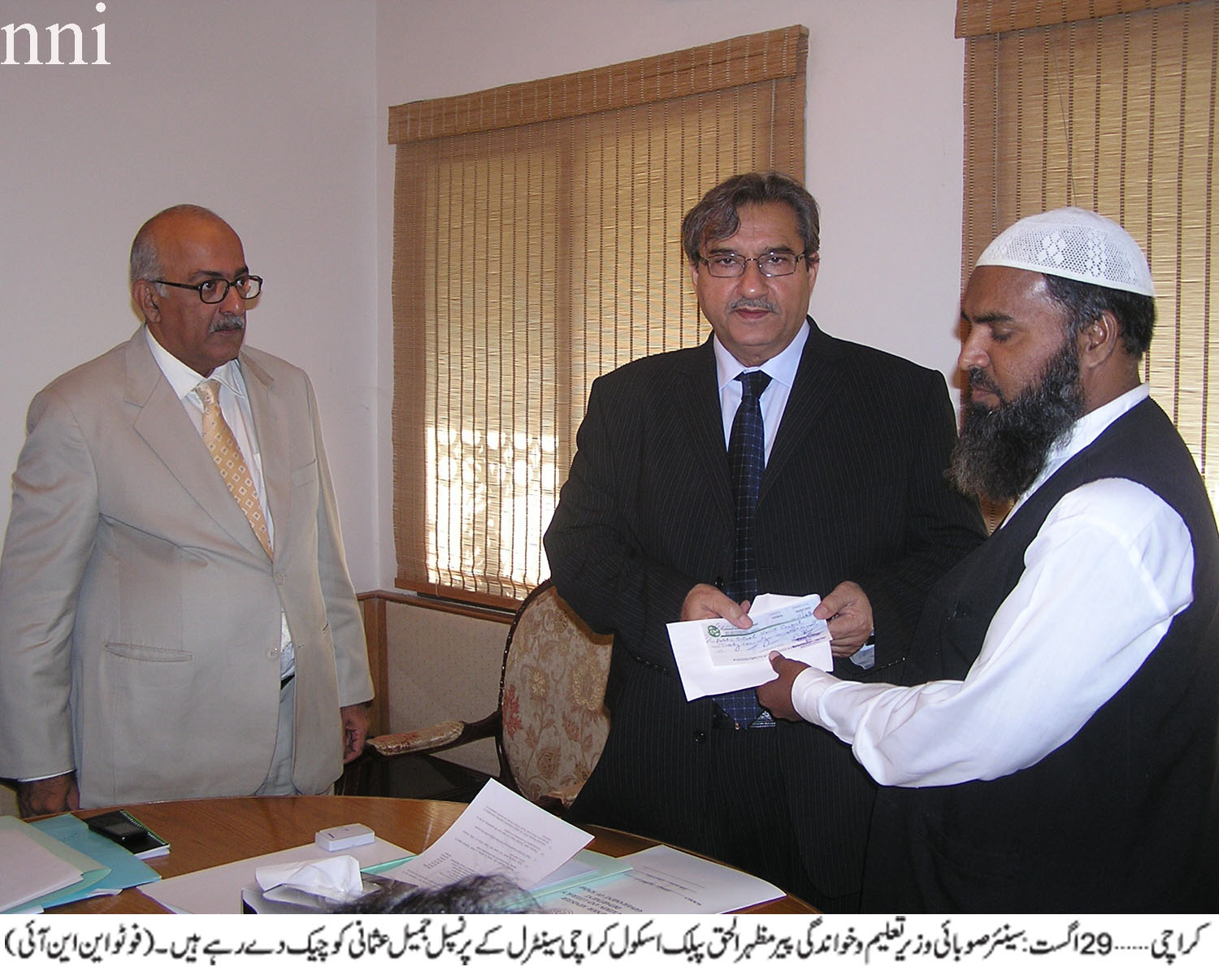 ---
HYDERABAD/ KARACHI: Scores of protesters, including members of the Muttahida Qaumi Movement (MQM) and Jamaat-i-Islami took to the streets on Sunday to protest against the education minister's "controversial" statements at Sindh University's convocation the day before.

A news channel had reported that at the convocation, Sindh Minister for Education Pir Mazharul Haq had said that he wouldn't allow universities to be set up in Hyderabad. The fact that the minister had tried to point out that he had been quoted out of context mattered little to the protesters, who still termed his statements 'Taleem dushmani, Sindh dushmani and Pakistan dushmani'(Enmity with education, Sindh and Pakistan).

A large number of people attended MQM's rally in Hyderabad, which was led by the party's zonal in-charge, Muhammad Sharif, as well as its lawmakers. The protesters gathered outside the Hyderabad Press Club and burnt an effigy of the education minister. "The minister's statement reflects his party's discriminatory ideology," said Sharif. "If the Pakistan Peoples Party's leadership doesn't approve of the minister's statement, then it should demand his resignation."




As the rally's participants marched along Autobahn Road in Latifabad, unidentified armed men fired at them.

As a result, two protesters, identified as Kashif and Hameed, were injured. Law enforcers quickly rushed to the spot to control the situation. One police inspector, Hassan Ali Abidi, injured his eye as outraged protesters began pelting stones.

Meanwhile in Karachi…

The MQM also organised a protest outside the Karachi Press Club, where a large number of the party's supporters turned up with placards bearing messages against the education minister. MQM leader Waseem Aftab said, "We will fight against any conspiracy which aims to make the people of the province slaves."




The party's coordination committee has strongly condemned the education minister's statement, saying that it had laid foundations for the division of Sindh.

Clarifying the matter

Talking to the reporters in Dadu, the education minister blamed a television channel for deliberately misreporting his account. "A group within the media wants the two parties [PPP and MQM] to fight each other. But we should not fall in this trap," he alleged, clarifying that he wants that at least three universities set up in Hyderabad.

The reporter who covered the Sindh University's convocation said he did not report any controversial statement. "I neither reported the university-related statement of Mazhar nor did I call him," the channel's reporter told The Express Tribune.

A recording of the education minister's complete speech at the event showed him talk about the issue indirectly. "They wanted to destroy, defame Sindh University and to establish their own university in some specific area of Hyderabad. And I knew their new and old wish. I became an iron wall against them. Then they started playing other tricks," the education minister says in the footage. "They used their former military intelligence people who, sitting in the governor house, played tricks on the Sindh University and ultimately succeeded," he continued in his speech.

Published in The Express Tribune, February 25th, 2013.
COMMENTS
Comments are moderated and generally will be posted if they are on-topic and not abusive.
For more information, please see our Comments FAQ