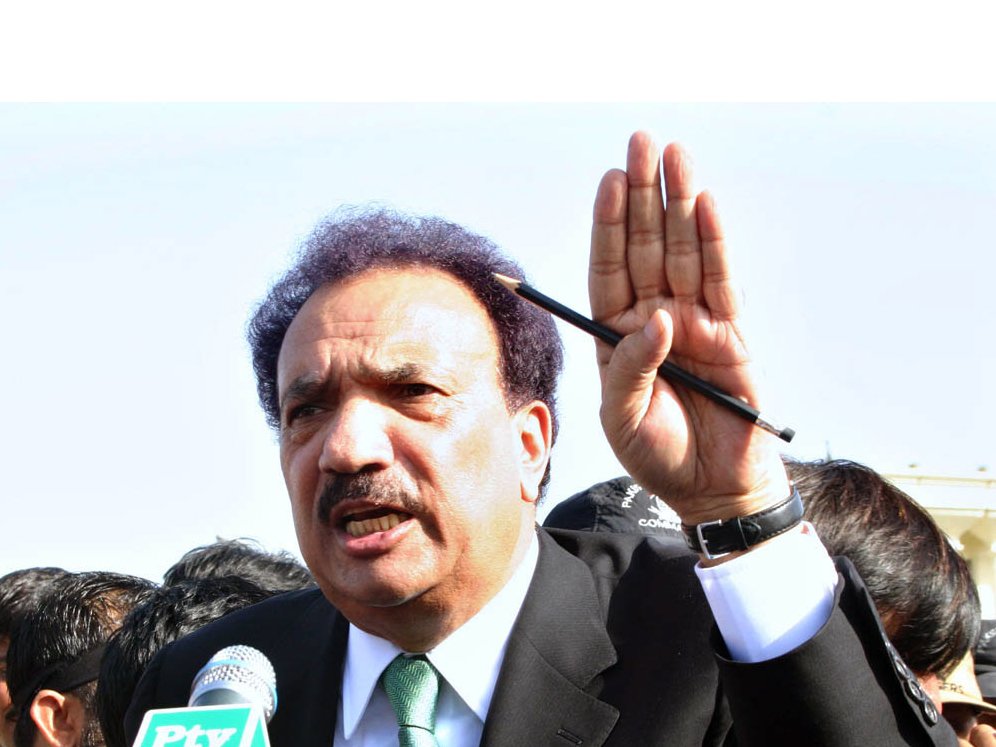 ---
ISLAMABAD:



The man responsible for the ministry of interior whose task it is to ensure every Pakistani and visitor feels secure has shifted the burden of tackling militants from his shoulders on to provincial governments.




On Wednesday, Interior Minister Rehman Malik wrapped up a heated, albeit futile, debate on an adjournment motion on the recent bomb attack in Quetta without taking responsibility for the incident in which 90 people were killed. His argument hinged on changes in the law that gave the provinces more powers in certain departments.

"After the 18th Amendment, it was the provinces' responsibility to cope with terrorism-related issues," he asserted, urging Senate Chairman Nayyar Hussain to summon all the chief ministers to brief the house on the matter.

"All of the chief ministers should explain before Parliament their failure to curb terrorism," said Malik.

The interior minister maintained that his ministry had informed the Balochistan government on three separate occasions – January 27, February 1 and February 5 – of the likelihood of a terrorist attack against the Hazaras. Despite this, the Balochistan authorities had failed to prevent the terrorists from moving ahead, he added.

Malik also blamed Parliament for the recent wave of terrorism as it had failed to pass the Anti-Terrorism Bill.




He claimed that the law enforcement agencies had arrested 31 terrorists from Lashkar-e-Jhangvi, Jaish-e-Muhammad and Sipah Sahaba Pakistan for planning more attacks in Quetta, Karachi and Peshawar.

In response to opposition leader Ishaq Dar's query on his pending briefing on Balochistan and Karachi before a joint parliamentary session, Malik said he would announce an exact date today (February 21). The session will likely be held next week.

Earlier, during the debate, Pakistan Peoples Party Senator Raza Rabbani linked the handover of Gwadar Port to China to the recent wave of terrorism in Balochistan.

"We all know how important Gwadar is, especially when it comes to international politics," he maintained.

While urging the government to make a decision on the Balochistan issue now since the international community was 'pointing its fingers' at it, he lashed out at the British High Commissioner's reported statement that Pakistani leaders had 'failed to deliver'.

"Who is he to make such a statement?" he contended.

For his part, Awami National Party (ANP) Senator Abdul Nabi Bangash criticised the army and intelligence agencies for 'failing to perform their duties'.

"Why do only poor people end up as victims of terrorism, why are the children of generals never a target in such attacks," he questioned.

Fellow ANP Senator Zahid Khan pointed out Punjab as a hub for terrorist organisations and questioned why the government had taken no action there. Muttahida Qaumi Movement Senator Abdul Haseeb Khan urged the house to support an operation in Quetta's troubled areas.

The Jamiat Ulema-e-Islam Fazl staged a walkout to condemn the blasts in Quetta. The house was adjourned till 10:30am today (February 21).

Published in The Express Tribune, February 21st, 2013.
COMMENTS
Comments are moderated and generally will be posted if they are on-topic and not abusive.
For more information, please see our Comments FAQ